Phillips in lineup day after fracturing hand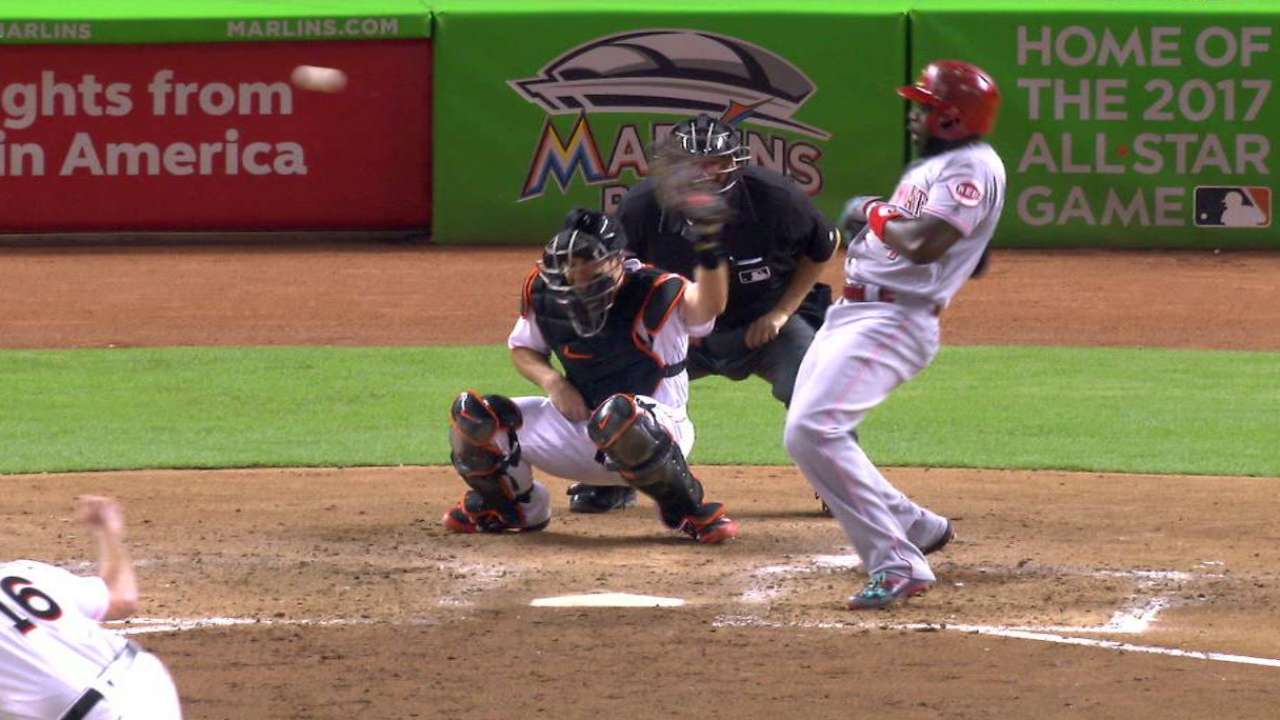 MIAMI -- A fractured hand often puts a player on the disabled list, or at least out of action for a few days. But less than 24 hours after his left hand was fractured by an errant Jose Fernandez pitch, Reds second baseman Brandon Phillips was able to play vs. the Marlins on Saturday.
Phillips iced his hand overnight and took anti-inflammatory medication, and the swelling went down. He took some swings in the indoor cage and was given the green light to play.
"It feels better. I was looking like Sherman Clump, but now I'm starting to look like Buddy Love, because it's shrinking," Phillips said on Saturday, referencing the Nutty Professor movies. "As long as the swelling keeps going down, it will be all right. It was really puffy yesterday."
During the Reds' 3-1 loss on Friday, Phillips was struck on his hand by an 87-mph Fernandez changeup, but he remained in the game. The second baseman was lifted in a double-switch before the bottom of the eighth inning, when rookie Jose Peraza took his place.
Phillips, 35, wasn't worried about potentially making the fracture worse by playing through the injury. He will get some days off soon with the All-Star break coming on Monday.
"I really haven't gotten that far," he said. "I'm all about playing baseball. I have only one career. I just worry about going out there and doing the best I can, regardless of an injury or not."
When asked if he was in pain, Phillips didn't seem concerned. He often has played through injuries throughout his career. The medical staff is treating the injury like a bruise, meaning it's about managing the discomfort over issues of healing.
"There's pain doing many things," Phillips said. "I don't worry about that stuff. When I'm on the field, I feel like that's my coliseum. I want to go out there, try to put on a show for the fans. I want to go out there and try to win and do what's best for the team."
Phillips was struck on the same hand by a Noah Syndergaard fastball on April 25 vs. the Mets and missed two games with a bruise. He's also endured left thumb surgery and a forearm contusion in recent seasons.
It's hasn't been a strong season for Phillips, who was moved out of the third spot in the lineup to the six-hole a week ago. He hasn't hit a home run since May 7, and he's already made more errors in the field this season than the past two seasons combined.
"I feel like my hands have taken a beating in my career," said Phillips, who is signed through 2017 and has full no-trade protection. "I thought it would be a little different this year, but they always find a way to get hit and get injured. All I can do is stay strong. I'm going to finish the season strong. I'm not really worried about that kind of stuff, all the things I've been hearing and what's going on with my play. I know I can play this game. I know for sure I can still do my job. All I will do is take one game at a time and you'll see me back on top."
Mark Sheldon has covered the Reds for MLB.com since 2006, and previously covered the Twins from 2001-05. Follow him on Twitter @m_sheldon and Facebook and listen to his podcast. This story was not subject to the approval of Major League Baseball or its clubs.