Choi recalled; Cron placed on 15-day DL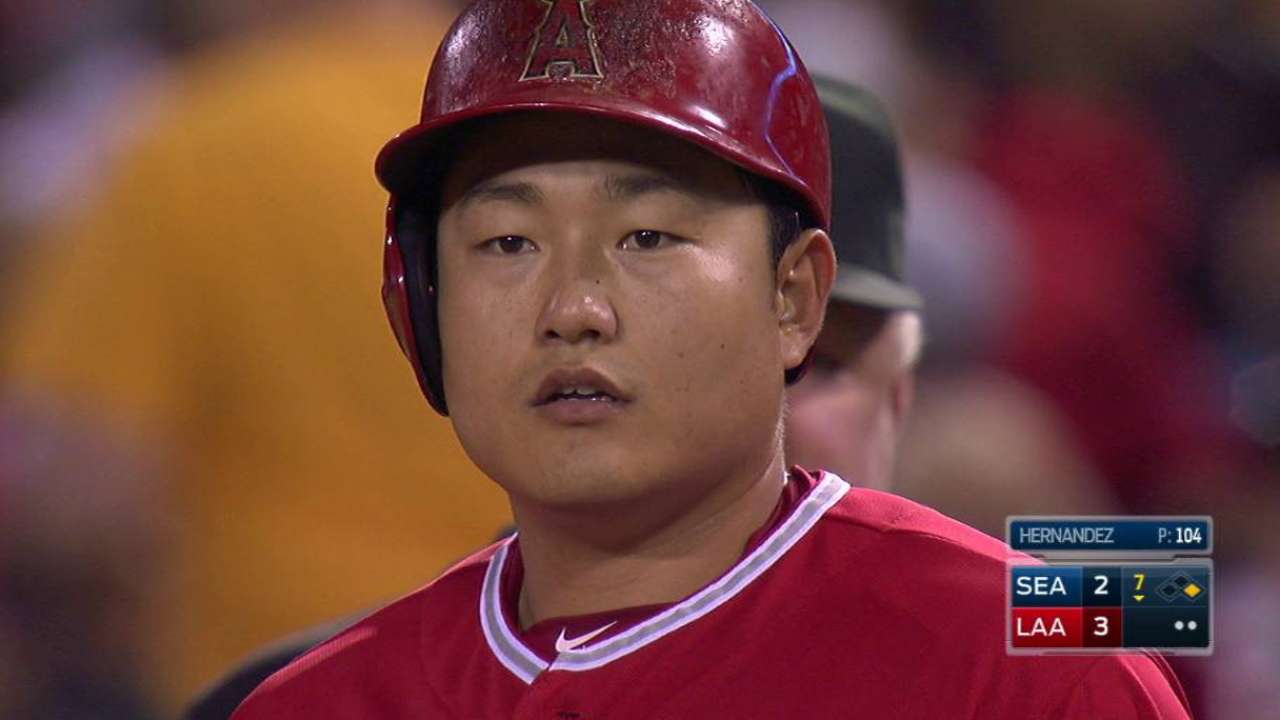 BALTIMORE -- The Angels selected the contract of Ji-Man Choi from Triple-A Salt Lake City on Saturday and placed first baseman C.J. Cron on the 15-day disabled list.
Cron suffered a fracture in his left hand after he was hit by a pitch in the sixth inning of Friday night's 9-5 win over the Orioles. Cron will see a specialist on Monday.
Choi made the Angels' 25-man roster on Opening Day, but hit .056 (1-for-18) with six walks in 24 plate appearances. He was sent down May 11 and has impressed in the Minors, hitting .327/.411/.485 with four home runs in 45 games. He has played first base and left field throughout the season.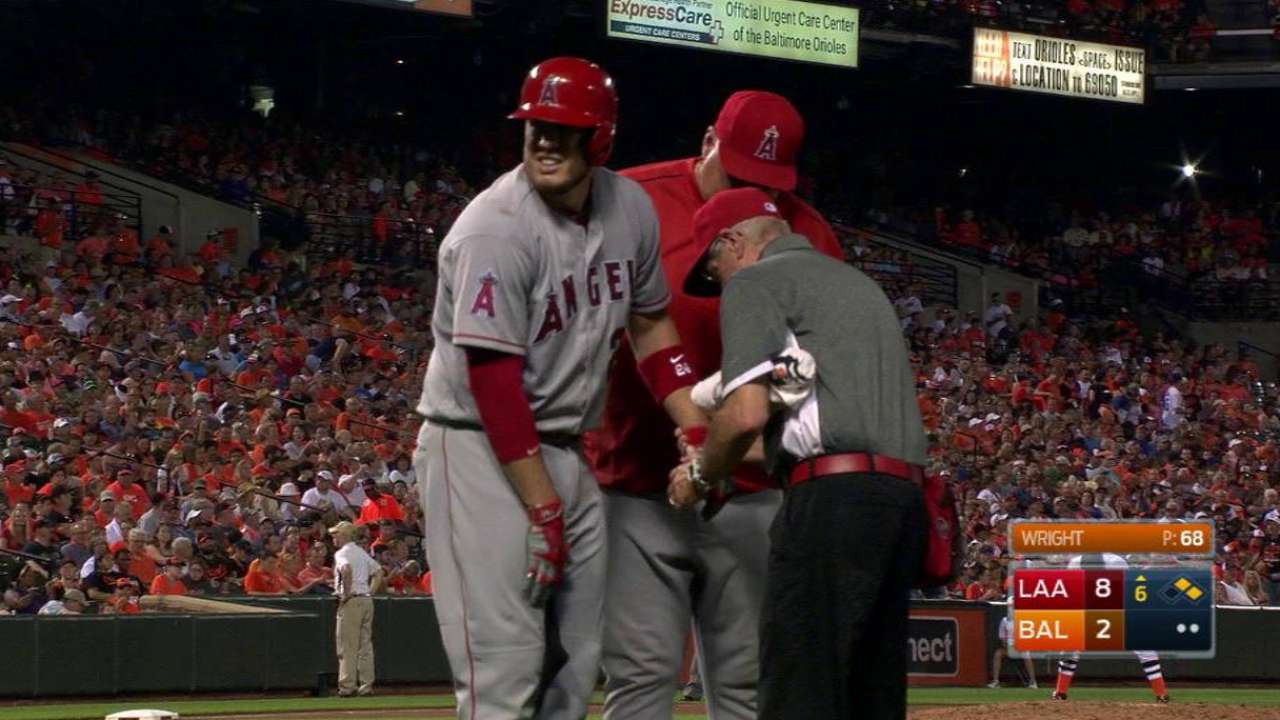 "I'm really excited, and I want to make sure that I can stay here," Choi said through an interpreter. "C.J. Cron has been performing very well, so I want to make sure the Angels don't feel his absence."
Cron is batting .278 with 11 homers and 50 RBIs this season. Angels manager Mike Scioscia said that Choi and Jefry Marte will split time at first base with both serving as options to play left field should Daniel Nava require a day off.
"These guys will primarily split the time at first base in some, maybe not a strict, platoon, but definitely both of those guys getting a lot of playing time," Scioscia said.
Choi was in the Angels' starting lineup just five times through the club's first 32 games, including three times as a designated hitter. The 25-year-old is looking forward to a bigger role during his second stint in the majors.
"There will be more opportunities," said Choi, who started at first base Saturday in Baltimore and hit sixth in the lineup. "Before, I had [limited] opportunities, but I wasn't really able [to take advantage]. This time, I'm more ready, and I want to make sure that I'm out there and able to do what I can."
"Ji-Man needed at-bats," Scioscia said. "He was a little hot and cold in spring, but you saw the potential. He never really got a concentrated number of at-bats during the season, and that's what unfortunately got him back down to Triple-A. He had [165] at-bats, and he's been very consistent down there. Hopefully he will carry it up here."
The Angels are also hoping for increased productivity from Marte, who is hitting .225 with five homers and 13 RBIs this season, but he entered play Saturday hitting .077 (2-for-26) since June 28.
"He's got thunder in his bat, and he can swing it," Scioscia said. "Hopefully he can get back to where he was when he first came up. … I think the difference is that when he got a pitch when he first came up, he was hitting it hard. He's been in-between and been missing some pitches recently. He'll figure that out."
Ben Raby is a contributor to MLB.com based in Baltimore. This story was not subject to the approval of Major League Baseball or its clubs.