Kids swing big at inaugural T-Mobile Jr. Home Run Derby
16 national finalists competed at Petco Park for chance to become HR kings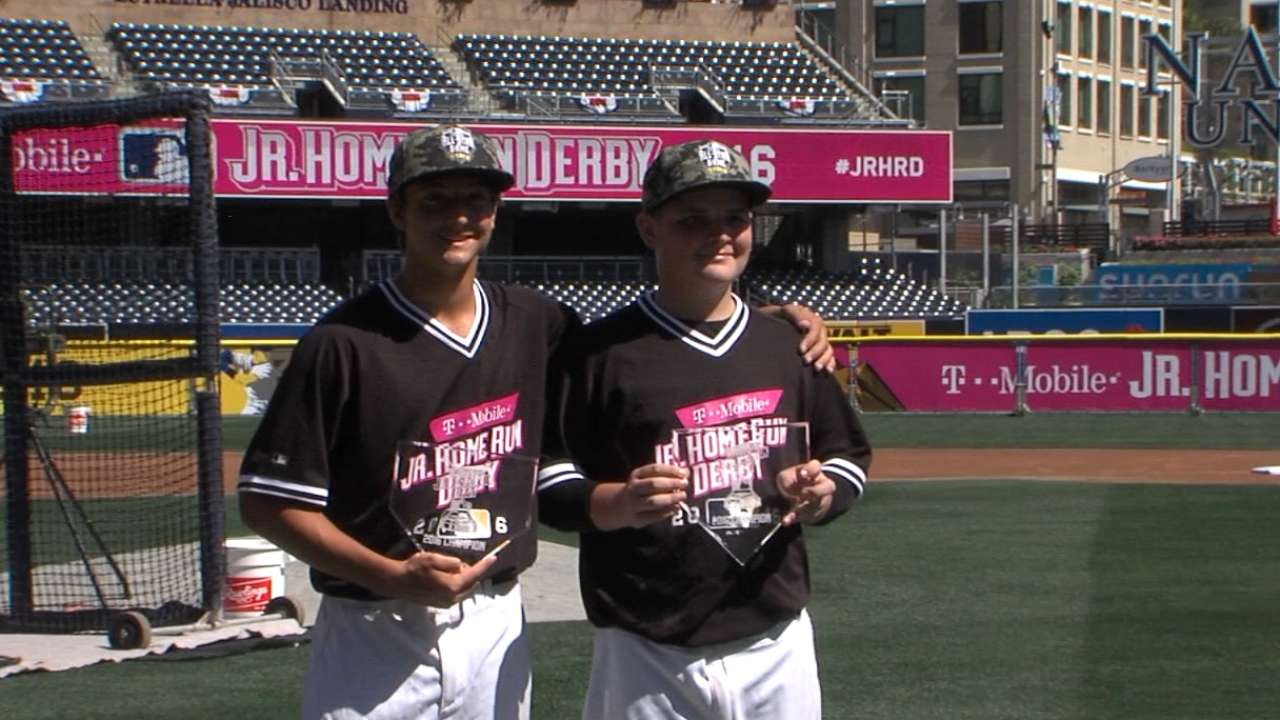 SAN DIEGO -- Two days before the Major League All-Stars take their hacks in the T-Mobile Home Run Derby on Monday, 16 kids launched some big flies at Petco Park. As part of All-Star Week activities, the inaugural T-Mobile Jr. Home Run Derby national finals took place Saturday, featuring eight kids in both a 12u and 14u age division.
"Youth has been a focus of Commissioner [Rob Manfred] since he took office last year," said Chris Marinak, MLB's senior VP, league economics and strategy. "This gives kids a way to play and enjoy the game that's casual and fun.
"It's a long process for these kids. There are almost 1,000 local events, and the winners advance to regional events in eight cities. The kids who won those regional events made it here."
The kids took aim at a temporary fence that was roughly 225 feet from home plate at Petco Park, and they used their aluminum bats to combine for 89 long balls.
Matthew Mebane of North Augusta, S.C., came out on top in the 12u division, outlasting Aidan Young of Albuquerque, N.M., 4-3, in the final round.
"This was a once-in-a-lifetime chance," Mebane said. He added that he's a Blue Jays fan, but he's hoping to see Corey Seager, as well as his favorite MLB player, Giancarlo Stanton, on Monday.
Young said his favorite team is the Reds and favorite player is Joey Votto. "My strategy was to just stay calm," Young added. "God has already blessed me to be here."
The 14u division was also extremely close, as Aidan O'Halloran of Owens Cross Roads, Ala., edged out Jack Bulger of Bowie, Md., 8-7, in the finals.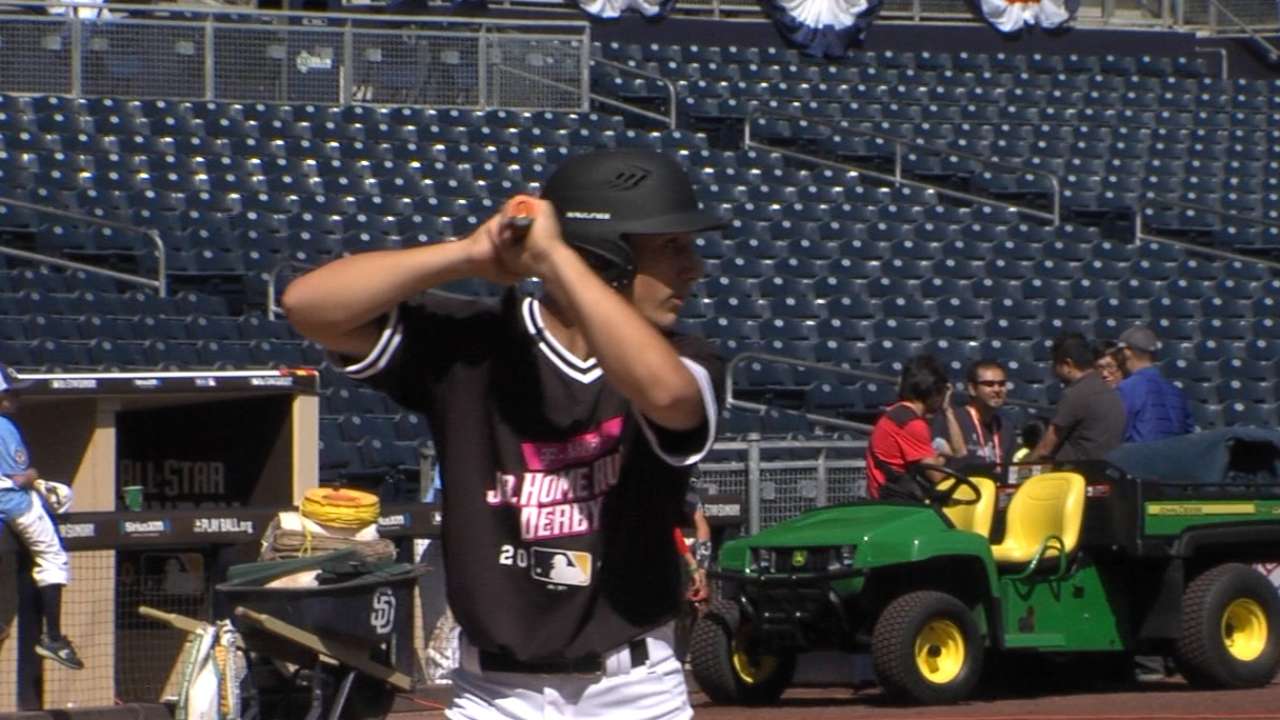 "I was nervous at the beginning, but every kid dreams of being out here," O'Halloran said. "It was the experience of my life."
Despite coming up just short in the final round, Bulger put on quite a show. Using a pronounced toe tap as the trigger to his powerful swing, he rocketed 12 homers in the first frame, which was the most of any participant in any round. He also hit the only ball over the Major League fence.
"I had a pretty good swing on that one, and put it on the barrel," said Bulger, who's a Nationals fan because he loves to watch Bryce Harper. "It was really special to be here."
He added that "just watching the baseballs fly" is his favorite part of the Major League Home Run Derby. He's not done competing, either -- Bulger also qualified to participate in the Scotts Pitch, Hit and Run national finals, which take place on Monday.
T-Mobile Jr. Home Run Derby representative Matt Engleka said the event was the culmination of a process in which MLB worked with Boys and Girls Clubs, YMCAs, park and recreation groups, and youth baseball organizations across the country.
"These kids did a fantastic job out there," Engleka said. "What a great stage for them. Their reward is just being here, having some fun and hitting some dingers."
All 16 national finalists will participate in several All-Star Week activities, and the winners will be recognized at the MLB T-Mobile Home Run Derby on Monday. And this is just the beginning.
"We think we're on good track to double this event next year," Marinak added. "What kid doesn't want a chance to come to the MLB All-Star Game?"
Mike McCormick is editorial director of MLB publications. This story was not subject to the approval of Major League Baseball or its clubs.