Springer gets much-needed start off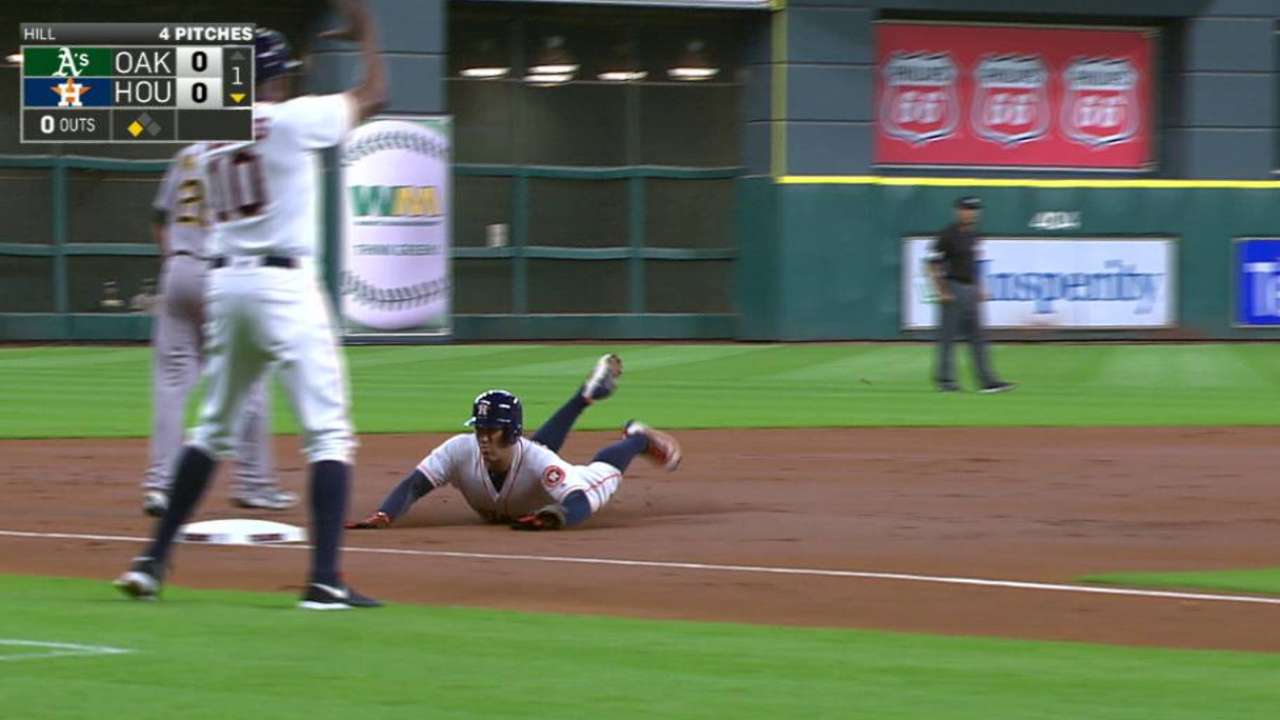 HOUSTON -- For the first time after 112 consecutive games, George Springer was not in the Astros' starting lineup on Saturday.
Manager A.J. Hinch elected to give Springer the day off, snapping Springer's starting streak, which was the second longest in the Majors behind Seattle's Robinson Cano (144). Springer did enter as a pinch-runner in the ninth inning of Houston's 3-2 loss to the A's just before Carlos Gomez struck out swinging to end the game.
"George has been in every game," Hinch said. "As we get into August, I'm going to be pretty strategic with how I use him, [Jose] Altuve and [Carlos] Correa, guys that are hitting at the top of the order, getting the most at-bats -- trying to pick and choose when I can get them a day off."
The right fielder was sorely missed as the Astros offense looked for life for much of the afternoon. Houston didn't have a baserunner until the fifth inning and didn't score until the ninth.
Springer leads the Astros this season in home runs (19) and walks (48) along with having the second-most hits (92) and RBIs (51). He is also tied with Correa for the most triples (three) on the team.
"It's never fun to not write these guys' names in the lineup," Hinch said. "But we've got a strong bench, and we've got to utilize it a little bit."
Hinch said it was time to let Springer rest, especially with the team coming off such an emotional 10-9 win over the A's on Friday, which Luis Valbuena decided in the bottom of the ninth with a walk-off homer.
"I think [Springer is] beat up," Hinch said. "… His legs are heavy right now. He's fine physically. He's not injured, but the wear and tear of the entire season so far, our travel, our extended length of games [is getting to him]. We've played more extra-inning games than anybody in baseball. Those type of things [accumulate] over the first half of the season."
With Springer out of the lineup, the Astros went with Marwin Gonzalez as their leadoff man. It was the first time Gonzalez batted leadoff this season and he delivered, going 2-for-4 with a single and a double.
"Mentally it's tough, because everybody knows in 48 hours, we get four days off -- most of us do," Hinch said. "That probably is equal of a challenge as it is to the physical grind of what we go through."
Jordan Ray is a reporter for MLB.com based in Houston. This story was not subject to the approval of Major League Baseball or its clubs.