'Very chill' Hader to fire away at Futures Game
Lanky lefty Brewers prospect has drawn comparisons to Sale, Bumgarner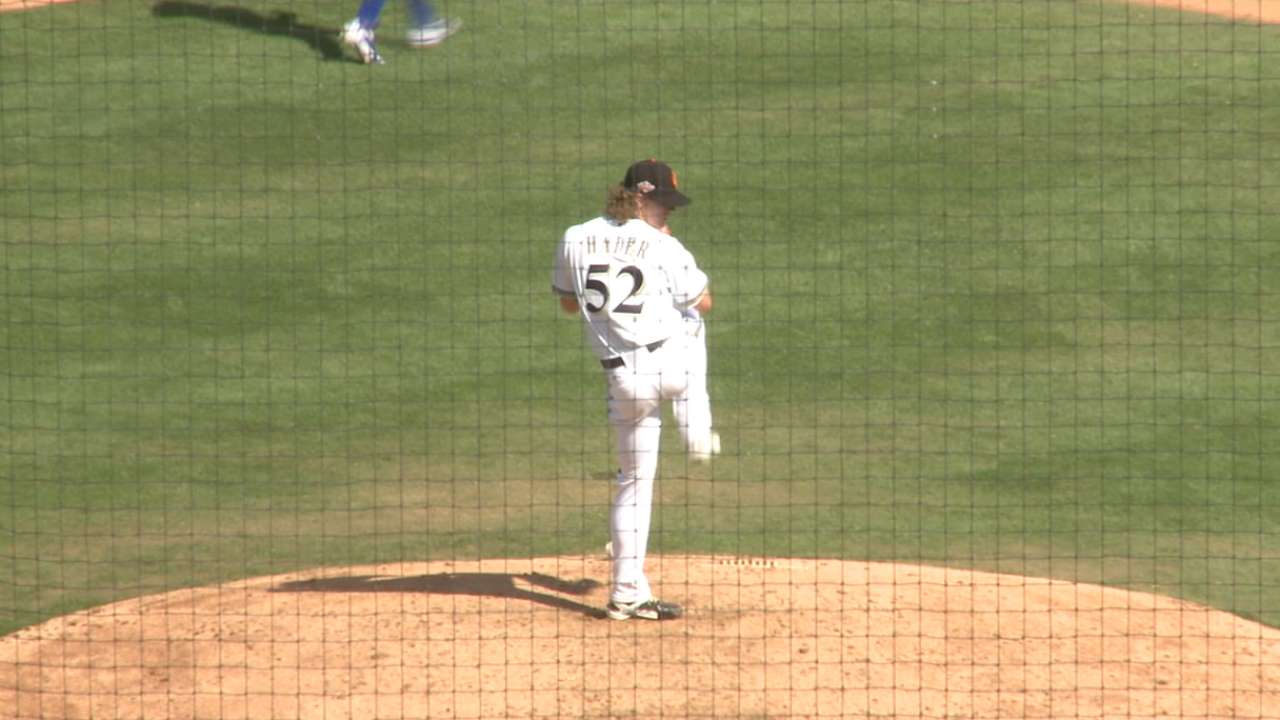 MILWAUKEE -- When Jacob Barnes first saw fellow Brewers pitching prospect Josh Hader take the mound, he understood immediately why everybody compared the lanky-left-hander to White Sox ace Chris Sale.
Barnes was Sale's teammate at Florida Gulf Coast University. Last August, he became Hader's teammate at Biloxi. On Sunday, he may tune in to watch Hader pitch in the SiriusXM All-Star Futures Game in San Diego (6 p.m. CT on MLB Network and MLB.com).
"We didn't know much about him," Barnes said of Hader's arrival last summer in the wake of a blockbuster trade with the Astros. "We were kind of given the [Madison] Bumgarner, Sale comparison -- as far as how he throws, because obviously those two are on a different level.
"I played with Sale in college, so I know he's one of a kind. So when [Hader] came to the team and threw a bullpen, I could tell where they got the comparison. They both sling it from the side. There's great life. I could tell he was a big strikeout guy."
The Brewers acquired Hader and three other top-30 prospects from the Astros for Carlos Gomez and Mike Fiers. Hader made a quick impression on his new organization, posting a 2.79 ERA and 50 strikeouts in 38 2/3 innings at Biloxi last season followed by seven Arizona Fall League appearances in which he surrendered one run.
Hader was just as dominant at Biloxi to begin 2016, going 2-1 with a 0.95 ERA in 11 starts. He held opponents to a .194 average and struck out 73 in 57 innings, versus 19 walks.
Some Josh Hader breaking balls. The voice making the Chris Sale comp belongs to Charlie Greene. pic.twitter.com/qTtrRwba6X

— Adam McCalvy (@AdamMcCalvy) February 23, 2016
That performance earned Hader a promotion to Triple-A Colorado Springs, where he's joined a long list of pitchers to struggle at altitude. Through five starts, he's 0-2 with a 6.38 ERA. Three of those starts have been at home, including a July 3 outing in which he surrendered seven earned runs in four innings.
"We look at it as adjusting to a new level overall -- Triple-A baseball," Brewers farm director Tom Flanagan said. "Obviously, we realize his splits may reflect the challenges of pitching at home. But overall he has done fine and he's continuing to make adjustments to the new level."
Hader was originally scheduled to start Friday, but the Brewers skipped it so he would get the opportunity to pitch in Sunday's Futures Game at Petco Park. Hader is the Brewers' lone representative in the prospect showcase.
Hader, No. 4 on MLBPipeline.com's list of the top Brewers prospects, was originally a 19th-round Draft pick of the Orioles in 2012 out of Old Mill High School in Millersville, Md. That's right -- despite the fact he looks and sounds like a long-haired surfer dude from San Diego, Hader hails from the East Coast.
Teammates describe him as a laid-back baseball junkie.
"The only story I can really think of is that he used to be a high-80s [mph], low-90s guy, and then right before he got traded from the Astros to the Brewers, he said one of his coaches said, 'Hey, just throw as hard as you can for as long as you can," Barnes said. "Other than that, he's very chill."
Adam McCalvy has covered the Brewers for MLB.com since 2001. Follow him on Twitter @AdamMcCalvy, like him on Facebook and listen to his podcast. This story was not subject to the approval of Major League Baseball or its clubs.