Bruce joins Reds teammate Duvall as All-Star
Right fielder added to NL squad as replacement for injured Fowler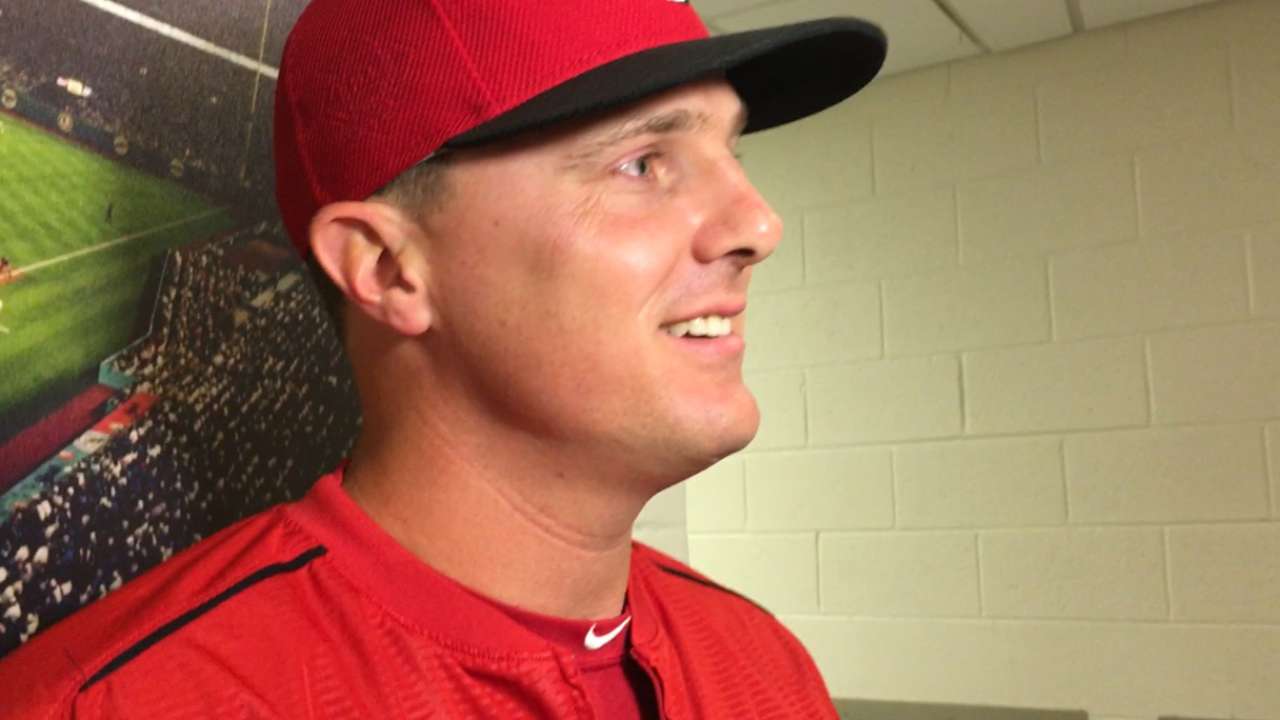 MIAMI -- Fortunately for Reds right fielder Jay Bruce, he did not cancel his hotel reservations in San Diego for next week. Hoping he would be an All-Star, Bruce booked rooms for himself and his family, but he was not selected when the rosters were named on Tuesday.
But on Saturday, Bruce was named as a replacement to the National League team by manager Terry Collins for the injured Dexter Fowler of the Cubs. The All-Star Game presented by MasterCard will be played on Tuesday at Petco Park (7:30 p.m. ET on FOX). Bruce is now a three-time All-Star.
"I don't want to wish injury on anyone," Bruce said. "Getting in is getting in. I'm really happy about it. I definitely don't take any All-Star appearance for granted."
Instead of spending the All-Star break at home in Texas, Bruce is now making arrangements to get his family to San Diego.
"I had a preliminary plan in place, just because I thought there might be a chance," he said. "I had until July 9 to cancel the hotel rooms. We're still in that window. It's been as least hectic as it possibly can be. But there is still going to be some running around crazy going on, but that stuff is kind of part of it."
Bruce, 29, will be joining Reds left fielder Adam Duvall, who was named to the team already via the players' ballot. Duvall is also a participant in Monday's T-Mobile Home Run Derby.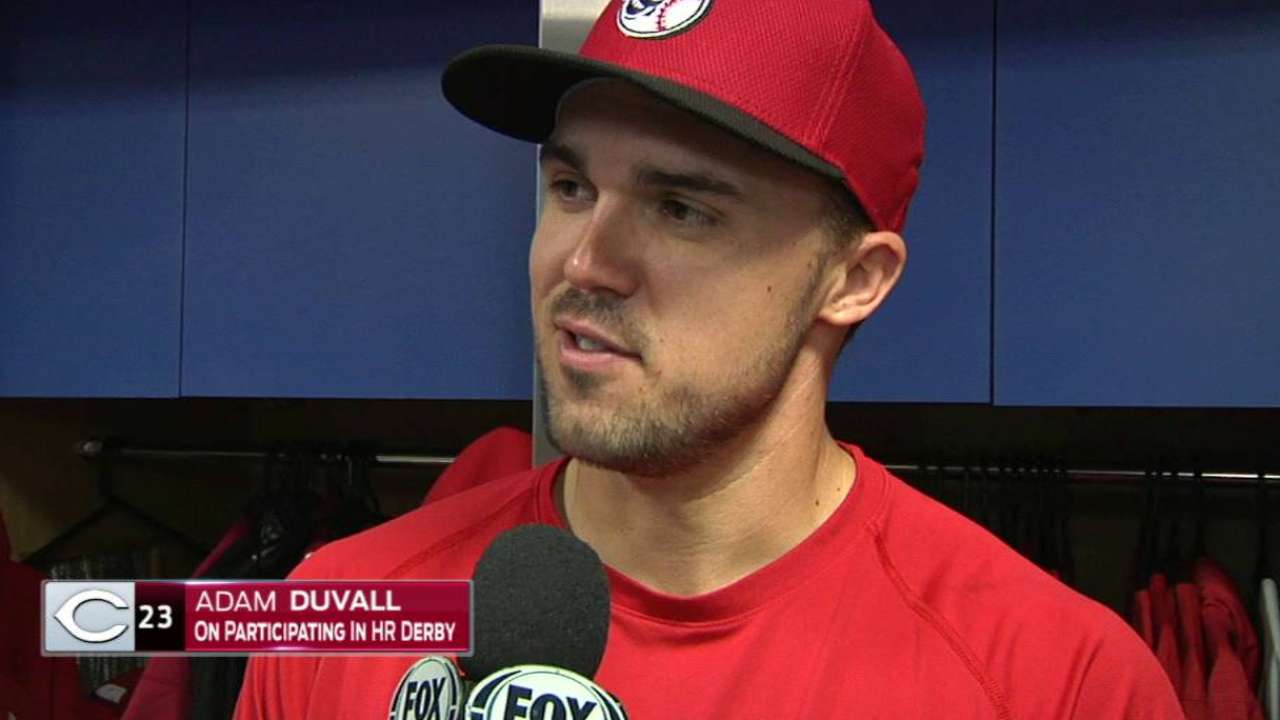 An All-Star in 2011 and '12, Bruce had worthy numbers in '13, but was not selected. He had down years the past two seasons, but is enjoying a resurgent '16, entering Saturday batting .265 with an 852 OPS, 18 home runs, 19 doubles, six triples and 62 RBIs.
"Obviously I would have liked to have made it through the players' vote or [manager's] selection," Bruce said. "It's tough. Somebody always gets left off. Fortunately this time I was able to squeak in at the last minute."
Going to the All-Star Game for the third time is no less exciting for Bruce as his first time.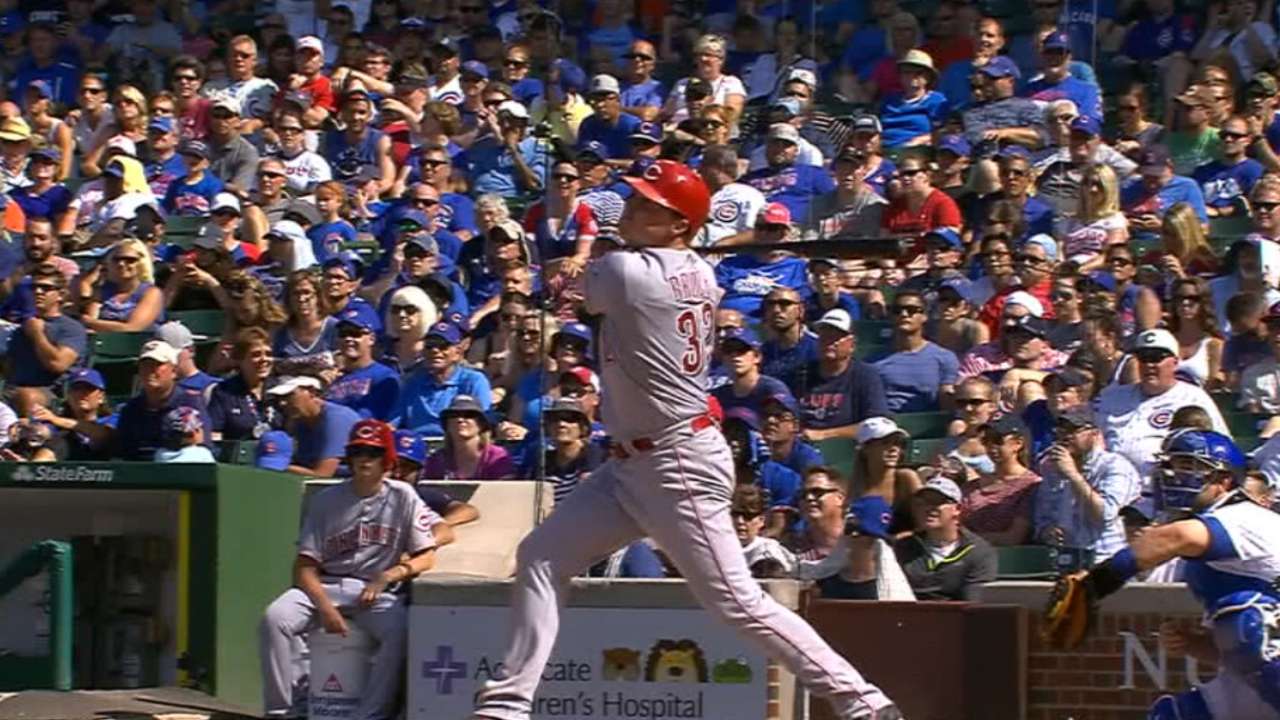 "It's always new," he said. "I'm really excited to be going with Adam and kind of watching him take it all in. It's a whirlwind. You've got to try and slow it down as much as you can and enjoy it. It's a special group of people to be around and be considered a part of it. I don't take that very lightly at all."
On Tuesday, watch the 2016 All-Star Game presented by MasterCard live on FOX, and during the game visit MLB.com to submit your choice for the Ted Williams Most Valuable Player Award presented by Chevrolet via the 2016 MLB All-Star Game MVP Vote. The 87th All-Star Game, in San Diego, will be televised nationally by FOX, in Canada by Rogers Sportsnet and RDS, and worldwide by partners in more than 160 countries via MLB International's independent feed. ESPN Radio and ESPN Radio Deportes will provide national radio coverage of the All-Star Game. MLB.com, MLB Network and SiriusXM will also provide comprehensive All-Star Week coverage. For more information, please visit allstargame.com.
Mark Sheldon has covered the Reds for MLB.com since 2006, and previously covered the Twins from 2001-05. Follow him on Twitter @m_sheldon and Facebook and listen to his podcast. This story was not subject to the approval of Major League Baseball or its clubs.