O's recall Garcia, option Wright after relief outing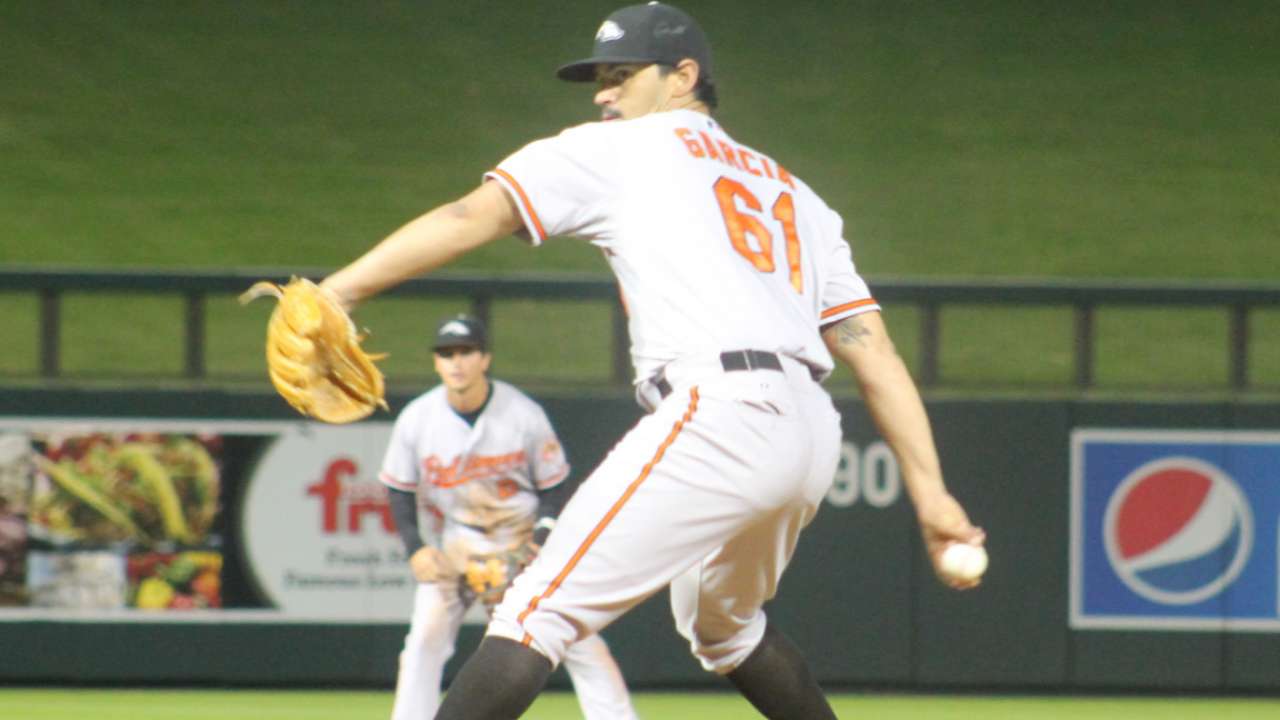 The Orioles added a fresh arm to their bullpen before Saturday's game against the Angels, recalling right-hander Jason Garcia from Double-A Bowie. Garcia took the roster spot of righty Mike Wright, who was optioned to Triple-A Norfolk after he threw 4 2/3 innings in relief on Friday night.
Garcia has made 15 starts at Bowie this season, going 4-7 with a 4.79 ERA, with 39 walks and 40 strikeouts over 77 innings. The 23-year-old owns a 3.12 ERA and has held opponents to a .226 average over his last six outings, his most recent appearance coming on Tuesday.
"The last month, I've just been working a lot with my fastball command and just working on getting more consistent," Garcia said. "I feel like my command has come a long way so far this year."
Garcia, a 17th-round pick by the Red Sox in the 2010 Draft, was selected by the Astros in the 2014 Rule 5 Draft, then traded to the Orioles. Baltimore kept him through the '15 season, with Garcia posting a 4.25 ERA across 21 relief appearances. He walked 17 and struck out 22 in 29 2/3 innings.
Orioles manager Buck Showalter supports having Garcia continue to work as a starter, but for now, the organization had a pressing need in the big league bullpen.
"He was the best option we had," Showalter said of Garcia.
Orioles relievers have been worked hard this season, entering Saturday with 297 innings, the second-most in the American League. Baltimore's starting rotation hasn't given the club consecutive appearances of six or more innings since June 21-22. In 14 games since, it has averaged just under 5 innings, with a 6.88 ERA, including Ubaldo Jimenez's 1 1/3-inning, five-run performance on Friday.
Worth nothing
• The Orioles plan to have Wright and Tyler Wilson start next Thursday and Friday at Norfolk, but both pitchers' innings will be limited in preparation for a possible return to the Baltimore rotation.
Andrew Simon is a reporter for MLB.com based in the Washington metro area. Follow him on Twitter @AndrewSimonMLB. This story was not subject to the approval of Major League Baseball or its clubs.