Brewers don't mind waiting to celebrate
Milwaukee's first walk-off win confirmed by review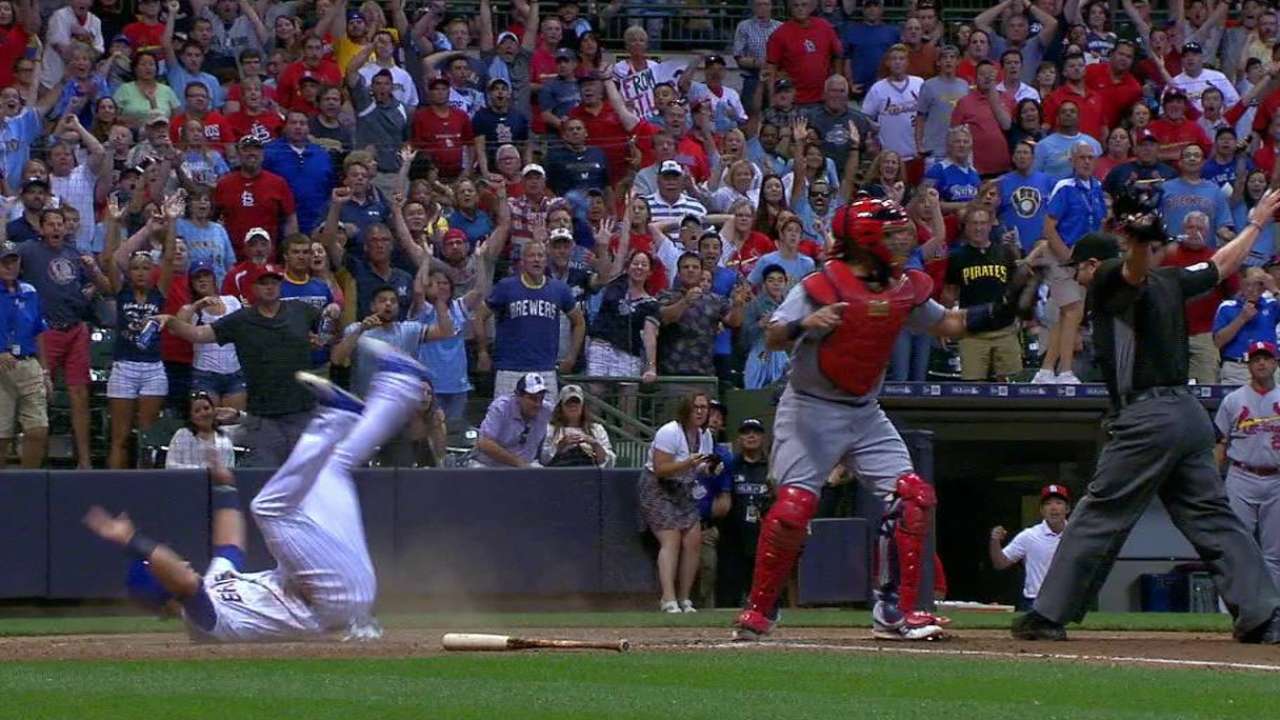 MILWAUKEE -- Fireworks went off at Miller Park as the Brewers rushed onto the field to celebrate what they thought was their first walk-off win of the season.
Then, as if somebody hit a pause button, everybody halted when Cardinals manager Mike Matheny ran out to challenge the play at the plate that for the time being gave the Brewers a 4-3 win.
For the one-minute, 29-second review, the Brewers waited on the field, some jumping and pointing to the replay on the scoreboard, others watching St. Louis slowly leave the field as the Cardinals realized the game was over.
When crew chief Ted Barrett relayed the call on the field was confirmed, the Brewers mobbed Jonathan Villar, who won the game with a two-out, walk-off single to left that allowed Kirk Nieuwenhuis to score just ahead of Tommy Pham's throw and Yadier Molina's tag.
It was the first game-winning hit of Villar's Major League career.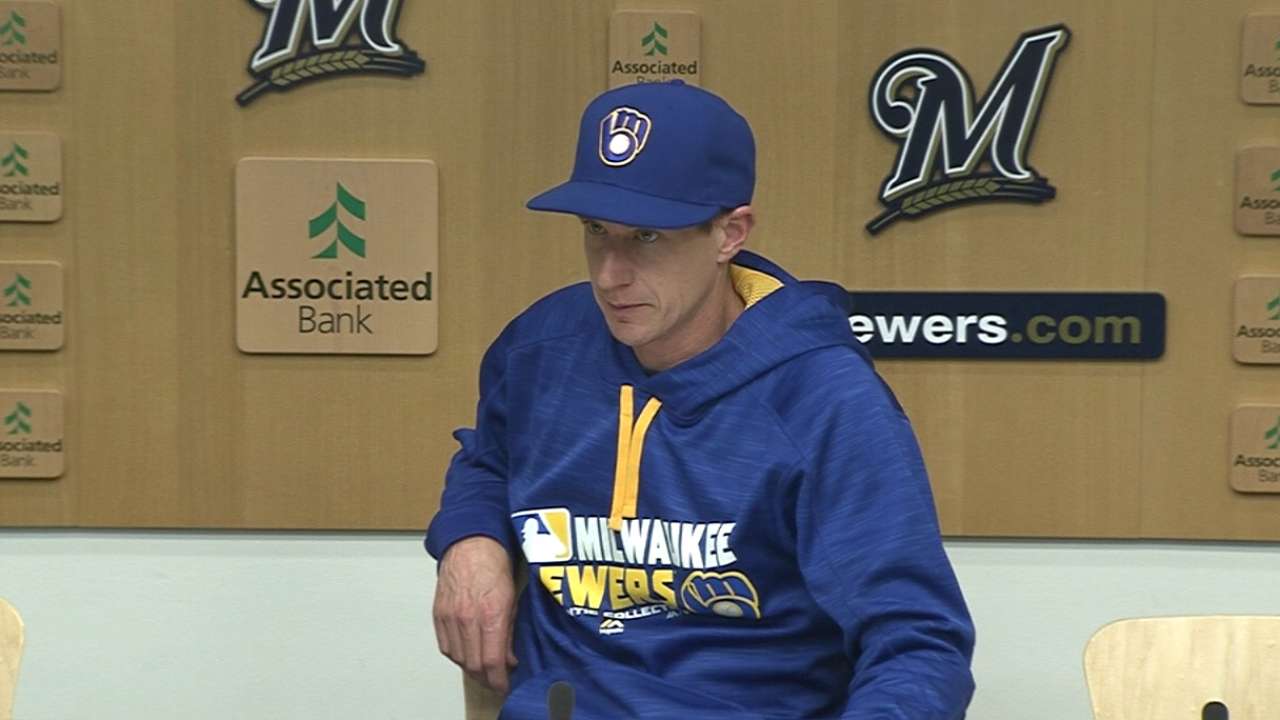 "I talked to [Hernan] Perez and he said, 'You need to hit a walk-off here,'" Villar said. "I said, 'Yeah, I need it.' I was ready for that turn at bat and I felt comfortable at home plate."
The replay review was just one of the oddities of the bottom of the ninth.
Cardinals reliever Trevor Rosenthal began the inning by walking Nieuwenhuis. Perez then dropped down a successful sacrifice bunt to move Nieuwenhuis into scoring position.
After issuing a first-pitch ball to Ramon Flores, Rosenthal left the game with hamstring spasms, forcing Matheny to go to Seung Hwan Oh. Oh hit Flores with the second pitch he threw, a play that later would become important.
After striking out pinch-hitter Andy Wilkins, Oh fell beind Villar 3-1. The Brewers shortstop fouled off two consecutive pitches before hitting a shot to left field.
"Johnny had a great at-bat," Brewers manager Craig Counsell said. "He fouled off a pitch and got a pitch he could hit."
Villar's hit quickly bounced to Pham, who made a strong throw to Molina. Had Nieuwenhuis not been running on the pitch with a runner behind him, two outs and a 3-2 count, he likely would have been out at the plate.
"It was really important [to get a head start] because I had to avoid the third baseman, too," Nieuwenhuis said. "He dove for that ball and I kind of had to re-route and I almost rolled an ankle there because I had to avoid him and touch the bag."
Molina immediately argued home-plate umpire Will Little's safe call and encouraged Matheny to challenge. But after watching the replay on the scoreboard, Molina was one of the first Cardinals to exit the field.
"I guess that's going to be part of the game now," Nieuwenhuis said of the delayed celebration. "It was a little bit strange. But it was our first walk-off win, and I'm really happy since we have a day game [Saturday]. It was a good one to come out on top of."
Andrew Gruman is a contributor to MLB.com. This story was not subject to the approval of Major League Baseball or its clubs.