Norris dinged up in collision with Utley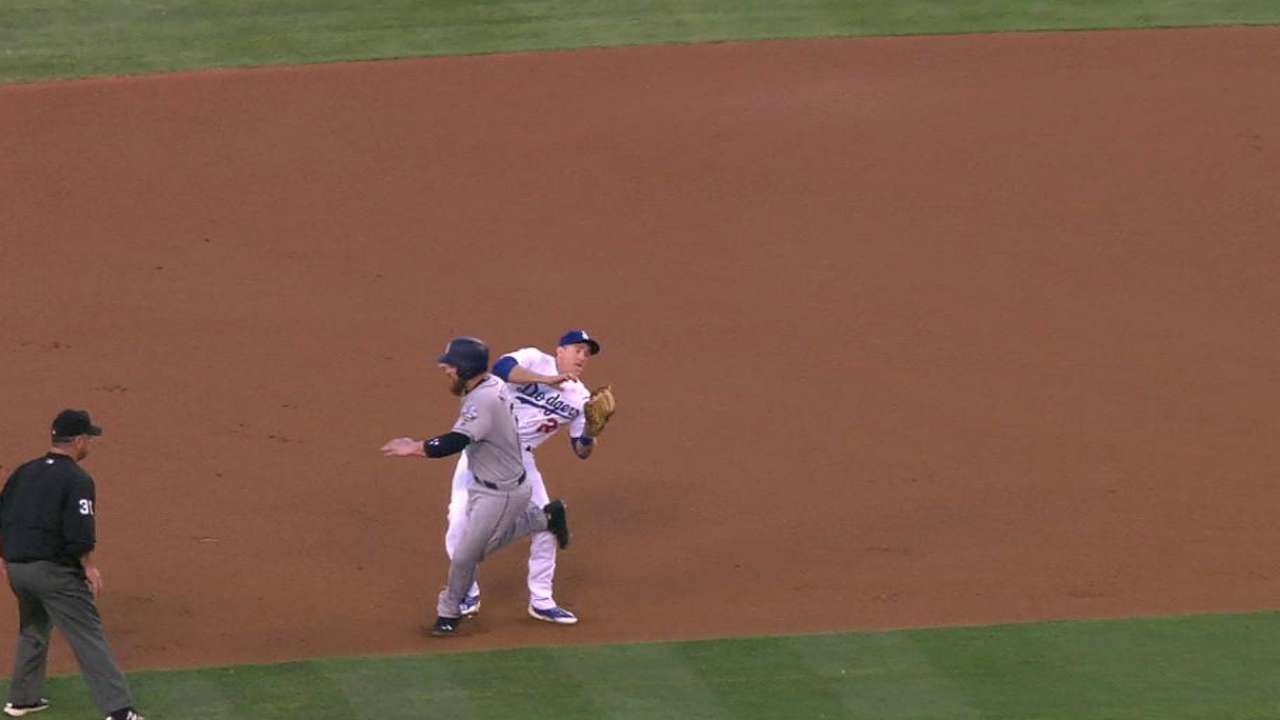 LOS ANGELES -- Derek Norris is day to day with a right quad contusion after leaving Friday night's game before the bottom of the fourth inning due to a collision with Dodgers second baseman Chase Utley on the basepaths in the first.
"It's just a bruise. He took a knee right to the quad," manager Andy Green said after the Padres' 10-6 loss. "My guess is he's going to be really sore tomorrow. Hopefully it's just a one-day thing and he can get back and catch Sunday. He might be able to catch tomorrow. We'll see how he feels in the morning."
With Norris on first and the bases loaded, Alexei Ramirez hit a grounder to second that Utley stepped into the running lane to field. Norris couldn't evade Utley, and the two collided. Norris was called out for interference and Wil Myers, who had scored on the play, was sent back to third, where he was stranded when the inning ended.
Green disagreed with the call, saying Utley deliberated caused the contact after fielding the ball.
"I don't think it was interference by any stretch," Green said. "I think when the ball goes past the baserunner and the fielder catches the ball and essentially hip-checks my guy, he's no longer in the process of fielding the baseball. He's in the process of creating a collision. Shouldn't be protected by that rule any longer. That rule exists so the fielder doesn't get blindsided, not so the fielder can blindside the baserunner."
Norris stayed in the game after the collision and struck out in the third at-bat, but Christian Bethancourt took over behind the plate in the bottom of the fourth with the Padres down, 9-4.
Jack Baer is a reporter for MLB.com based in Los Angeles. This story was not subject to the approval of Major League Baseball or its clubs.