Braves' bats come alive against ace Sale
Atlanta's 15 hits tie season-high for nine-inning game
CHICAGO -- Braves manager Brian Snitker was attempting to find ways to explain what his team had just done against Chris Sale, and hitting coach Kevin Seitzer could not hide the excitement he felt after watching his players have their most productive game of the season. All of this against a guy that was attempting to become just the fourth pitcher since 1990 to take 15 wins into the All-Star break.
Sale tied a career high by surrendering eight earned runs over five innings, and the Braves tallied a season-high run total, as Freddie Freeman, Nick Markakis and Tyler Flowers each homered in Friday night's 11-8 win over the White Sox at U.S. Cellular Field.
"[Sale] wasn't as sharp as he usually is," said Flowers, who had served as Sale's personal catcher with the White Sox from 2014-15. "These are the kinds of days you hope to face guys of that caliber and just try to be ready for the mistake and take advantage of it."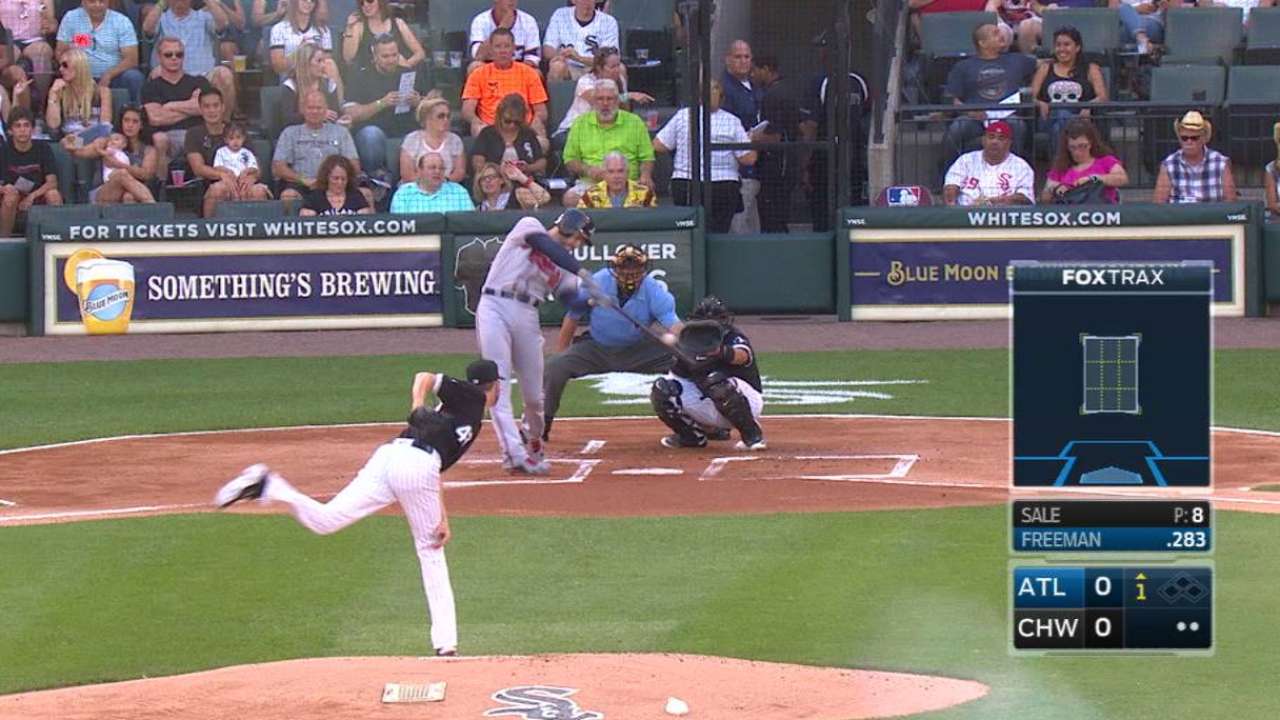 The Braves registered 15 hits, including a season-high nine that went for extra bases. Seven of those extra-base hits were tallied against Sale, who surrendered those home runs in the first four innings. The White Sox ace then incurred his most costly blows during a four-run fifth inning, which was highlighted by Jeff Francoeur, Adonis Garcia and Flowers each recording two-out RBI doubles.
"We haven't come out on the winning end as much as we'd like," Flowers said. "But I think if you've watched our team over the course of the season, there's always that fight and grind. Whether it ends up in victory or loss, I don't think I've ever seen anybody on this team not take an at-bat as the biggest at-bat of their career."
Markakis has increased his season home run total to five, and he has gone deep three times over the past two nights in Chicago against the Cubs and White Sox. But the veteran outfielder's greatest contribution against Sale might have been the hustle he showed to beat out a potential double play that would have ended the fifth inning before the trio of run-scoring doubles.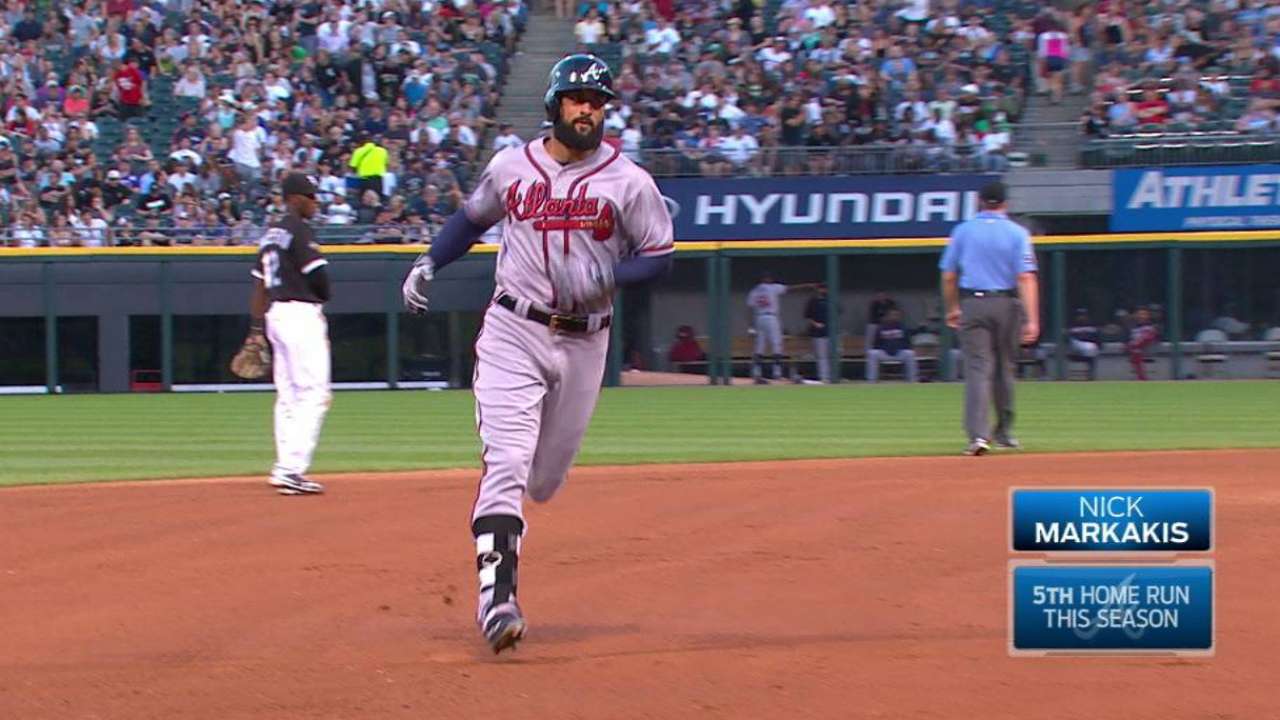 "If he's not digging to first base and beats a double play, we don't get anything," Seitzer said. "It was good hustle by him and a testimony to how these guys are busting their butt every single night and grinding. It was a fun night. You don't see Chris Sale get roughed up and have a night like that very often."
The Braves made a series of defensive mistakes that allowed the White Sox to take a 4-3 lead with a three-run second inning against Matt Wisler, and then Freeman's third-inning hot shot resulted in a triple play. Suddenly, it appeared all was going wrong. But this sequence of events simply added to the satisfaction of an odd night that certainly included an unexpected result.
"I've been on the other side of Sale a lot of times where you don't touch him," Seitzer said. "Guys up and down the lineup just had really good [at-bats]."
Mark Bowman has covered the Braves for MLB.com since 2001. This story was not subject to the approval of Major League Baseball or its clubs.