Sale pitches game to forget in loss to Braves
White Sox ace allows 8 earned runs, which ties his career high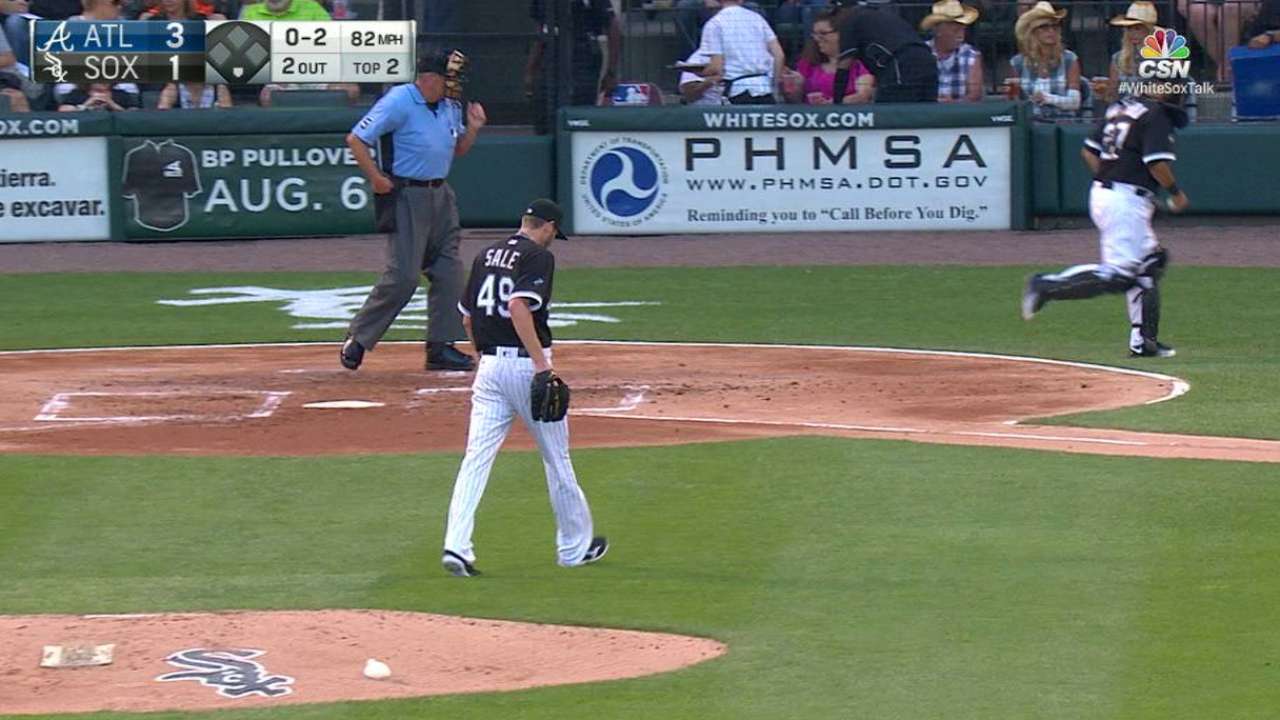 CHICAGO -- Let's say the following scenario was laid out to the White Sox prior to Friday night's series opener with the Braves at U.S. Cellular Field.
Your offense scores eight runs, and Chris Sale, who is a strong candidate to be named the American League starting pitcher in his fifth straight All-Star appearance, is on the mound. Almost everyone presented this situation would have guessed the same result: an easy White Sox victory.
Instead Sale lasted five innings, giving up a season-high eight earned runs, also tying the most in his career, and a career-high seven extra-base hits, as the Braves pounded their way to an 11-8 victory. Sale watched his ERA rise to 3.38 and his record drop to 14-3, which stands as an outstanding first half for the season. But the always accountable team leader knew he had to be far better in this particular contest.
"Pretty embarrassing. It's about as bad as I possibly think I've been in a while," said Sale, who struck out five, walked two and was tagged for three home runs. "I definitely would have liked to have been better tonight for the guys.
"We score eight runs, and you got to have that game. You score eight runs, and you've got to win."
The Tyler Flowers factor came into play at some level on Friday. The current Braves catcher was behind the plate for every one of Sale's starts from 2014-15 when they played together with the White Sox.
Before the game, Flowers laughed at the idea that he had Sale figured out with all of this past knowledge. Then Flowers knocked out a two-run homer and an RBI double against his friend.
"Yeah, I think you know who won that battle," Sale said. "He's seen me more than anybody. You tip your cap and you move on. Just move on."
"These are the kinds of days you hope to face guys of that caliber and just try to be ready for the mistake and take advantage of it," Flowers said. "It's a lot different staring at someone while squatting and knowing what's coming than standing sideways looking left and trying to figure out what's coming."
After nine starts in 2016, Sale featured a 9-0 record with a 1.58 ERA. Over his next nine starts, Sale has a 5-3 mark with a 5.56 ERA. White Sox manager Robin Ventura quickly pushed aside any concern about his staff ace, and Sale basically chalked up Friday to a bad performance he quickly would forget.
"Tonight I lost the game for us," Sale said. "Nobody in here should be upset other than myself. We just pick up where we left off and keep grinding.
"This is a throwaway game. This is one you are not going to get back. There's nothing to take away from this game for me personally. I feel as good as I've ever felt. I feel strong, I feel like I have juice left. Like I said, just push this one by the wayside, come back tomorrow for a work day and get my work in and keep grinding."
Scott Merkin has covered the White Sox for MLB.com since 2003. Read his blog, Merk's Works, follow him on Twitter @scottmerkin, on Facebook and listen to his podcast. This story was not subject to the approval of Major League Baseball or its clubs.