Pelfrey emerges as dependable starter for Tigers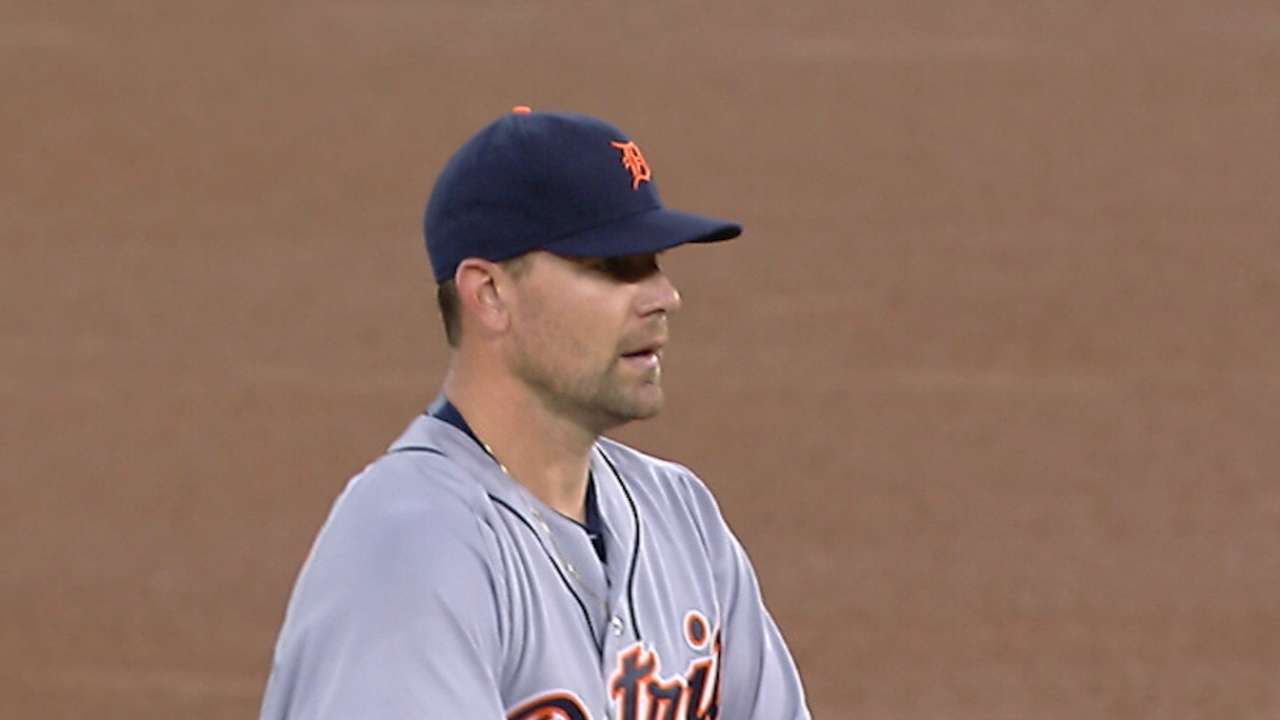 TORONTO -- Mike Pelfrey headed into Memorial Day weekend with an 0-4 record and a 5.55 ERA. In that context, the 2-8 record and 4.58 ERA he'll take into the All-Star break represents a vast improvement.
For a lot of reasons, Pelfrey's performance in Friday's 6-0 Tigers loss to the Blue Jays at Rogers Centre was a microcosm of his season to date. With three walks and five three-ball counts within his first 12 batters, he was on the verge of disaster, meandering a dangerous path through a formidable Blue Jays lineup while trying to fill innings.
And yet, with six innings of one-run ball for the second consecutive outing, Pelfrey gave the Tigers a chance, leaving with a 1-0 deficit once again. Five days earlier, they rallied for him against the Rays. This time, the Jays rallied once he left.
It was a bad result in a game the Tigers needed with Matt Boyd and Anibal Sanchez slated as fill-in starters the next two days. At the same time, with Jordan Zimmermann and Daniel Norris on the disabled list heading into the break, Pelfrey's recent performance offers hope that he can help the Tigers survive their absence.
"I'm getting better," Pelfrey said, "but I always revert back to: April was just so bad. That's not the way that I wanted to start off being a Tiger. That leaves a bad taste in my mouth. I know I needed to be better. That's my job. I feel like I've been better lately, and hopefully that will continue after the break."
Said catcher James McCann: "I think early on he was searching for a few things. I really like what I've seen out of him his last few outings. Hopefully his starts after the All-Star break are like that, and the offense can give him a little bit of run support."
A couple factors play into that. Pelfrey's sinker has gained velocity in recent outings, from just over 92 mph on average in April to just under 94 mph his last two outings. More important for Pelfrey and McCann, the righty's secondary stuff has set up the sinker better, rather than relying too much on one pitch.
"He's trusting his offspeed stuff," McCann said. "He's a guy that uses his fastball and uses it a lot, and the fact that he's using his changeup and using his slider to keep guys off the fastball is a very encouraging sign."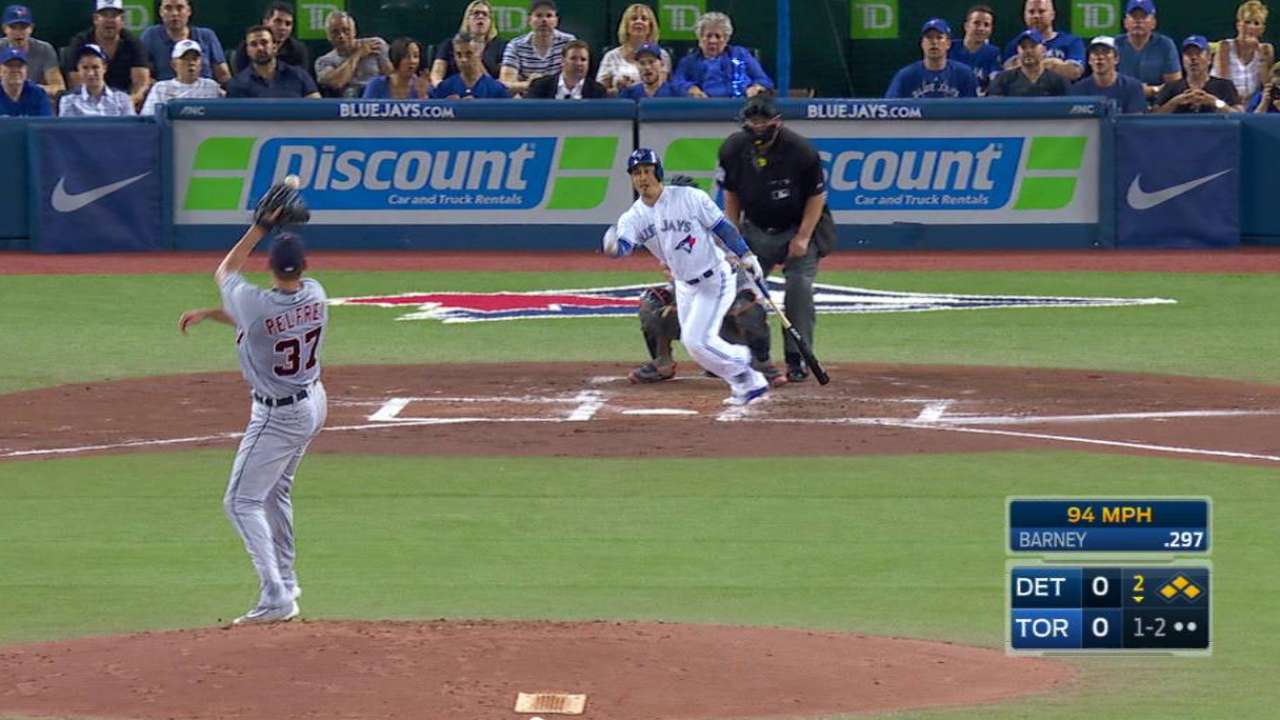 Pelfrey made up for baserunners Friday with nine groundouts against a Jays lineup that thrives on line drives and deep flies. Three of the six hits he allowed were erased on double plays. Two other groundouts ended innings with runners on.
The run that doomed him scored on a double play. But given runners at the corners with nobody out and Josh Donaldson up, it was an escape with damage control to get two outs from Donaldson and bring up Edwin Encarnacion with the bases empty.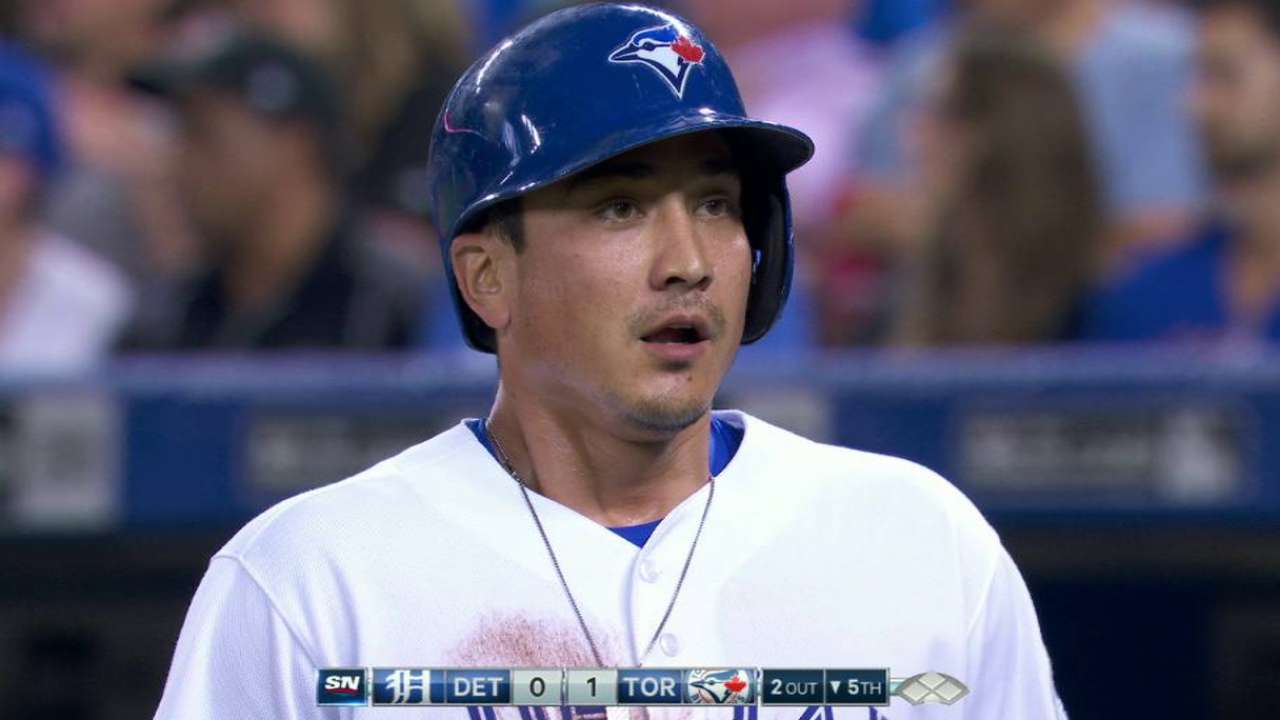 "Ball was sinking, and that's my bread and butter," Pelfrey said. "It was sinking again tonight and guys made good plays behind me. Could've been a lot worse if we didn't have those, so I appreciate those."
Jason Beck has covered the Tigers for MLB.com since 2002. Read Beck's Blog, follow him on Twitter @beckjason and listen to his podcast. This story was not subject to the approval of Major League Baseball or its clubs.