Barnette rescues Hamels, saves Rangers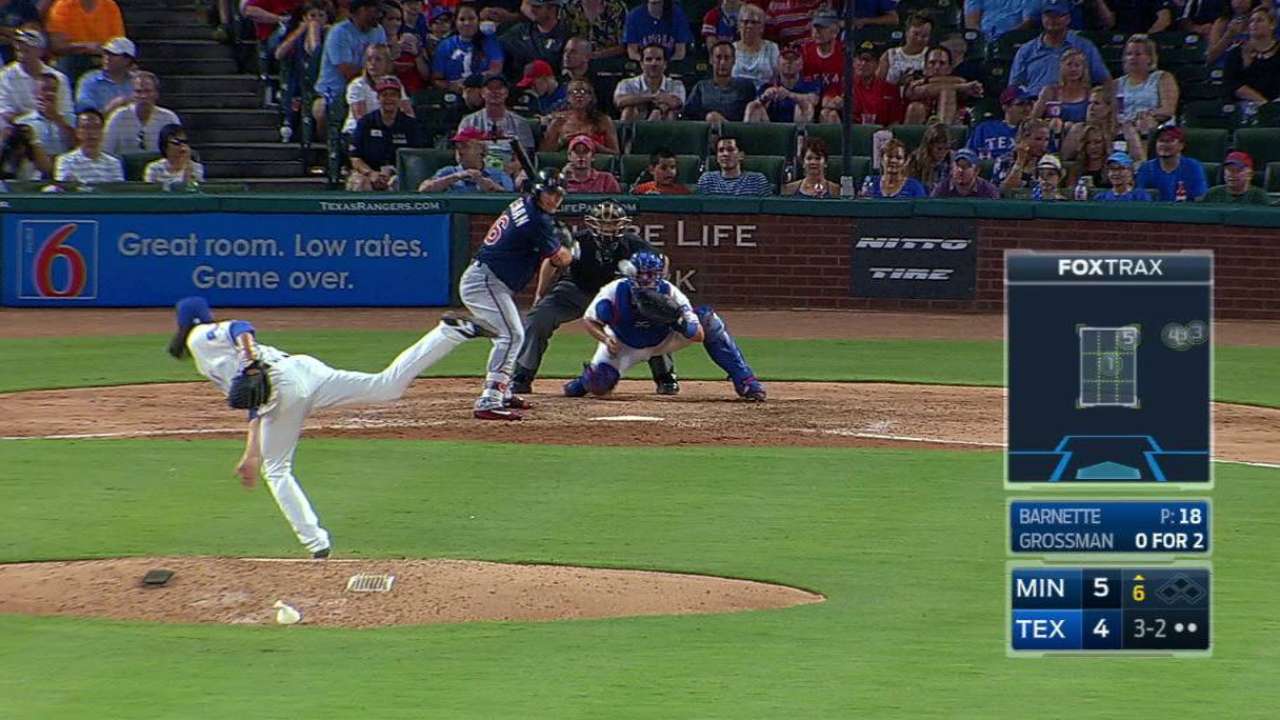 ARLINGTON -- For the seventh straight game, the Rangers couldn't get five complete innings from their starting pitcher. That's a new club record.
But the superb relief work led by Tony Barnette kept the Rangers from having to agonize over another loss. Instead they were able to enjoy this one as they rallied for a 6-5 victory over the Twins on Friday night at Globe Life Park.
"It was a good team win," Barnette said. "The guys fought the entire game until the last out. It was a good team win. We needed it. It shows the resolve in us. We fight no matter what."
Cole Hamels was the struggling starter du jour, lasting just 4 1/3 innings. He allowed five runs on five hits and six walks, which tied a career high for him in one game. It's the second straight start -- both against the Twins -- Hamels couldn't get past the fifth inning.
"I'm just not getting ahead of hitters and getting deep into counts," Hamels said. "That's been the case for all of us. We all want to be the guy who can lighten the load and get us back on course. You have to go out and be aggressive. But when you're not getting ahead of hitters and making them uncomfortable, walking the number of guys I did tonight, it's frustrating."
Hamels took a 4-2 lead into the fifth but gave up a three-run home run to Miguel Sano. His night came to an end in the fifth when he issued a pair of one-out walks to Max Kepler and Kennys Vargas.
That's when Barnette took over and kept it a one-run game. A superb defensive play also helped.
Danny Santana was the first batter he faced and slashed a grounder down the first-base line. Jurickson Profar, playing well off the bag, made a superb diving stop to his left and went for the double play at second.
But his throw was well to the inside of the bag and shortstop Elvis Andrus made a terrific play, stretching out to make the catch and barely keeping a toe on the bag to get a force.
"I was trying to keep the ball from going to left field and somehow put my foot on the bag," Andrus said. "I don't know how I did it."
Barnette got out of the inning by getting Kurt Suzuki on a grounder to second and followed that up with two more scoreless innings before giving way to Matt Bush and closer Sam Dyson.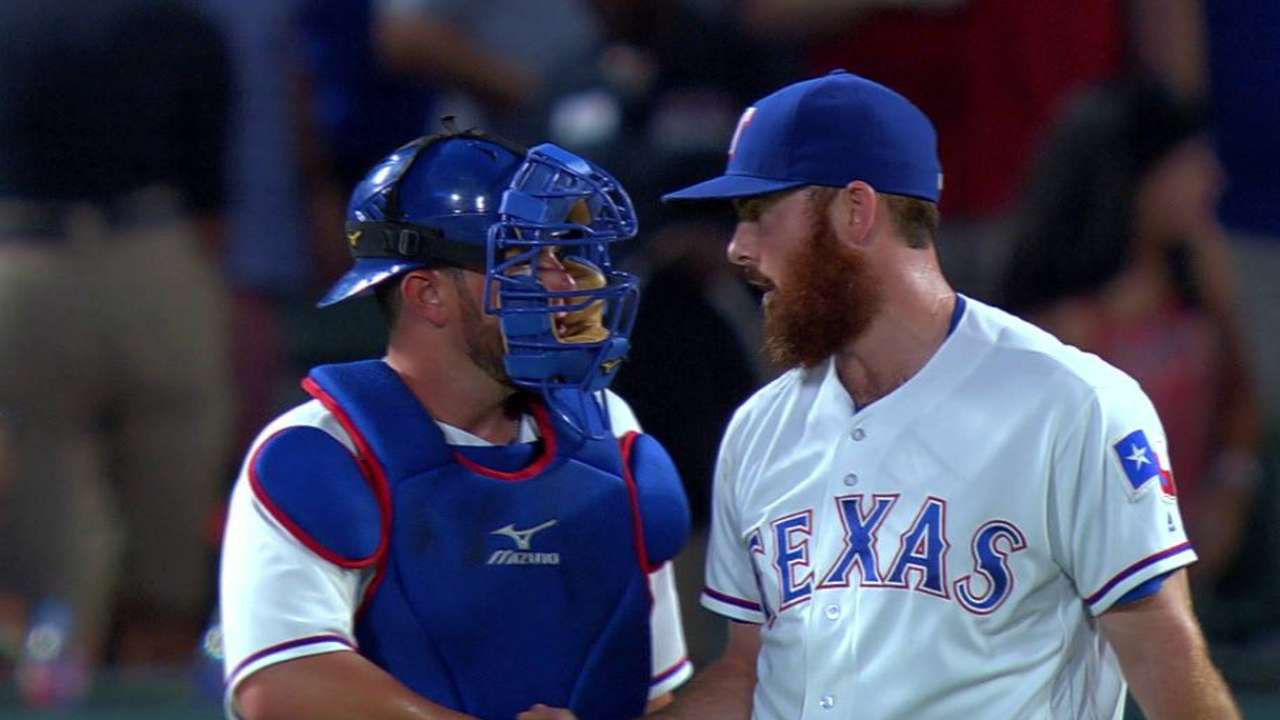 "Tony has been very good for us," manager Jeff Banister said. "Similar situations, multiple innings. The biggest thing was getting that last inning to set up Bush and Dyson."
Barnette, a 32-year-old rookie who was signed out of Japan in the off-season, is now 6-3 with a 2.43 ERA as the Rangers middle reliever. He has three wins and has not allowed an earned run in his last nine outings, holding the opponents to a .114 batting average.
"Barnette is hot right now," said Dyson after getting his 18th save. "He is definitely a quality pitcher. He has four pitches and he uses all of them. He has been doing it a long time in Japan and now he is showing what he can do here."
The six wins ties him for the most in the American League by a reliever.
"I play on a good team," Barnette said. "I'm surrounded by a winning ballclub. I just came in here trying to fit in and do my best. We are a really good team."
T.R. Sullivan has covered the Rangers since 1989, and for MLB.com since 2006. Follow him on Twitter @Sullivan_Ranger and listen to his podcast. This story was not subject to the approval of Major League Baseball or its clubs.