HRs sting Green, but rookie remains confident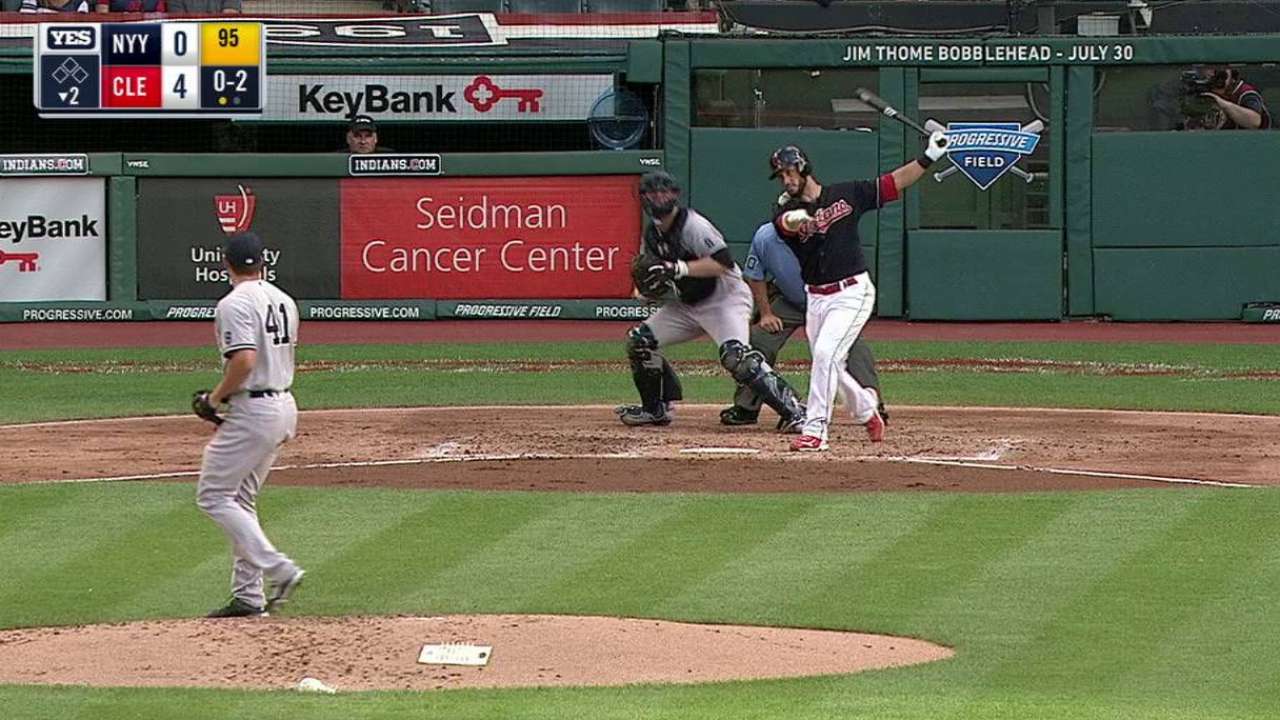 CLEVELAND -- Yankees right-hander Chad Green turned and watched the baseball soar over the towering left-field wall. Almost immediately, he turned his stare toward the ground as Mike Napoli's ball landed three-fourths of the way up the bleachers at Progressive Field.
Napoli's two-run mammoth shot in third was the deafening blow to Green's first start against an American League team. The rookie was handed the loss in his third big league start after giving up four home runs to the Indians in Friday's 10-2 loss.
"I didn't execute some pitches, and a team like this is going to take advantage of it," Green said. "I made four mistakes all game, but those four mistakes cost me seven runs."
All eyes were on the young hurler as he toed the rubber against the first-place Tribe. Green was given another start in the rotation after throwing a gem in a spot start against San Diego on Sunday. With the Yankees' rotation still in flux for the second half, Green was making a case for a permanent role in the rotation.
But his bid for a home in the starting staff got off on the wrong foot. Green surrendered back-to-back jacks to the first two batters he faced, Carlos Santana and Jason Kipnis. Things took a turn for the worse when Lonnie Chisenhall took the rookie deep on a two-run blast to right, completing a four-run first inning.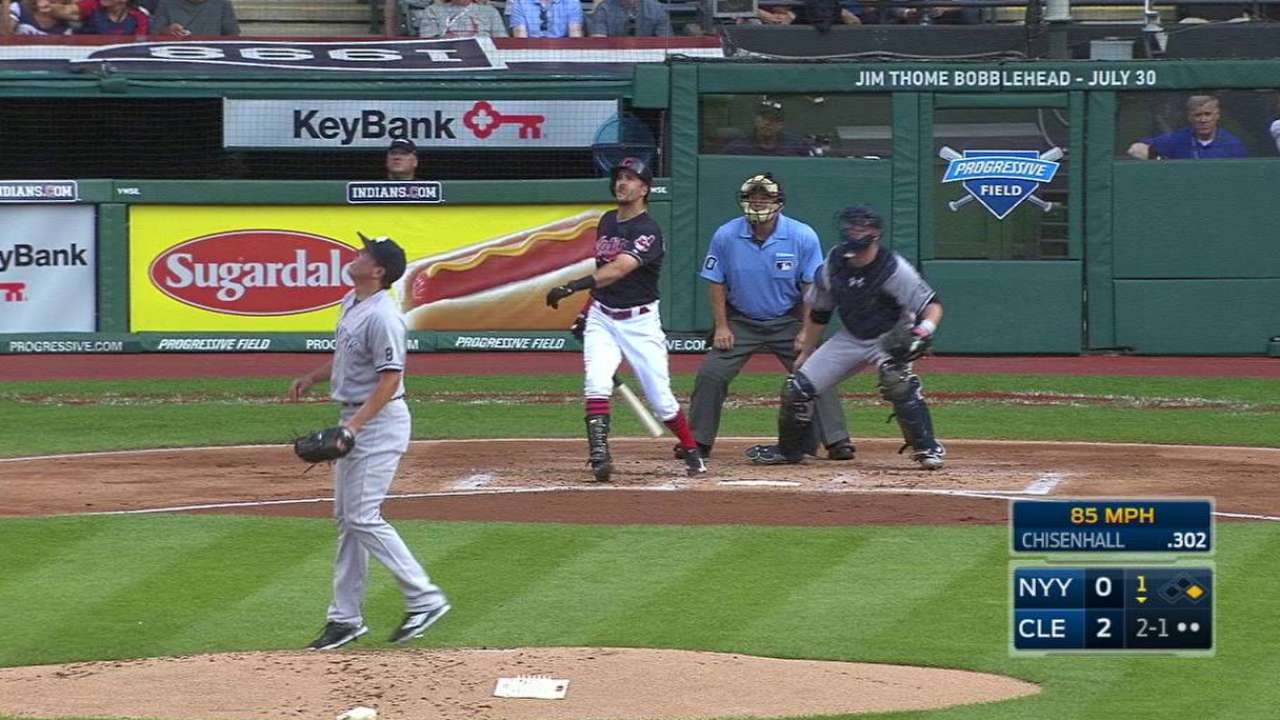 "That was big," Green said. "The two solo shots, but after that you can live with just giving up two in the first. But the two-run home run -- I just have to make a better pitch."
Green responded with a 1-2-3 inning on 11 pitches in the second, but he fell victim to the long ball for the final time when Napoli obliterated his fastball in the third. Per Statcast™, Napoli's blast traveled an estimated 460 feet, the longest recorded homer by an Indians batter.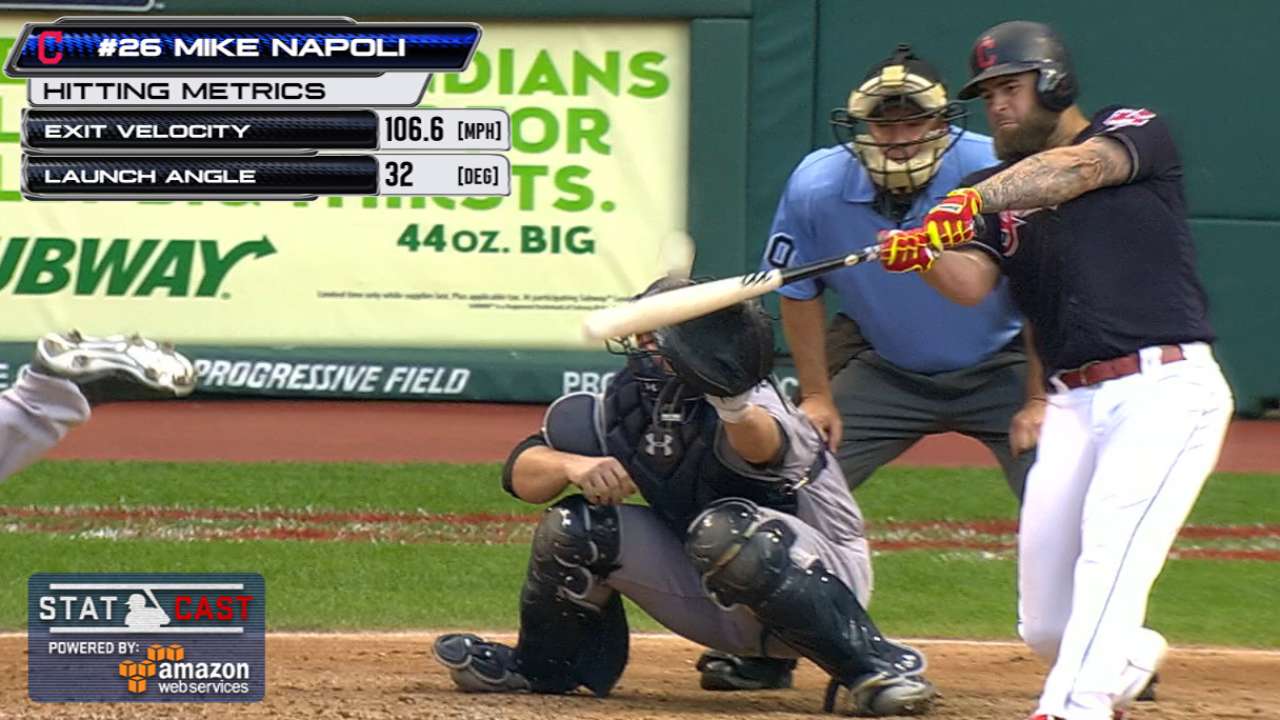 Prior to Friday night, Green had surrendered three home runs in three Major League appearances. This season, he has given up just two homers in 14 Minor League starts.
"He didn't have control of his cutter tonight," Yankees manager Joe Girardi said. "It put him in some bad counts. He got some balls up and missed some spots. He had really good control of it in San Diego, and tonight he did not."
The homers may have spoiled his night, but it wasn't all bad. Aside from the four home runs, Green gave up just one other hit, a one-out single that chased him out of the game. He ended up punching out six batters over 4 1/3 innings.
"He's got great stuff," Yankees catcher Brian McCann said. "[He's got] great mental makeup and great mental composure. Tonight, he just didn't have his 'A' stuff."
Which is why, despite watching a quartet of home run trots, the rookie's confidence hasn't wavered, even if his stay in the rotation is in question.
"I'm still confident in my stuff," Green said. "When I got ahead of them, I was fine."
Shane Jackson is a reporter for MLB.com based in Cleveland. This story was not subject to the approval of Major League Baseball or its clubs.