Phillips sustains hairline fracture on left hand
Club optimistic second baseman could play on Saturday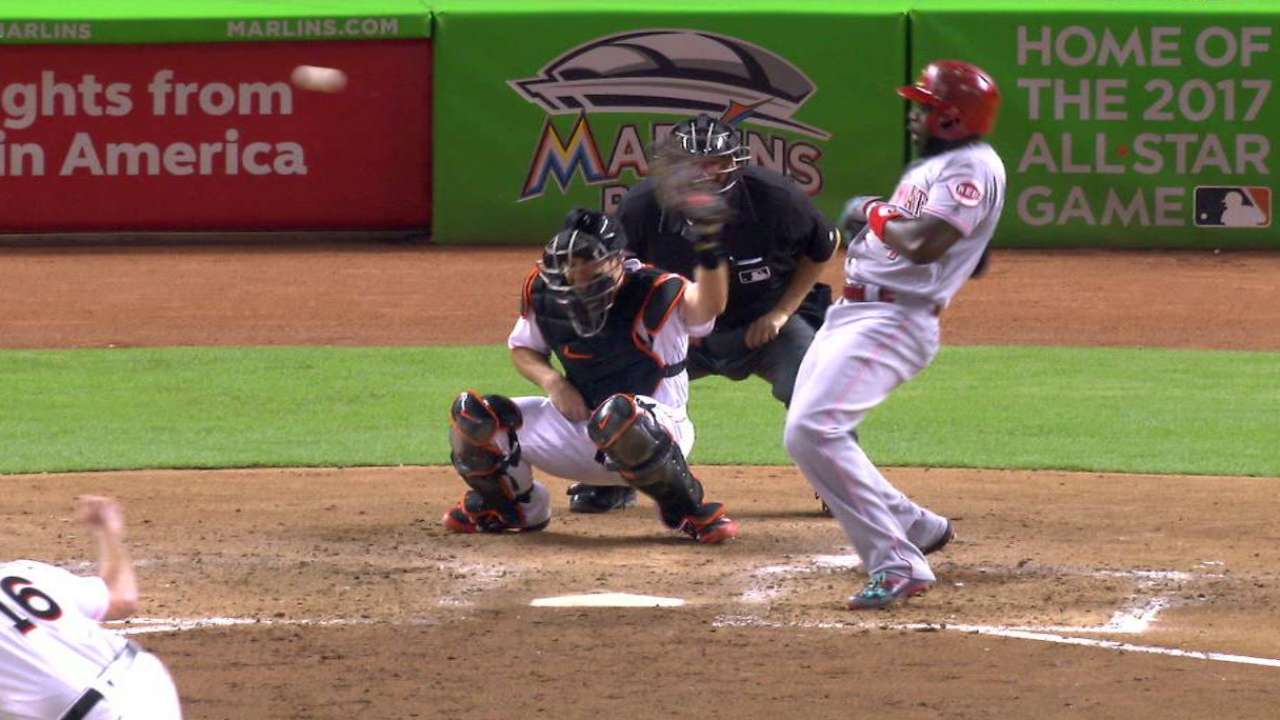 MIAMI -- The pain on Reds second baseman Brandon Phillips' face was clear to see after he was hit on the left hand by a Jose Fernandez pitch. Following Cincinnati's 3-1 loss to the Marlins on Friday night, the news was not entirely good.
X-rays revealed that Phillips has a hairline fracture on his left hand, according to the club. Phillips is being treated as if the injury is a bruise and will ice overnight with the hope that he might be able to play on Saturday.
Despite hurting from being struck by the 87-mph Fernandez changeup, Phillips went to first base and remained in the game without being checked out. However, he was lifted in a double switch before the bottom of the eighth inning. Rookie Jose Peraza took his place at second base.
"It wasn't good enough to stay in the game. It was really sore. We'll have to see where he is tomorrow," Reds manager Bryan Price said before the X-ray results were known. "I think he could have played defensively in an emergency but swinging the bat wasn't going to happen after he got hit. We'll see how he is tomorrow after a lot of ice and some time to sleep and see if we can get the swelling down."
Hand injuries have been a nemesis in recent seasons for Phillips, who was struck on the same hand by a Noah Syndergaard fastball against the Mets on April 25. He missed two games with a bruise.
While trying to make a catch against the Cubs on July 9, 2014, Phillips tore a left thumb ligament and needed surgery that caused him to miss 33 games. On June 1, 2013, he missed four games when he was hit on the left forearm by Pirates reliever Tony Watson, but his production dipped the rest of the season.
If Phillips is able to swing a bat on Saturday, there's a good chance he might play.
In 80 games this season, Phillips is batting .256/.296/.369 with six home runs and 31 RBIs. He hasn't hit a home run in his last 53 games, dating back to May 7, a stretch of 211 at-bats -- the longest drought of his career.
Mark Sheldon has covered the Reds for MLB.com since 2006, and previously covered the Twins from 2001-05. Follow him on Twitter @m_sheldon and Facebook and listen to his podcast. This story was not subject to the approval of Major League Baseball or its clubs.