Belt an All-Star with Esurance Final Vote win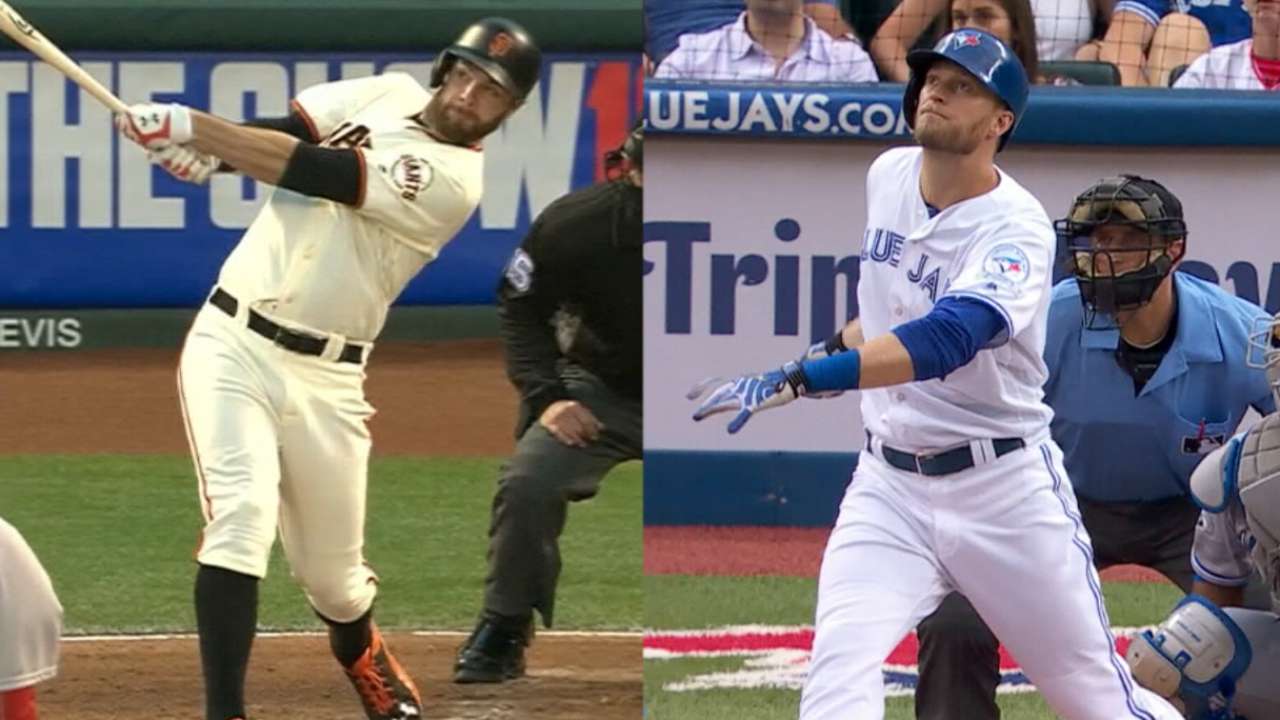 SAN FRANCISCO -- If Brandon Belt could, he'd personally thank every coach who worked with him, each teammate who counseled him and, of course, every fan who helped him win the 2016 Esurance MLB All-Star Game Final Vote.
The Giants first baseman secured his first spot on the National League roster for Tuesday's All-Star Game at San Diego by drawing 10.4 million votes. That total, which Belt reached with an avalanche of online balloting in Friday's final hours of voting, enabled him to leapfrog Pittsburgh left fielder Starling Marte, who forged ahead the day before. Colorado shortstop Trevor Story, Arizona third baseman Jake Lamb and Milwaukee left fielder Ryan Braun were the other candidates Belt outdistanced through the mixture of texting and tweeting from his backers.
Belt's addition increased the Giants' All-Star contingent to four. He'll join left-hander Madison Bumgarner, right-hander Johnny Cueto and catcher Buster Posey.
"I can't believe that I'm an All-Star this year," Belt said. "It's pretty cool. Especially to step back and think about how many fans voted, how many times they voted, how many messages I got of how their thumbs were numb. ... It was kind of overwhelming to see all that support. I want them to know that it didn't go unnoticed. I did see that stuff."
All-Star Game coverage begins Tuesday at 4:30 p.m. PT on FOX.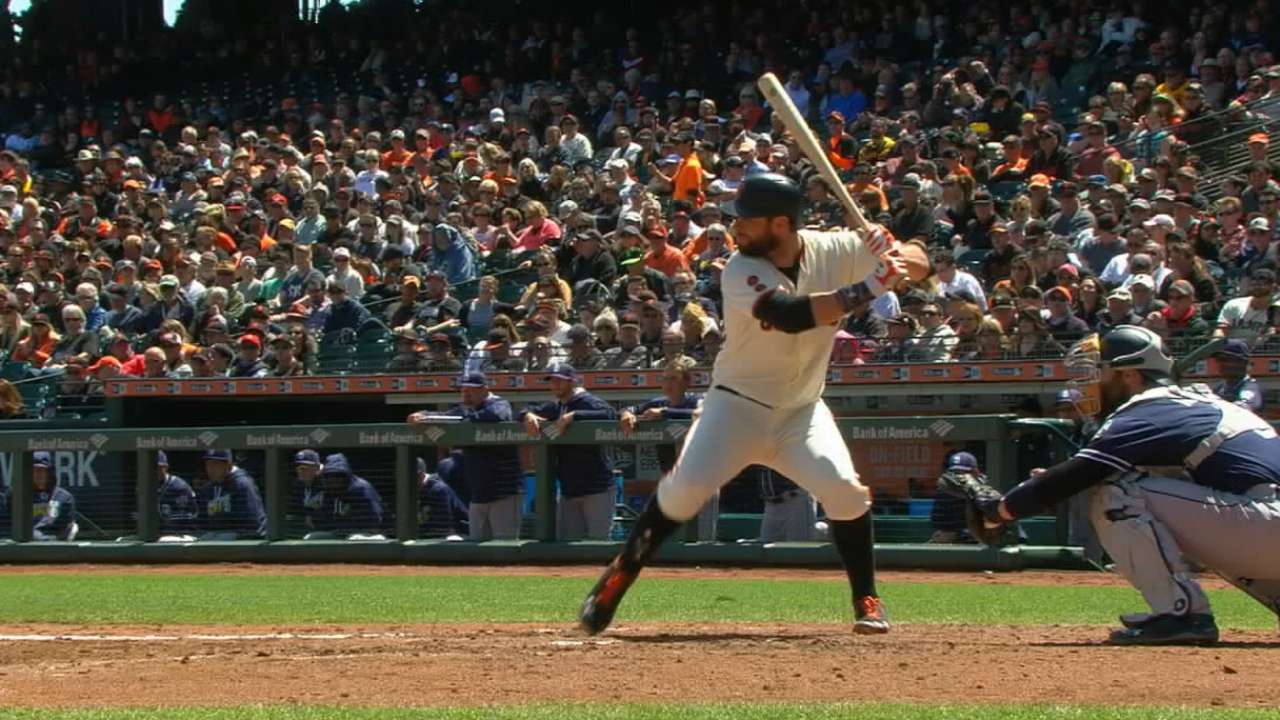 Belt, 28, admitted feeling "pretty nervous" as voting ended at 1 p.m. PT. His agitation prevented him from finishing his lunch, which consisted of a hamburger and deviled eggs. But he soon was relieved when his wife, Haylee, received a text message from Bumgarner's wife, Ali, who relayed the Final Vote result.
Belt became the first Giant to win the Final Vote. Their previous nominees since its inception in 2002 were catcher Benito Santiago (2003), center fielder Aaron Rowand (2008), third baseman Pablo Sandoval (2009) and right fielder Hunter Pence (2013).
Numerous Giants expressed encouragement through social media for Belt and urged fans to vote for their teammate, who began Friday with a league-high 27 doubles. Belt also owned team highs in batting average (.300), slugging percentage (.519) and on-base percentage (.399).
Said an appreciative Belt, "The closeness of this team and the dynamic we have in the clubhouse is, to me, second to none."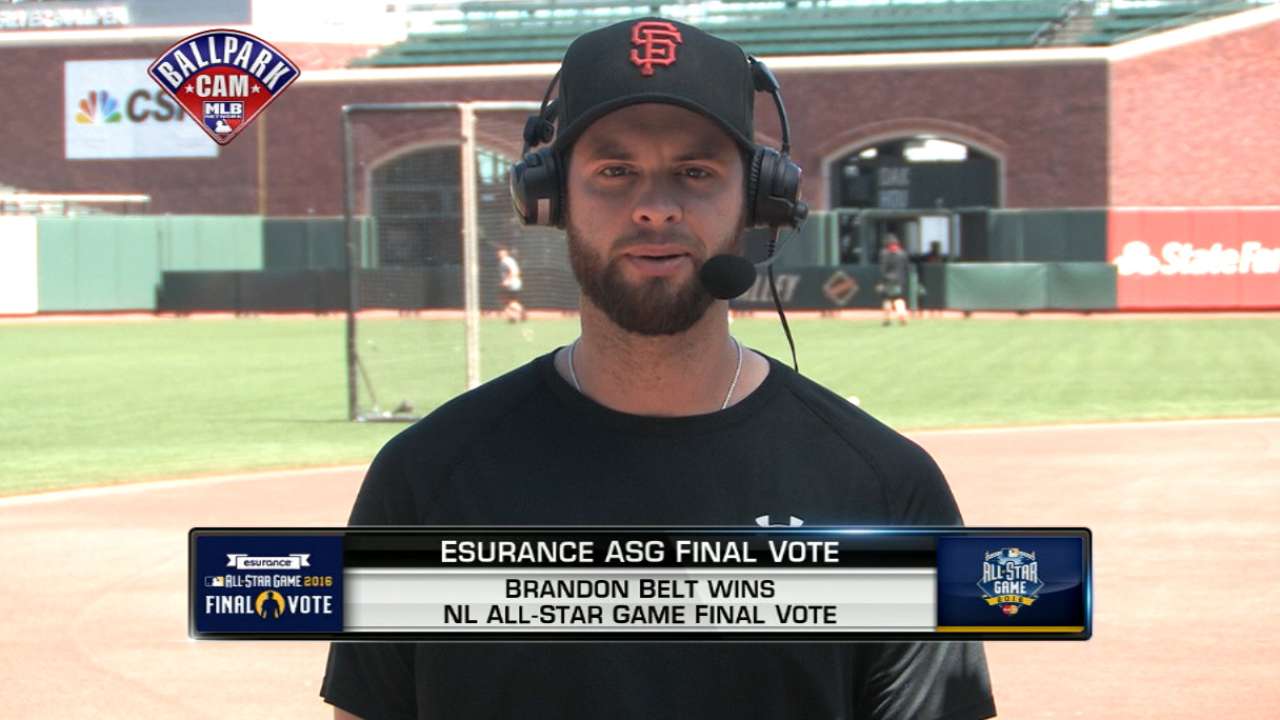 Posey tweeted, "Been watching Belt rake all year. Let's get him to San Diego." Right-hander George Kontos also took to Twitter: "Just a few more hours left to #VoteBelt everyone!"
Giants manager Bruce Bochy admitted texting a couple of votes for Belt.
"He owes me," Bochy jokingly said.
Right-hander Sergio Romo, who has witnessed Belt's entire six-year Major League career, observed that Giants players long believed Belt could excel.
"We saw it coming. We really did," Romo said. "He's grown into that role of being a true professional."
Referring to the six-year, $79 million contract extension Belt received in April, Romo added, "I can see why they locked him up for so long."
The "Baby Giraffe," as Belt has been nicknamed, appears to be maturing.
"I put in a lot of work, and the coaching staff and even teammates have put in a lot of work with me," he said. "This is for them as much as it is for me, too. There's a lot of people working hard to make you be successful. I appreciate the organization for having a lot of faith in me; I appreciate the coaches and teammates for having a lot of faith in me. It is nice to have this right now."
Chris Haft has covered the Giants since 2005, and for MLB.com since 2007. Follow him on Twitter at @sfgiantsbeat and listen to his podcast. This story was not subject to the approval of Major League Baseball or its clubs.