Jimenez's woes continue vs. Angels
Starter lasts just 1 1/3 frames; status in rotation is questionable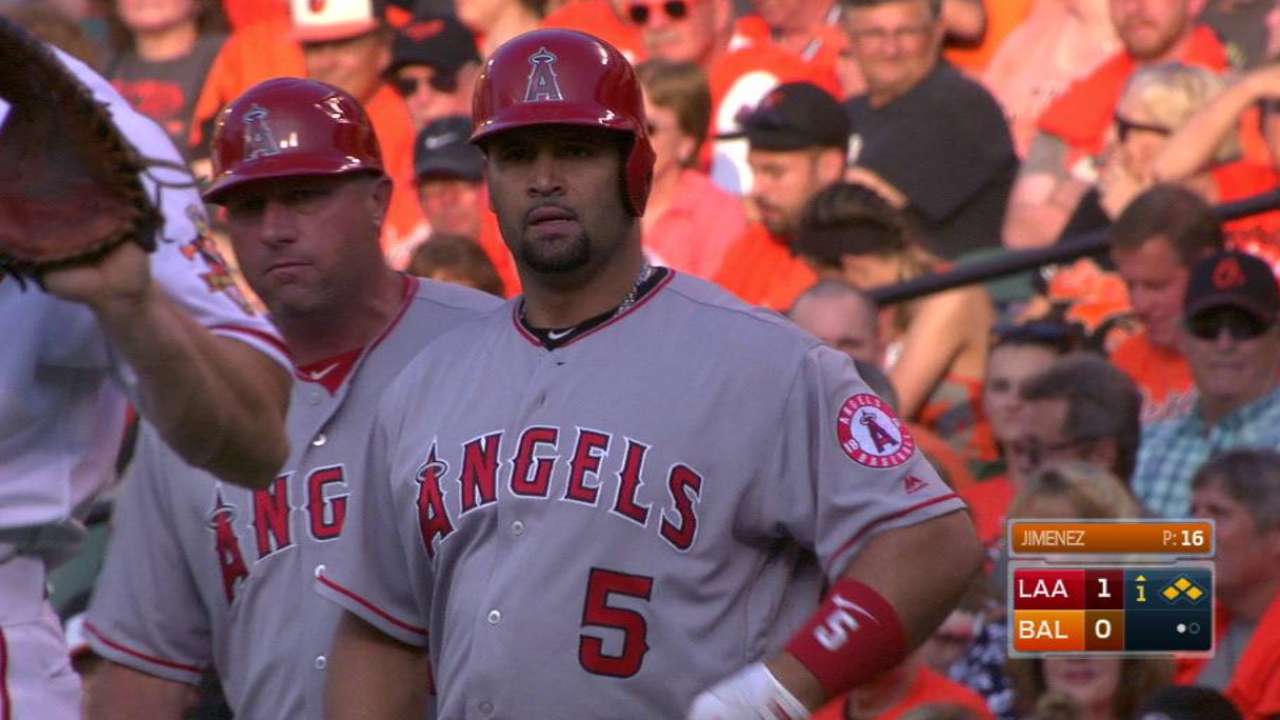 BALTIMORE -- Ubaldo Jimenez can't explain it. The Orioles aren't sure about it. But no matter what's happening, one thing's for certain: The lanky right-hander continues having problems getting batters out and lasting long in starts.
He made it just 1 1/3 innings on Friday, giving up five runs on five hits as the Angels rolled to a 9-5 victory on the night the Orioles celebrated the 50th anniversary of their 1966 World Series title. Seven of the 11 batters who faced Jimenez reached, and he left the field to a chorus of boos.
He'd love to find the answer to this mystery. But so far, no dice.
"There's no doubt about it, this is the toughest thing that I have had to face," Jimenez said. "But like I said before, I'm never going to put my head down. I know I let the team down, and I didn't do what I'm supposed to do, helping the team."
He may not get many more chances to help the team out of the starting rotation. Jimenez now has a 5-9 record with a 7.38 ERA. He's walked 50 in 81 2/3 innings, often falling behind in the count.
Orioles manager Buck Showalter pulled him from the starting rotation once before. Jimenez pitched one time out of the bullpen before Baltimore needed to put him back in the rotation again.
He beat San Diego in consecutive starts on June 22 and 28, allowing just three runs on seven hits in 11 innings. Jimenez struck out 12 and walked four during those two starts against the Padres, and it looked like he might be turning things around.
That changed in his last two starts. Jimenez surrendered six runs on six hits in 4 1/3 innings in a 6-3 loss against Seattle on July 3. Then came this game, where the right-hander could not make it out of the second inning.
He's now given up 11 runs on 11 hits in just 5 2/3 innings and has taken the loss in the last two games.
"He's a professional, and that's the thing," catcher Matt Wieters said. "He knows. Every day he shows up here, he's going to do what he can to help the team win, he's going to do what he can to get himself better. He knows that he wants to pitch better."
The question now is what happens next with Jimenez. He may have made his last start for a while. Showalter said he did not think Jimenez was injured, and the pitcher confirmed afterward that everything felt fine.
The Blue Jays won their seventh straight game and cut the Orioles' lead to one game in the American League East, so good starting pitching is crucial to Baltimore at this time.
"[He was] not very good," Showalter said. "[I was] hoping that Ubaldo could get us deeper in the game. We had tried to put him in the bullpen and see if we could work some things out there, but necessity put him back in there. So we'll attack it after the break."
Jeff Seidel is a contributor to MLB.com. This story was not subject to the approval of Major League Baseball or its clubs.