Yasmanian trio! Grandal torments former team
Dodgers catcher belts three homers in slugfest win over Padres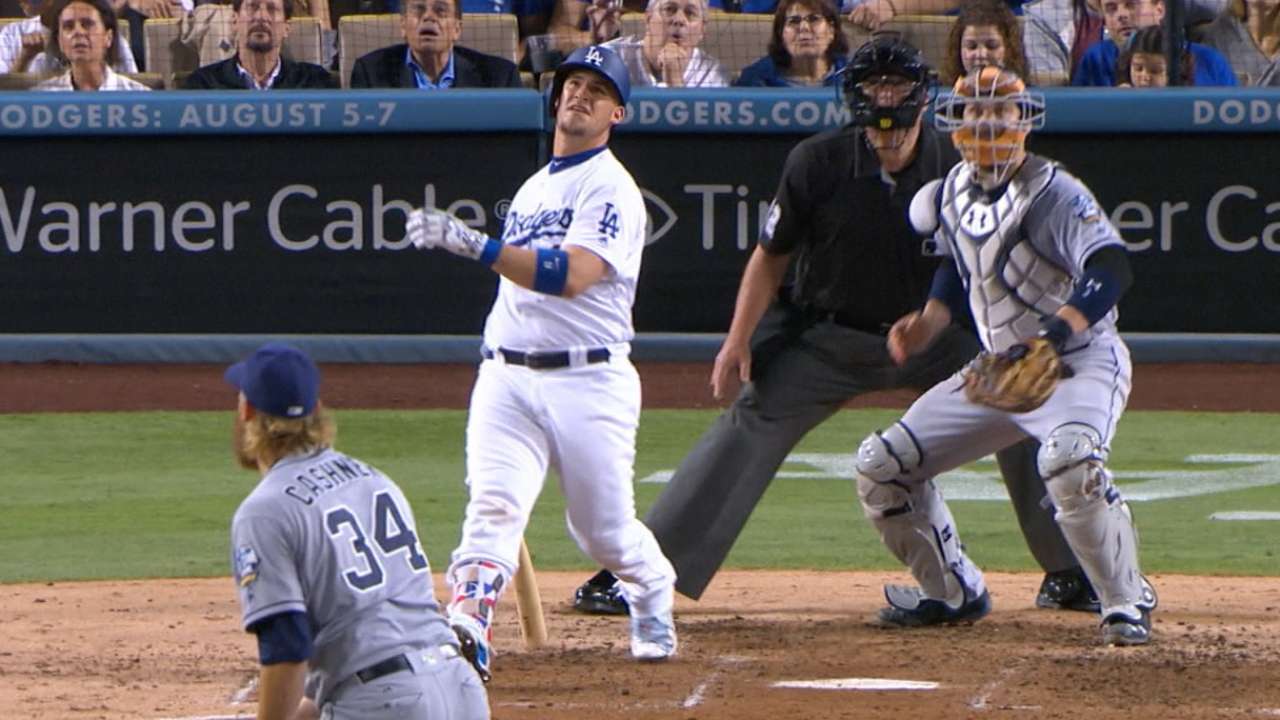 LOS ANGELES -- A year ago he was an All-Star, but this year he was hitting .183, battling back from offseason surgery and hampered by nagging injuries and then, on Friday night, he was in the zone.
It happened to Yasmani Grandal, who slugged three homers, added a line-drive single and a bunt single to help carry the Dodgers to a 10-6 win. Oh, and was it mentioned, it came against his former team, the San Diego Padres?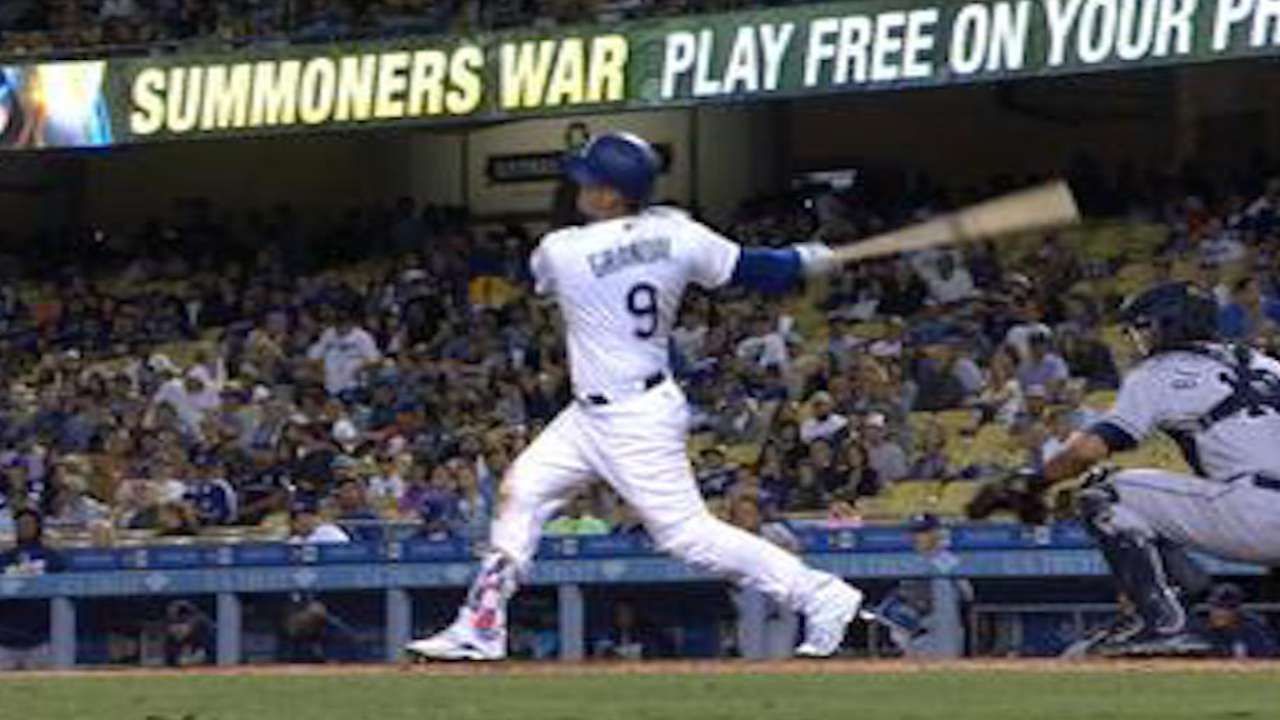 And two of the home runs came off Andrew Cashner, against whom Grandal is now 6-for-10.
"Sure, I know him. He wouldn't pitch to me," Grandal said of Cashner choosing to work with other backstops during their time together in San Diego. "But I know him and know what he throws. I watch video."
Grandal wouldn't say specifically that he harbors a grudge against a pitcher who didn't like his catching or a club that dealt him away. But his bat pretty much said it.
"It's not really the fact they traded you, but you play a little harder," said Grandal, dealt to the Dodgers by the Padres in the Matt Kemp deal. "I'm glad they traded me, I went to a division championship team. I'm happy about that, came to a legendary organization. For me, it's a win-win situation. I know it's a business. Them trading me, it's nothing personal. But when you face a former team, two teams traded me [also Cincinnati], you just seem to have it in for them."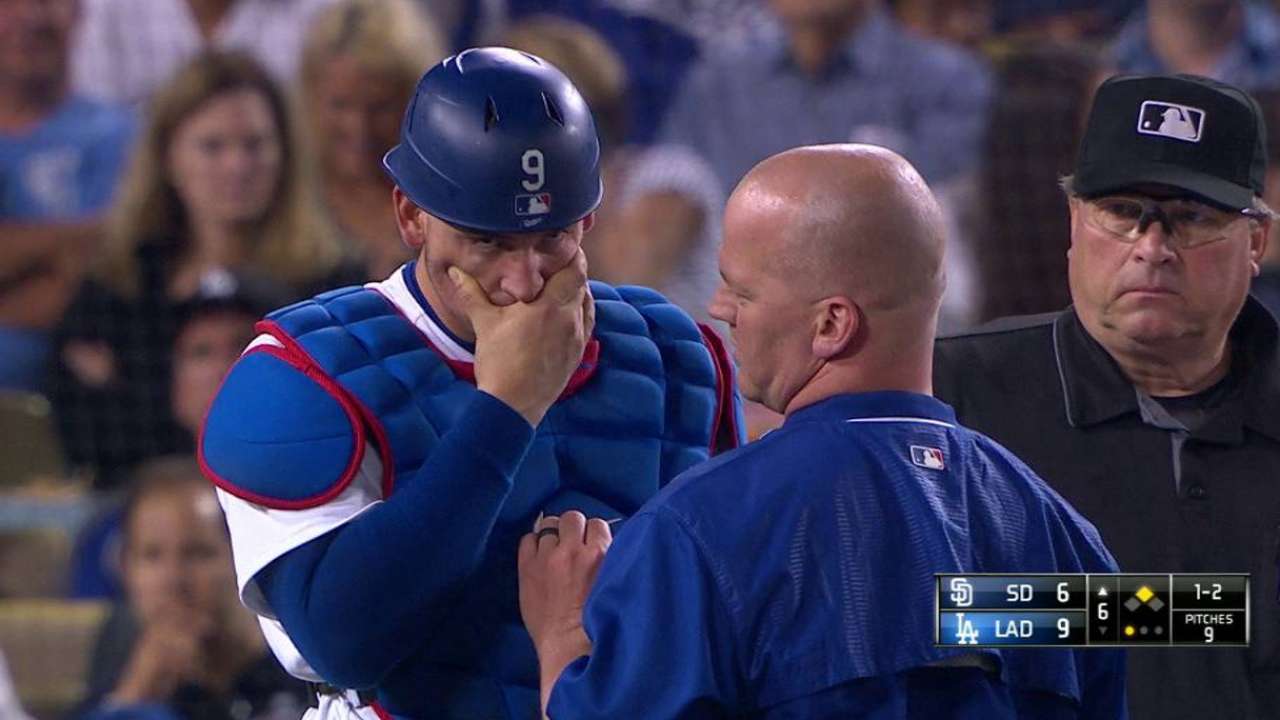 And so, on a night when Dodgers starting pitcher Scott Kazmir had a five-run lead but couldn't get past the third inning, a night when the already-taxed bullpen had to pick up six innings and the offense went deep five times, it was Grandal taking the bows.
He joined Hall of Famers Mike Piazza and Roy Campanella as the only Dodgers catchers with three-homer games. He's the third catcher in MLB history with at least five hits in a three-homer game (Victor Martinez in 2004 and Walker Cooper in 1949). And he's the first Dodgers catcher with at least five hits in a game since Paul LoDuca had six in 2001.
Grandal explained why he believes this first half has been a statistical disaster, until a recent home run binge of eight in his last 11 starts. He traces it to offseason surgery to repair an arthritic A/C joint at the top of his shoulder. Unable to work out during the winter, he tried to compensate with extra batting during Spring Training and strained his forearms. Then in Toronto in early May, he took a foul ball off his wrist and kept on playing.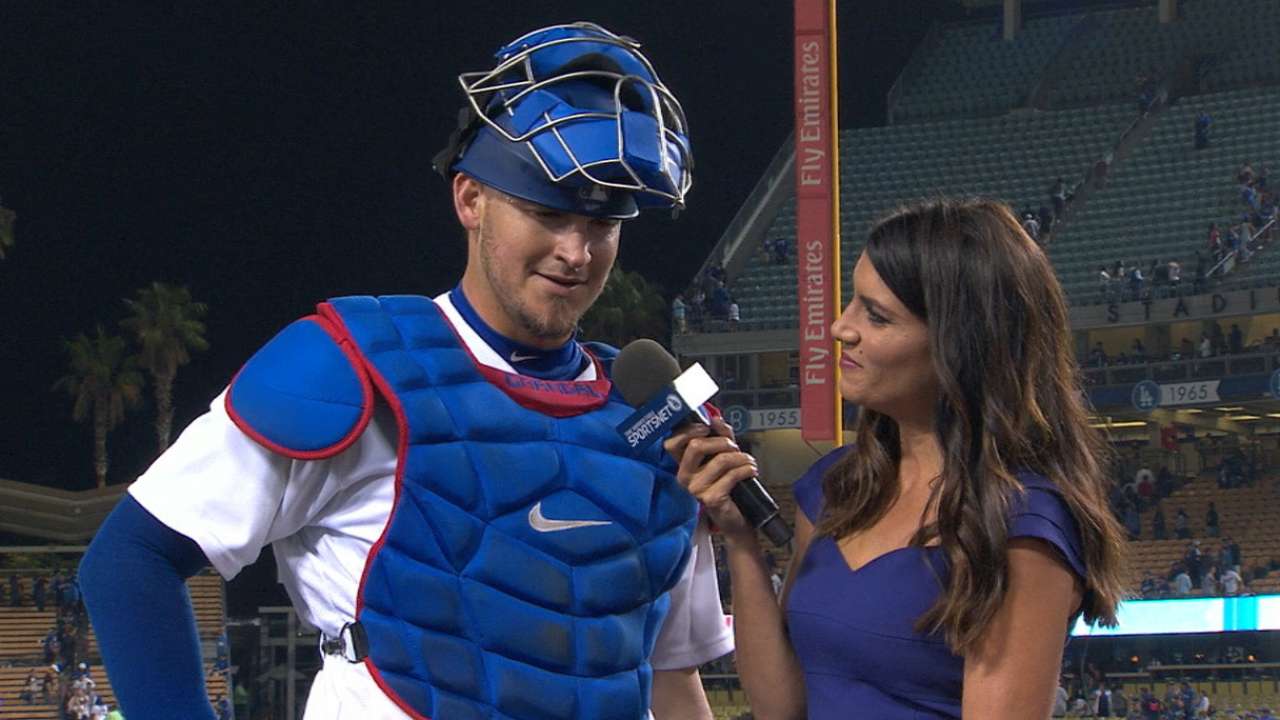 He said he's finally been healthy for about the last month, although watching him take a foul ball off the face mask in this game it's a wonder he's healthy from one day to the next.
"It's been very strange," he said. "I've been saying it, I've hit a lot of balls hard straight at people. I take good swings, hasn't gone my way. Had injuries here and there that make you do things differently, but the last few weeks I've felt better, my bat speed is there."
Ken Gurnick has covered the Dodgers since 1989, and for MLB.com since 2001. This story was not subject to the approval of Major League Baseball or its clubs.