Upton on pace to rejoin 20-20 club
Padres outfielder hits 15th and 16th homers, steals 20th bag vs. Dodgers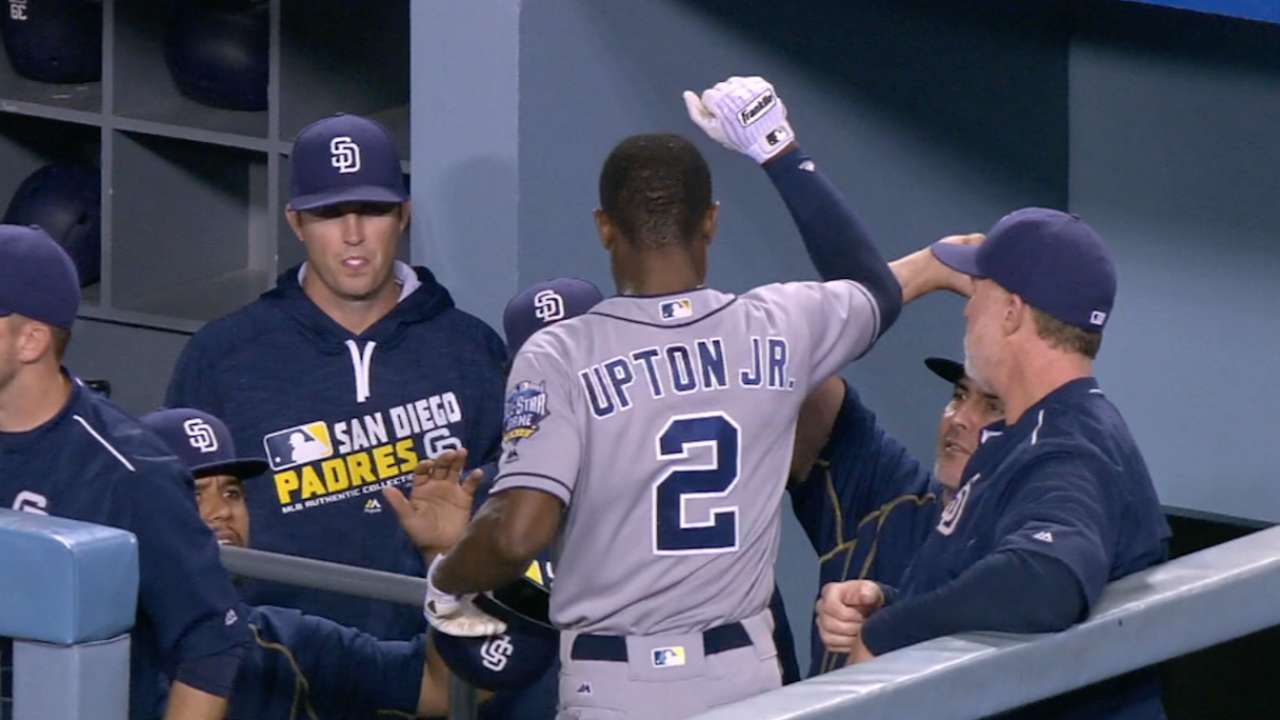 LOS ANGELES -- Melvin Upton Jr. hasn't had a 20-20 season since 2012 with the Rays. However, baseball can be funny sometimes. Funny enough to bring Upton within a few homers of the feat in just over half a season.
Upton's four-hit, two-homer night couldn't save the Padres from a 10-6 loss to the Dodgers, but it kept Upton on track to post easily his best season since leaving Tampa Bay.
"Sometimes you just feel comfortable," Upton said. "This game's funny, man. It's in and out, but right now it feels pretty good."
Upton stuffed the stat sheet in as many ways he could on Friday, finishing with four hits, three runs, three RBIs, two homers and a stolen base. With 16 home runs, 20 steals and 75 games left to play, he not only is well on track for his fourth career 20-20 season, 30-30 could be in reach. In fact, he's the only player in MLB this season that has at least 15 homers and 20 steals.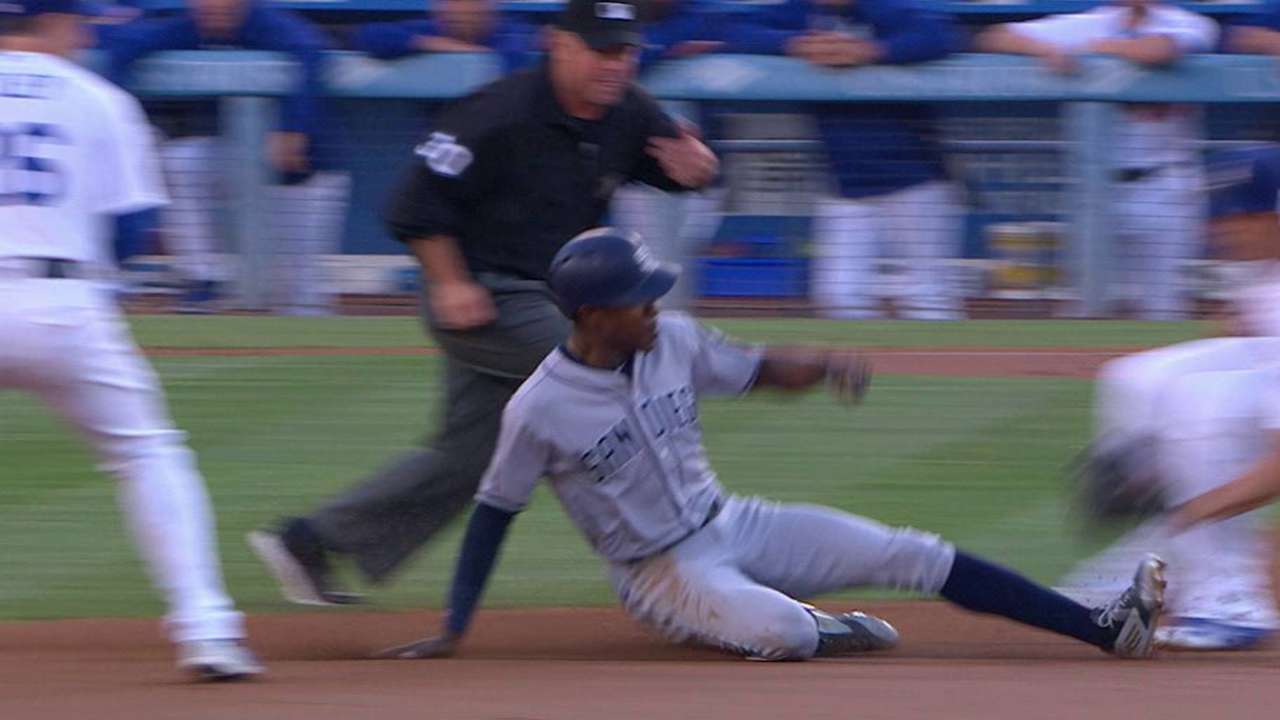 Upton's career-high homer total is 28, during that 2012 season with the Rays. He swiped 31 bags that year, and it was the closest he's come to 30-30, as his numbers tumbled in '13 and '14 with the Braves and was limited to 87 games last season in his first year with the Padres.
Upton's first home run on Friday came against erratic L.A. starter Scott Kazmir, who left a fastball over the plate that was deposited into the right-field bleachers.
"He was just mixing me in and out," Upton said. "Making some good pitches that I was able to lay off of. Just left a fastball out over the plate and I didn't miss it."
Upton's second home run came in his next at-bat, against righty specialist Louis Coleman. Similar to Kazmir, Coleman left a fastball up and over the plate.
Another milestone Upton reached was homering in back-to-back games, thanks to a leadoff home run against Hyun-Jin Ryu on Thursday. Upton hadn't homered in back-to-back games since, you guessed it, 2012.
Upton was recently moved up to batting leadoff, alternating with Travis Jankowski in the top spot. In just six games, Upton now has four home runs as a leadoff hitter. However, manager Andy Green credited something a little more simple for Upton's production than if he is hitting first or fifth.
"He's hit home runs in the five-hole, too. I think both of his walk-offs have been there," Green said. "I think it's just going to be a product of what the lineup is, if Travis Jankowski's in there, if Alex Dickerson's in there. He fits in those two spots very nicely. I don't think it's really the spot in the order that causes him to hit, I think it's the fact that he's good."
Jack Baer is a reporter for MLB.com based in Los Angeles. This story was not subject to the approval of Major League Baseball or its clubs.