Buxton exits game with right knee contusion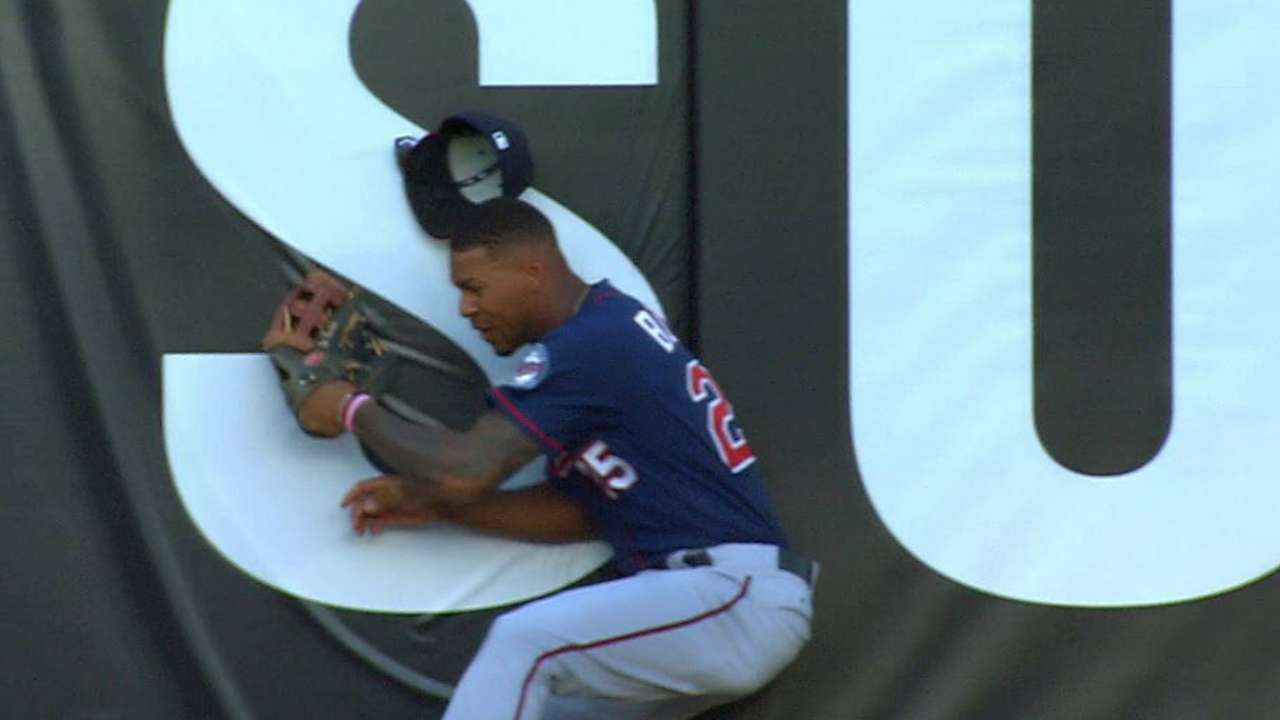 ARLINGTON -- Twins rookie center fielder Byron Buxton, who has been plagued by injuries in recent years, was involved in a scary play against the Rangers on Friday, as he was carted off the field in the first inning with a right-knee contusion after running into the center-field wall trying to make a running catch.
The Twins are optimistic Buxton avoided major injury, as he's considered day to day, but he'll get a precautionary MRI exam on Saturday. Buxton's knee locked up on him after the play, which made the injury look worse, as he wasn't able to make it off the field on his own.
"It was locking up and there was a lot of spasms going on in the leg," Twins manager Paul Molitor said. "We'll see if he can play here in the next couple games. He's doing better postgame than he was after the collision with the wall so there's some optimism there."
The Twins lost to the Rangers, 6-5.
Buxton, trying to rob Rangers second baseman Rougned Odor who ended with an RBI triple, ran into the wall in left-center field. Buxton tried to walk off the field with the help of manager Paul Molitor and trainer Dave Pruemer, but collapsed while trying to walk. Buxton, who also broke his sunglasses upon the hard collision into the wall, was then carted off the field with Eddie Rosario replacing him in center.
"It scared me when my knee gave out on me," Buxton said. "I kind of panicked. I'd never had anything like that happen before. But I felt pretty good. I'll just keep moving forward. It feels all right."
Buxton, who was able to walk without any help after the game but had a slight limp, said he believes it's only a bruised knee and doesn't think he'll be out too long.
"I'm pretty confident," Buxton said. "I don't want to go in there thinking anything negative. So I'm going to keep thinking positive thoughts and try to get back as soon as possible to help us win some games."
It's the latest setback for Buxton, who entered the season as the game's No. 2 overall prospect by MLBPipeline.com. Buxton was limited to 31 games as a Minor Leaguer in 2014 because of a left wrist injury and a concussion suffered in an outfield collision. He also broke his finger in the Arizona Fall League that year and underwent surgery. He also missed six weeks last year with a sprained thumb.
Buxton collided into the wall on both June 25 and July 2, missing a combined three games as a result. He banged his right knee against the wall on July 2, and this re-aggravated the injury.
"He's battled the injury bug in the Minor Leagues and up here a little bit," Molitor said. "So I'm sure there's a lot of frustration and emotions when you're facing an injury."
Rhett Bollinger has covered the Twins for MLB.com since 2011. Read his blog, Bollinger Beat, follow him on Twitter @RhettBollinger and listen to his podcast. This story was not subject to the approval of Major League Baseball or its clubs.