Holt, Ramirez join list of ailing Red Sox
Injuries force early exits for left-fielder and first baseman in win over Rays
BOSTON -- The All-Star break is coming at a good time for the Red Sox, who are getting more banged up by the day.
Brock Holt sprained his left ankle stealing second base in Friday night's 6-5 win over the Rays, forcing his exit from the game in the fourth inning. Hanley Ramirez fouled a ball off his left shin in the eighth, and was replaced by Travis Shaw on defense to start the ninth.
Ramirez has been diagnosed with a contusion. Shaw started the game on the bench due to a left foot contusion he suffered Wednesday. Before Friday's game, Shaw's foot was discolored as he spoke with reporters.
"We're a little banged up right now," said Red Sox manager John Farrell, who was without the services of two key relievers (Craig Kimbrel and Junichi Tazawa) on Friday.
• Kimbrel could miss ASG with knee discomfort
Holt's injury came just a week after he returned to action after missing more than a month with a concussion.
"Right now, Grade 1," Farrell said of Holt's sprain. "He's in a boot right now, precautionary. He was able to walk around in the clubhouse here. Whatever further imaging is to be had, I don't know that yet. Unfortunately we had to get him off the field."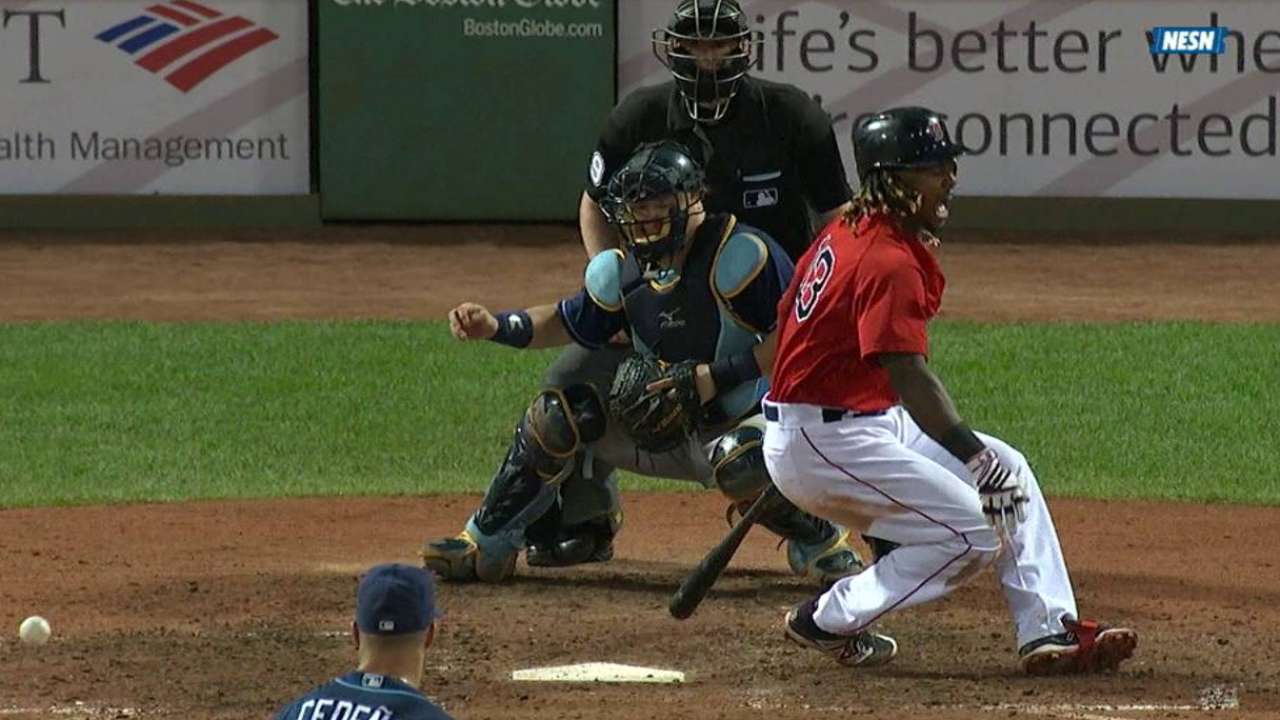 And Ramirez?
"Hanley is sore. That's two times in the last two games that he's fouled a ball off the same spot on his shin," Farrell said. "We'll re-evaluate him in the morning."
Holt appeared to jam his foot into the base during his slide, and Farrell and Red Sox trainers immediately ran out of the dugout as Holt writhed in pain.
Eventually, Holt was able to limp back to the dugout. Bryce Brentz pinch-ran for him and scored on Aaron Hill's first hit with the Red Sox, an RBI single off the Green Monster.
Keeping their left fielders healthy has become a major issue for the Red Sox. Blake Swihart (severe left ankle sprain) and Chris Young (right hamstring strain) are currently on the disabled list.
Given the injury to Ramirez, the Red Sox are at least fortunate that they picked up Hill. He can start at third base on Saturday if needed, enabling Shaw to move across the diamond to first.
"It's a lot of pain right now," Ramirez said. "Just come in early and see how it feels and go from there."
Ian Browne has covered the Red Sox for MLB.com since 2002. Follow him on Twitter @IanMBrowne and Facebook. This story was not subject to the approval of Major League Baseball or its clubs.