Defensive miscue at plate is costly for Royals
Ventura's wild pitch, Salvy's error yield decisive runs in sixth inning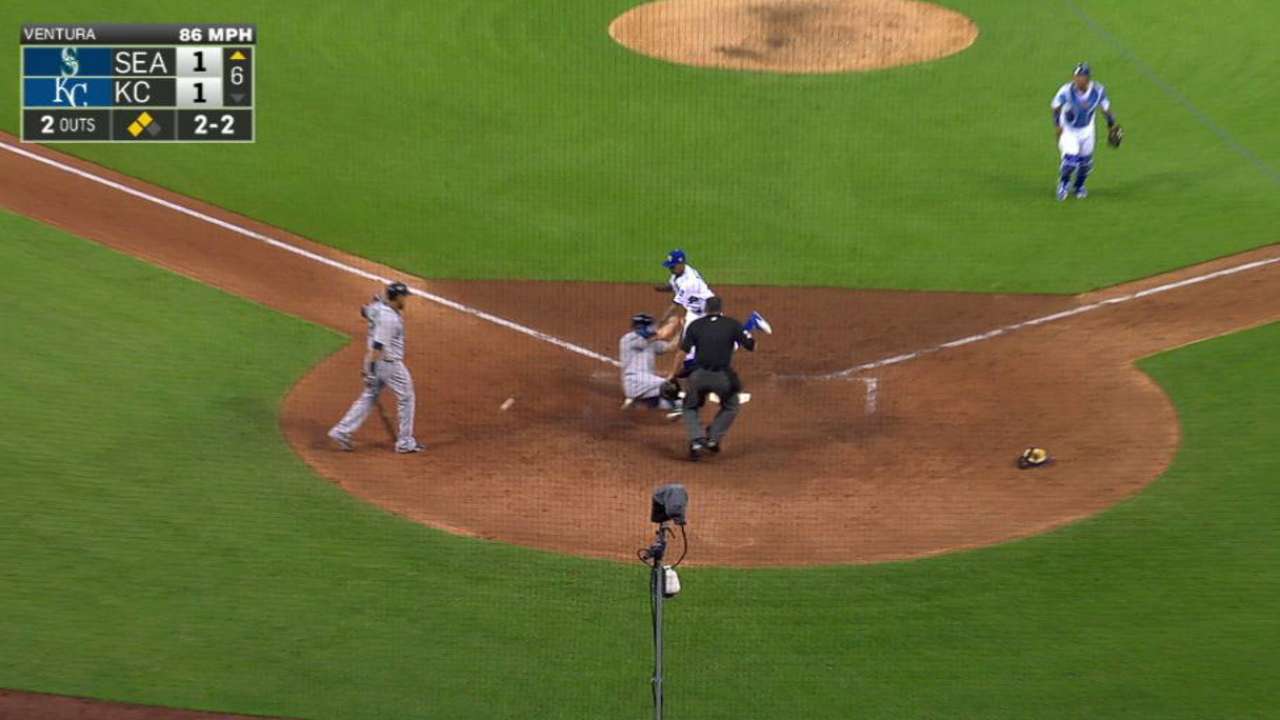 KANSAS CITY -- The defensive play that cost the Royals in a 3-2 loss to the Mariners on Friday night is one that pitchers and catchers virtually never practice.
Royals right-hander Yordano Ventura spiked a 1-2 curveball to Nelson Cruz with two out in the sixth inning in a 1-1 game. With Seth Smith on third and Robinson Cano on second, Ventura's curveball hit off catcher Salvador Perez and skipped up the first-base line.
Smith immediately darted for home as Ventura raced in from the mound to cover the plate.
That's where it got tricky. Perez tried to lead Ventura with the throw, and Ventura turned back toward Perez to catch. But Ventura couldn't catch up with the throw and the ball sailed to the backstop, allowing Smith to score.
And by the time Ventura tracked it down, Cano raced in as well ahead of Ventura's throw back to Perez.
"I was turning third ... in a situation like that, you want to make a hard turn," Cano said. "When I [saw] a chance, I said, 'I'm going.'"
Royals manager Ned Yost said, "They did it about as good as they could do it. That's a tough play for Sal with momentum going that way and turning around and throwing the ball back that way. It ended up costing us two runs.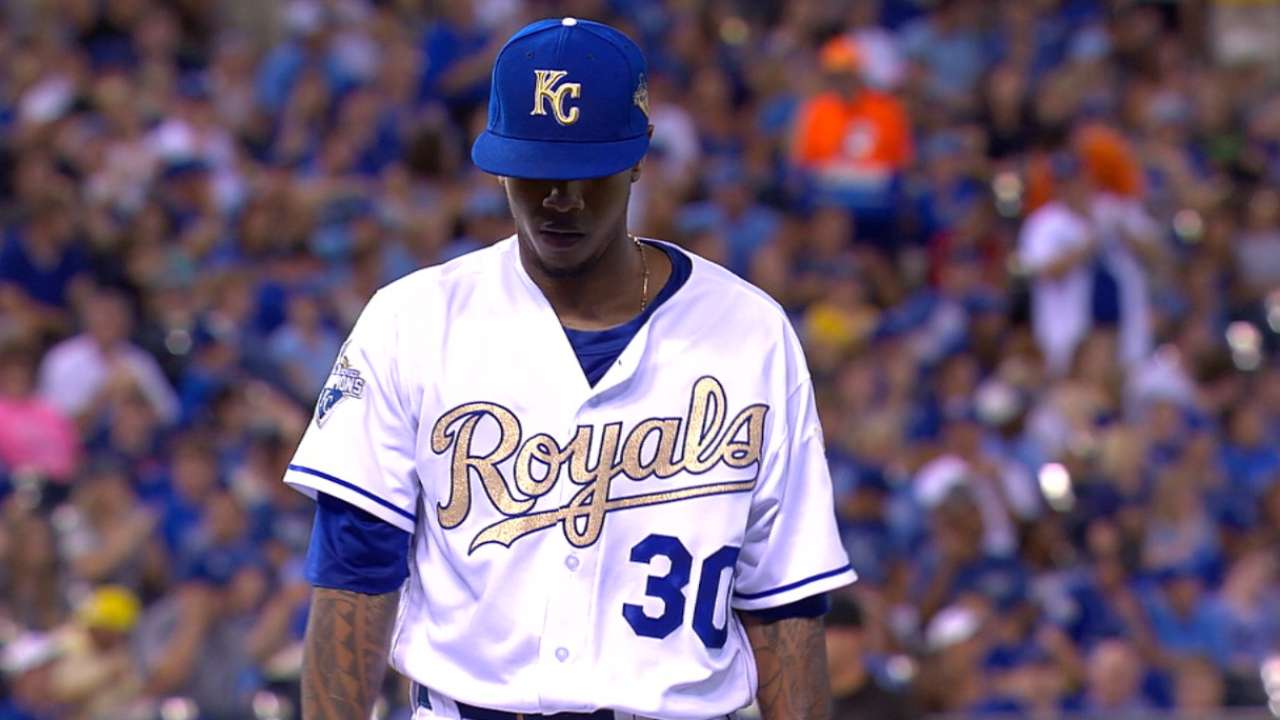 "But when you practice [a wild pitch], you have the catcher going back to the screen and throwing it that way to the pitcher coming in. It's much easier."
Ventura said through interpreter Pedro Grifol that there wasn't much to explain about the play.
"The throw was a little out in front and I wasn't able to get to it," Ventura said. "I was pitching good up to that point, and I got two quick outs in that inning, and I lost concentration a little bit. I got behind in the count, and then came that play."
Ventura said if he had to do it over again, he'd throw the same pitch in the same spot.
"That's where I wanted it," he said. "If I would have had another opportunity, I would have done the same thing. It was going to be that pitch until that at-bat was over."
Perez's only regret was throwing it to Ventura, who gave up three runs over seven innings. He would have rather conceded Smith scoring.
"It is hard [to throw] from that angle," Perez said. "I think if I catch the ball and throw the ball to third base, I think that Cano is out. I didn't have a chance at home plate after I saw the replay.
"Yordano was good tonight. That was my fault. I was trying to do my job. But he threw the ball pretty good today."
Jeffrey Flanagan has covered the Royals since 1991, and for MLB.com since 2015. Follow him on Twitter @FlannyMLB. This story was not subject to the approval of Major League Baseball or its clubs.