Iwakuma delivers to help Mariners turn tables
Righty goes 6 2/3 solid innings before bullpen pins down Royals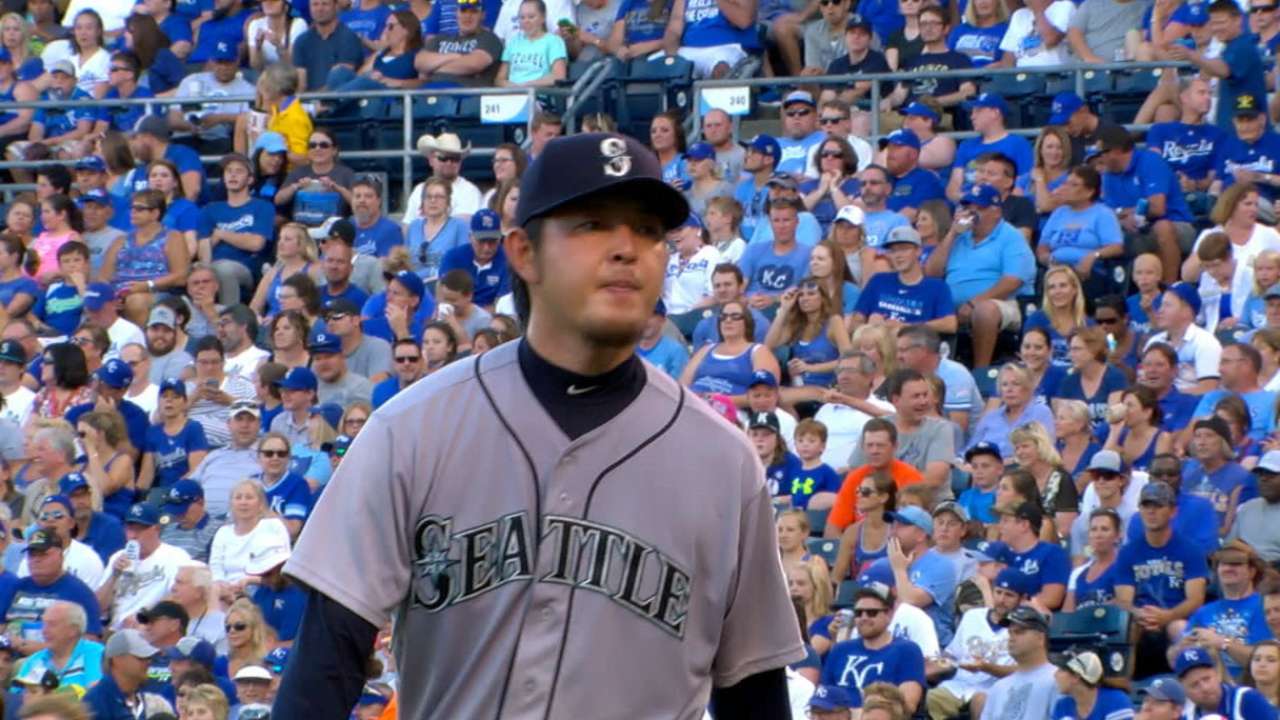 KANSAS CITY -- Entering the series against the Royals, starting pitching had not been a strength for the Mariners. In June, Seattle ranked in the bottom half of the Majors in ERA and had given up a slew of unearned runs, which concerned manager Scott Servais.
However, on Friday night, for the second time this series, a member of the rotation did his part. Right-hander Hisashi Iwakuma gave up one run in 6 2/3 innings, striking out six, as the Mariners rallied for a 3-2 win over the Royals.
"Great pitched game. Our guys did an outstanding job," Servais said. "The story of the night is definitely our pitching."
For Iwakuma, everything was working right from the get-go. He settled into an early groove, striking out five in the first three innings. He retired the first eight batters he faced, pitching to catcher Jesus Sucre for the first time this season.
"He knows my pitching style, and he knows how I get guys out," Iwakuma said through interpreter Antony Suzuki. "It's a mental comfort that I have."
And that comfort was apparent. With Iwakuma mowing through the Royals' lineup, Sucre said he thought Iwakuma might be in line for his second career no-hitter, with the first coming on Aug. 12, 2015, with Sucre behind the plate.
All in all, there was really only one time Iwakuma needed his teammates to bail him out, and they did. After 91 pitches, Iwakuma exited the game in the seventh inning with two on and two out. With the Mariners leading 3-1, it was up to right-hander Edwin Diaz to escape the inning and preserve the lead.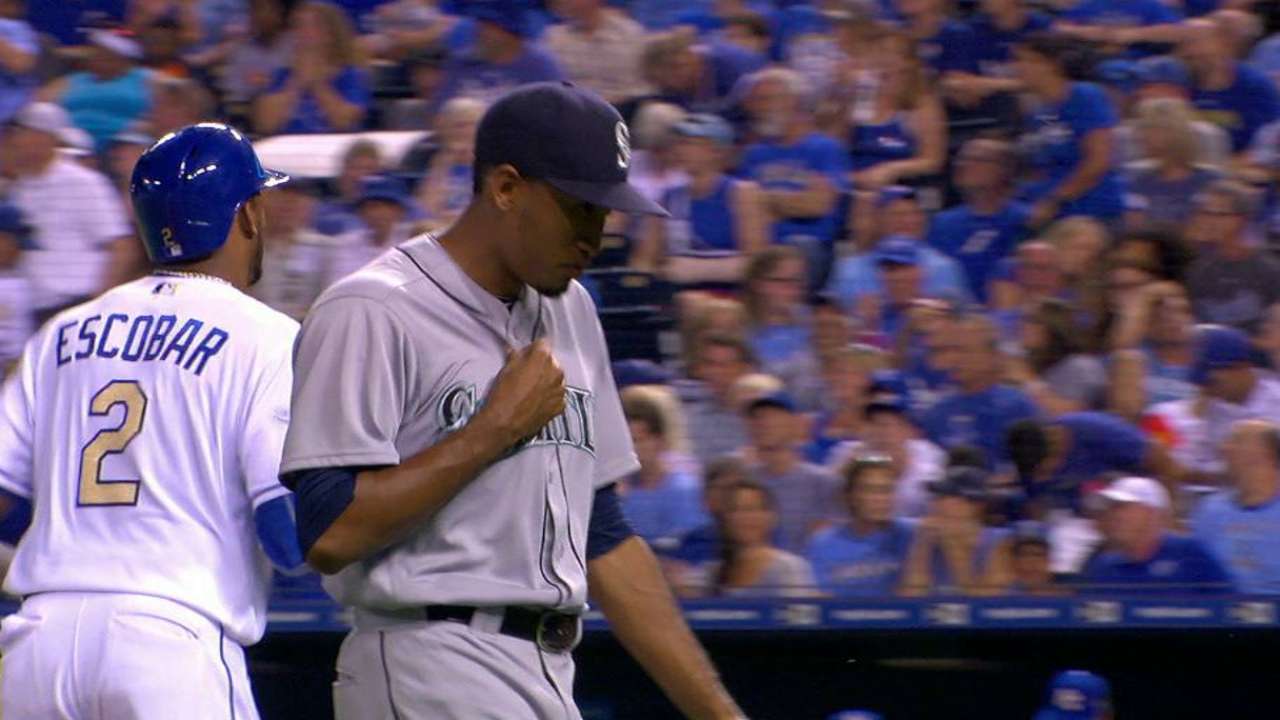 Royals center fielder Jarrod Dyson took the first three pitches from Diaz, working the count to 3-0. But Sucre didn't blink, even though he knew the margin for error was slim.
"I was like, I don't think this guy has got a chance to hit the ball," Sucre said. "This kid [Diaz] is really good."
Sure enough, Diaz threw two strikes before forcing Dyson to ground out to end the inning. The Mariners closed out the game, completely reshaping the mood of what had been a somber and near-silent clubhouse the night before following a 4-3 walk-off loss.
"We will take that every day," Servais said. "We're really happy to get that back rolling again."
Scott Chasen is a reporter for MLB.com based in Kansas City. This story was not subject to the approval of Major League Baseball or its clubs.