Fulmer achieves goal of Futures Game spot
White Sox No. 1 prospect will be part of game on Sunday in San Diego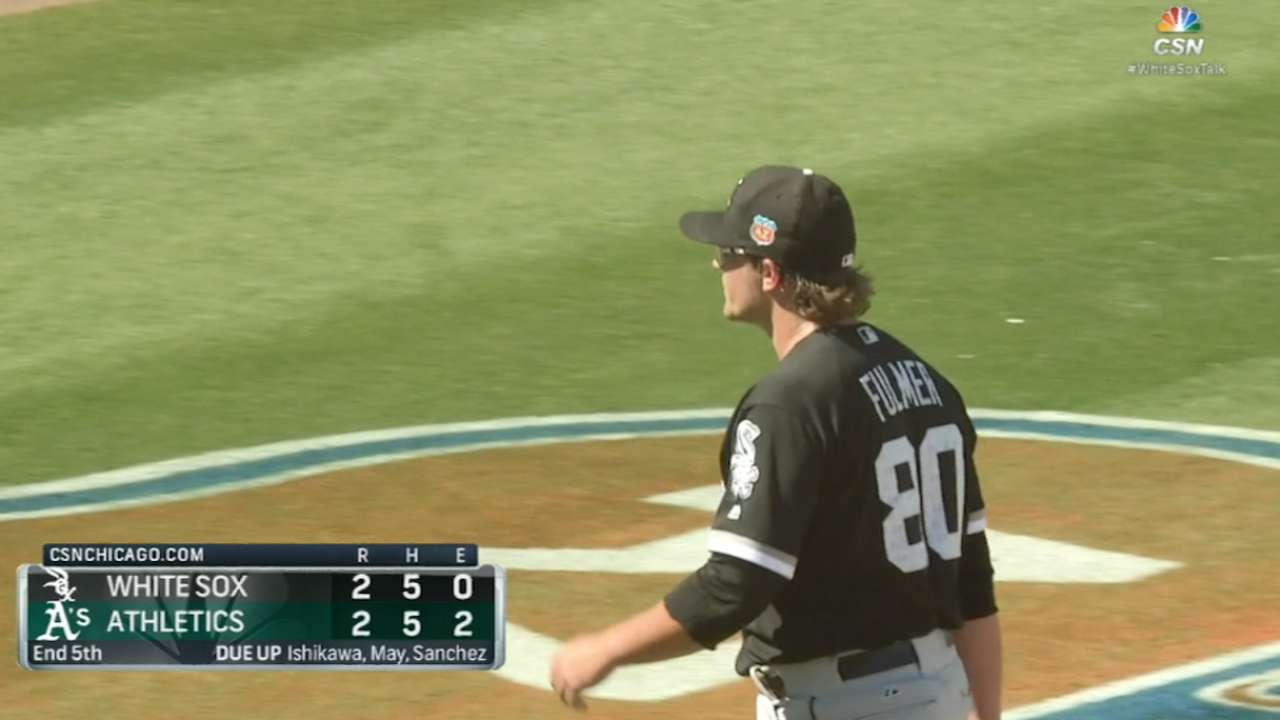 CHICAGO -- Carson Fulmer arrived in San Diego on Friday, ready to compete in the SiriusXM All-Star Futures Game on Sunday at Petco Park, with first pitch on MLB Network and MLB.com at 6 p.m. CT.
It's an honor for the affable No. 1 White Sox prospect, according to MLBPipeline.com, running deeper than being recognized as one of the game's top young players.
"I've never said this to anybody, but it's something I always wanted to play in," the 22-year-old Fulmer told MLB.com on Thursday over the phone. "It was pretty incredible, actually. I've watched some of my idols in baseball play in that game. It's a game I watch every year.
"I was definitely surprised and very thankful to be given the opportunity to play there. It's going to be fun. It's going to be a blast. I can't wait to represent the White Sox."
Fulmer will have a chance to catch up with Dansby Swanson, another Futures Game participant representing the Braves, who was roommates with the White Sox right-hander at Vanderbilt. Pitching on Sunday doesn't figure to be the last major moment in 2016 for Fulmer, who has been talked about this week by White Sox manager Robin Ventura and pitching Don Cooper as potential second-half bullpen help for the big league team.
Fulmer's start to 2016 for Double-A Birmingham was an uncharacteristically wild one, as he walked 34 over his first 10 starts and 46 innings. Fulmer slowed down his delivery during big league Spring Training, a change he worked on with the team, but felt as if he slowed it down too much at the start of the season.
After finding a comfortable temp, Fulmer has fanned 46 over his last 35 innings. The eighth overall pick in the 2015 MLB Draft handled adversity, a skill that should help him upon arriving in Chicago.
"As a baseball player, you always want to be involved with the Major League baseball team," Fulmer said. "That's what you think about when you are a kid growing up, but you can't think too much about it. At least for me, I have a job to do. It's help this organization grow and win as many ballgames as possible.
"With Coop and Skip [Ventura] mentioning my name, obviously that's great. But I have to continue to learn from everything I'm experiencing here. Obviously if my name does get called, I'll be ready to rock. But I try not to think about it too much. I really don't. That time will come eventually and I'll be ready to be involved."
White Sox ace Chris Sale took Fulmer under his wing during this past offseason, with the Florida natives playing golf and having dinner a few times. That bond has continued into the season, with Fulmer still learning from the now five-time All-Star.
"Sale is the guy I look up to," Fulmer said. "He has mentored me in a way that is incredible for having a guy that has had so much success. He always stays in contact with me and sees how I'm doing and what not.
"That's special in itself. That's awesome to have a guy like that. And he's not doing too bad himself. He's an incredible guy, an incredible mentor, and definitely someone I look up to."
Scott Merkin has covered the White Sox for MLB.com since 2003. Read his blog, Merk's Works, follow him on Twitter @scottmerkin, on Facebook and listen to his podcast. This story was not subject to the approval of Major League Baseball or its clubs.