Matheny says Grichuk took demotion in stride
Back with Cards, outfielder found ways to improve at Triple-A
MILWAUKEE -- No player looks forward to the conversation when the manager informs him he will need to pack his bags and head to the Minors. That news can be even harder to swallow for a player with a prolonged taste of success in the Majors.
The latter was the case for Randal Grichuk in June when Cardinals manager Mike Matheny informed the 24-year-old outfielder that he would be headed to Triple-A Memphis. Grichuk, however, turned the demotion into a positive, which has been on display in his return to the Cardinals, Matheny said.
Grichuk first appeared with St. Louis in 2014 and made a seamless transition in his first full season in '15, when he batted .276 with 17 homers and led the team with a .877 OPS. His start to '16, however, was a different story, as Grichuk was batting .207 with a .668 OPS on June 17 when the Cardinals optioned him to Triple-A.
"I think every young player needs to be able to take a breath every once in a while, and it's hard to do it here," Matheny said before Friday's 4-3 loss to the Brewers. "It's always good to see that they acknowledge that we've got their best interest at hand. It doesn't feel that way when you head to Memphis and you leave the big lights to go to the Minor Leagues. It's usually a shot to the pride and it's hard to handle."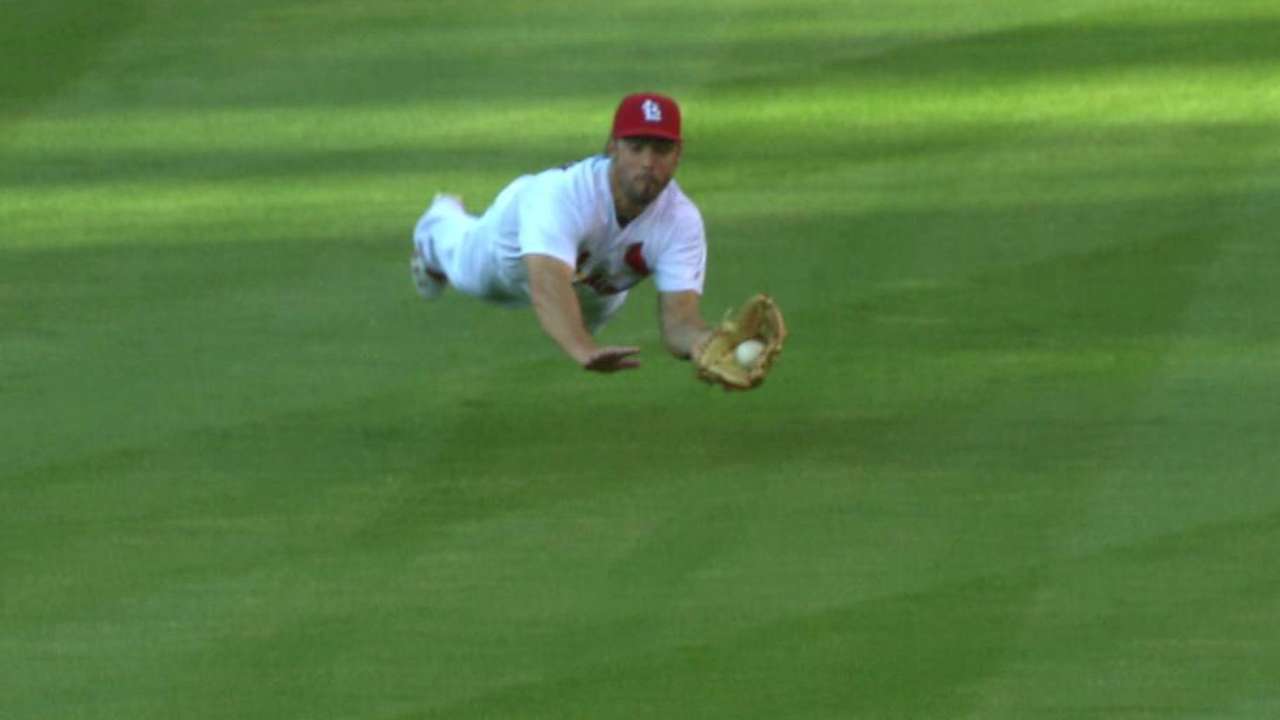 In his return to St. Louis for a series with the Pirates at Busch Stadium earlier this week, Grichuk hit safely in all three games and went 5-for-8 during the series, hitting a home run in Thursday's 5-1 win. He was back in the starting lineup for the opener against the Brewers at Miller Park on Friday.
Grichuk took the demotion in stride, much like Kolten Wong, who was optioned to Memphis less than two weeks before but has since returned. In 15 games with the Redbirds, Grichuk hit five home runs and posted a .914 OPS entering Friday.
"A guy like Randal, and I think Kolten did a great job, too, just jumping in and saying, 'OK, how can I use this as a stepping stone to where I want to be?" Matheny said. "'And how can I improve?' I think we saw both of them make those steps."
Matheny stressed that he has seen his share of players take the news of a demotion and turn it into a mental battle.
"We see that often, too," Matheny said. "We don't necessarily make it public, but we know it internally, when guys go down reluctantly and feel that they've been wronged or feel that they don't deserve to be there. And it typically shows in how they perform, and I think it gets in the way because this is a performance game.
"This business, you better make the most of your opportunities, whether they're here, whether they're in Memphis, whether they're in Springfield or anywhere else. Going down with the wrong attitude usually comes through and shows in your statistics and then your likelihood of coming back here."
Curt Hogg is a reporter for MLB.com based in Milwaukee. This story was not subject to the approval of Major League Baseball or its clubs.