Verrett gets first crack at replacing Harvey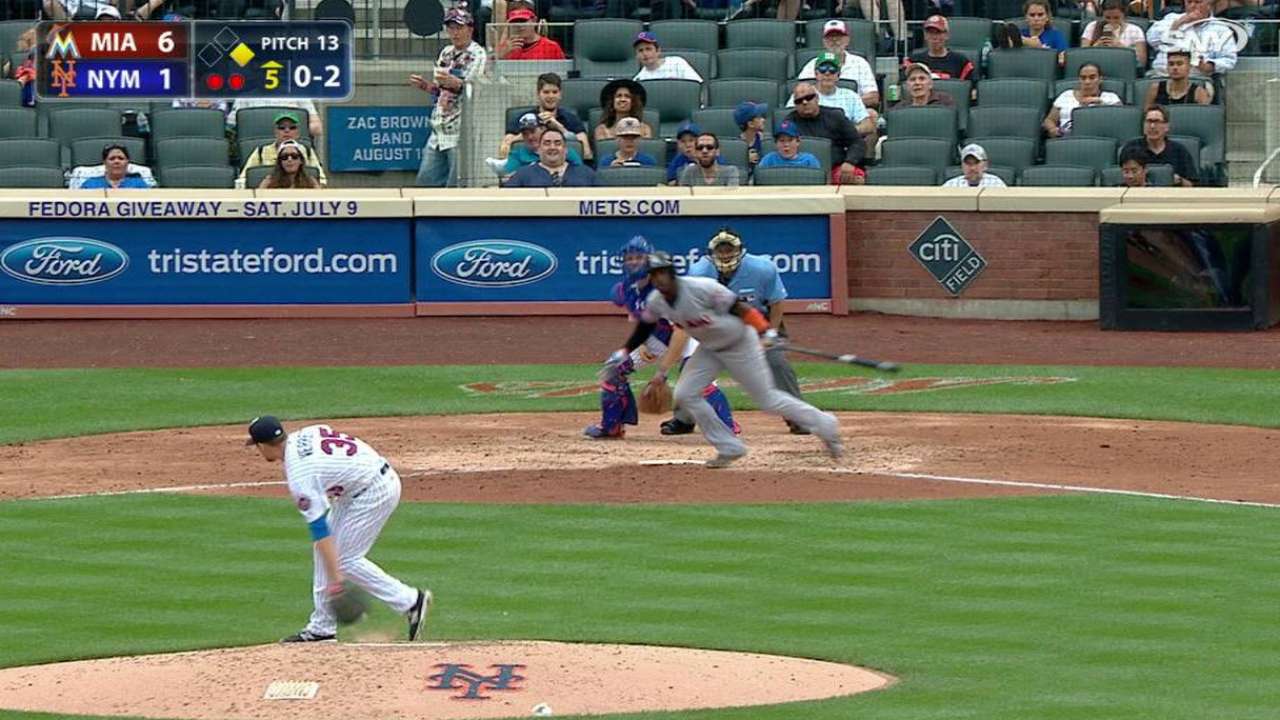 NEW YORK -- Before the Mets boasted perhaps the best pitching staff in the Major Leagues, there was only Matt Harvey. In 2012 and '13, Harvey carried the hopes of a starving Queens fan base on his right arm, providing intrigue during a time otherwise devoid of it.
But when it was announced that the former All-Star had elected to undergo season-ending surgery for thoracic outlet syndrome Friday, the Mets didn't panic. Manager Terry Collins still has Noah Syndergaard, Jacob deGrom, Steven Matz and Bartolo Colon at his disposal, so Harvey's absence won't cripple the Mets. Still, with the Mets hoping to return to the World Series for the second consecutive season, they'll need a reliable option to spell Harvey every fifth day.
• Harvey to have season-ending surgery
Logan Verrett, who has compiled a 4.01 ERA in 49 1/3 innings, will have the first audition Saturday against the Nationals, though he isn't approaching the opportunity with a sense of desperation.
"You just have to take it one game at a time and, even further than that, one hitter at a time," said Verrett, who has made five spot starts to varying degrees of success this season. "There's pressure every time you take the mound. That's why we play the game."
Mets fans will probably be ready to pounce once the inexperienced Verrett encounters his first misstep. He threw five innings of two-run ball in his last start, but before that he left after allowing five earned runs in four innings against the Brewers on June 11. As of now, the right-hander seems to be the Mets' best option.
"We certainly have to stay in-house right now," Collins said.
Zack Wheeler is still recovering from Tommy John surgery and won't be back until late August at the earliest. The right-hander made a combined 49 starts from 2013-14 and figures to be a part of the Mets' future, though the Mets couldn't put a timetable on his return Thursday.
Collins added he'd be "keeping a close eye" on Triple A-Las Vegas, with No. 13 prospect Gabriel Ynoa providing the most intriguing option. Ynoa has a 9-3 record with a 3.92 ERA in 17 starts.
New York did recently recall Seth Lugo from the Minors, but the 34th-round Draft pick doesn't possess a pedigree as strong as Verrett. He had a 6.55 ERA in 68 2/3 innings in Triple-A.
"We'll take a look at what's there," general manager Sandy Alderson said Thursday of looking at trade options. "We're obviously always comparing what's out there with what we have, so we'll just have to see."
For now, the Mets have Verrett, a 26-year-old with nine career starts and a much dimmer star than his predecessor.
"I know I'm not Matt Harvey," Verrett said. "I'm Logan Verrett. My job is to pitch."
Joshua Needelman is a reporter for MLB.com based in New York. This story was not subject to the approval of Major League Baseball or its clubs.