Dozier, Bonifacio are Futures stars on the rise
Royals prospects impressing in Minors as they move closer to bigs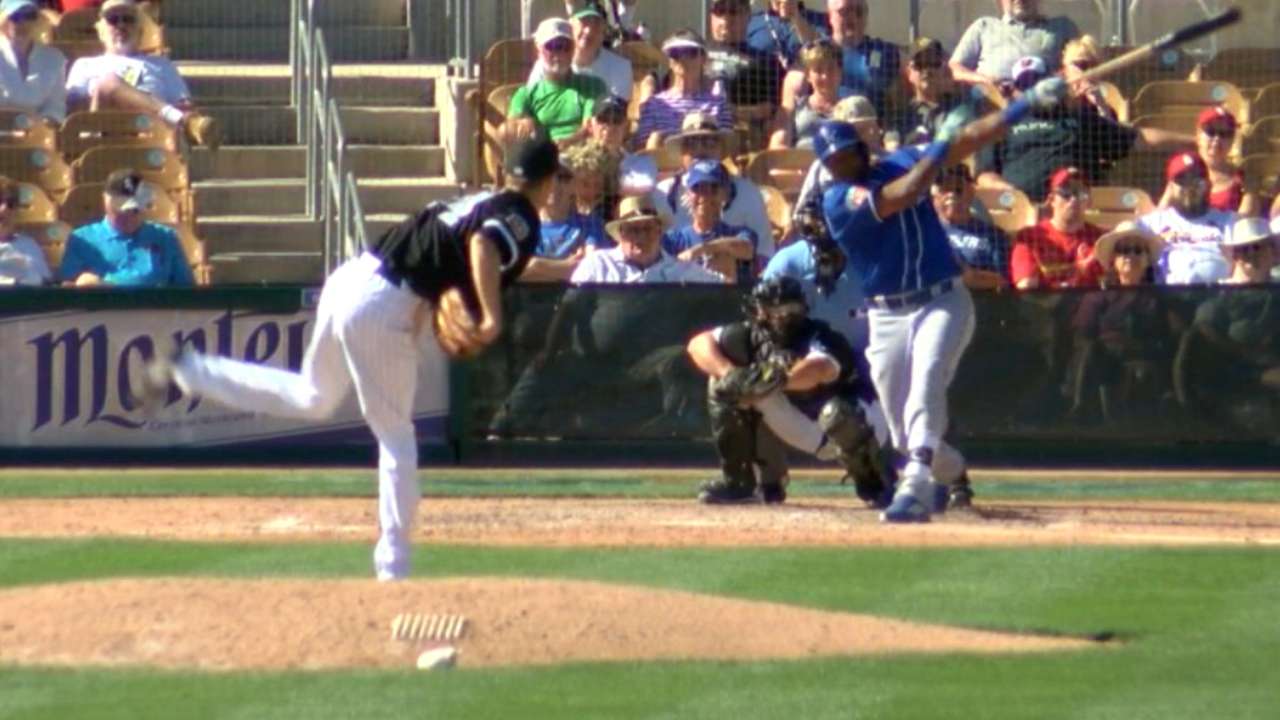 KANSAS CITY -- Back in 2013 when Royals manager Ned Yost was being questioned for sticking with a struggling Mike Moustakas at third base, Yost threw up his hands and said, "You know what? Maybe ... I can go to the third base tree and pick another third baseman. Obviously, third basemen who can hit, and hit with power, they must grow on trees."
The quote went viral, but the funny thing is, the Royals indeed may have a third basemen tree now. Cheslor Cuthbert, a SiriusXM All-Star Futures Game participant last year, is filling in admirably (.277, eight homers) at the big league level for the injured Moustakas.
And third baseman Hunter Dozier, the club's No. 14 prospect, according to MLBPipeline.com, is tearing it up at Triple-A Omaha this season (.341 average, .942 OPS with nine homers through Thursday) as he prepares to be a Royals representative at this year's Futures Game on Sunday in San Diego.
The game is live on MLB Network and MLB.com on Sunday at 7 p.m. ET/4 p.m. PT.
Outfielder and No. 15 prospect Jorge Bonifacio is the Royals' other representative at the Futures Game.
Yost was reminded of his third basemen tree comment from a few years ago.
"There is one now," Yost said, smiling. "What happens to a tree when you plant it and water it? It grows. It's a credit to our scouting and development people that they can find the right players and get them developed. It takes patience."
Yost continues to be impressed with the progress of both Dozier, 24, and Bonifacio, 23.
"Dozier didn't have a very good Spring Training with us," Yost said. "But he got back to the Minors and just took off."
In 26 games at Double-A Northwest Arkansas, Dozier hit .305 with eight homers and earned a quick promotion to Triple-A.
Dozier was the Royals' first-round pick (No. 8 overall) in the 2013 Draft out of Stephen F. Austin State -- the only player ever drafted in the first five rounds from the school.
"He's a big guy [6-foot-4, 220 pounds] who is pretty athletic," Yost said.
Bonifiacio was a non-drafted free agent signed out of the Dominican Republic in 2009. He is the younger brother of infielder Emilio, who played with the Royals in '13.
"I was very impressed with him this spring," Yost said of Jorge. "He keeps making big strides. Every time I see him his body [6-foot-1, 195 pounds] fills out more. He's got a solid lower body, but he has kept his mobility in the outfield. He can move out there."
Bonifacio is hitting .290 at Omaha with 13 homers and 54 RBIs through Thursday.
"We talked about him [as a potential callup] at one point," Yost said, "but we wanted [Brett] Eibner to get first shot. But Boni is not far away."
Jeffrey Flanagan has covered the Royals since 1991, and for MLB.com since 2015. Follow him on Twitter @FlannyMLB. This story was not subject to the approval of Major League Baseball or its clubs.