Gregorius proving himself at plate
Shortstop just 4th Yankee at that position to hit 10 HRs before break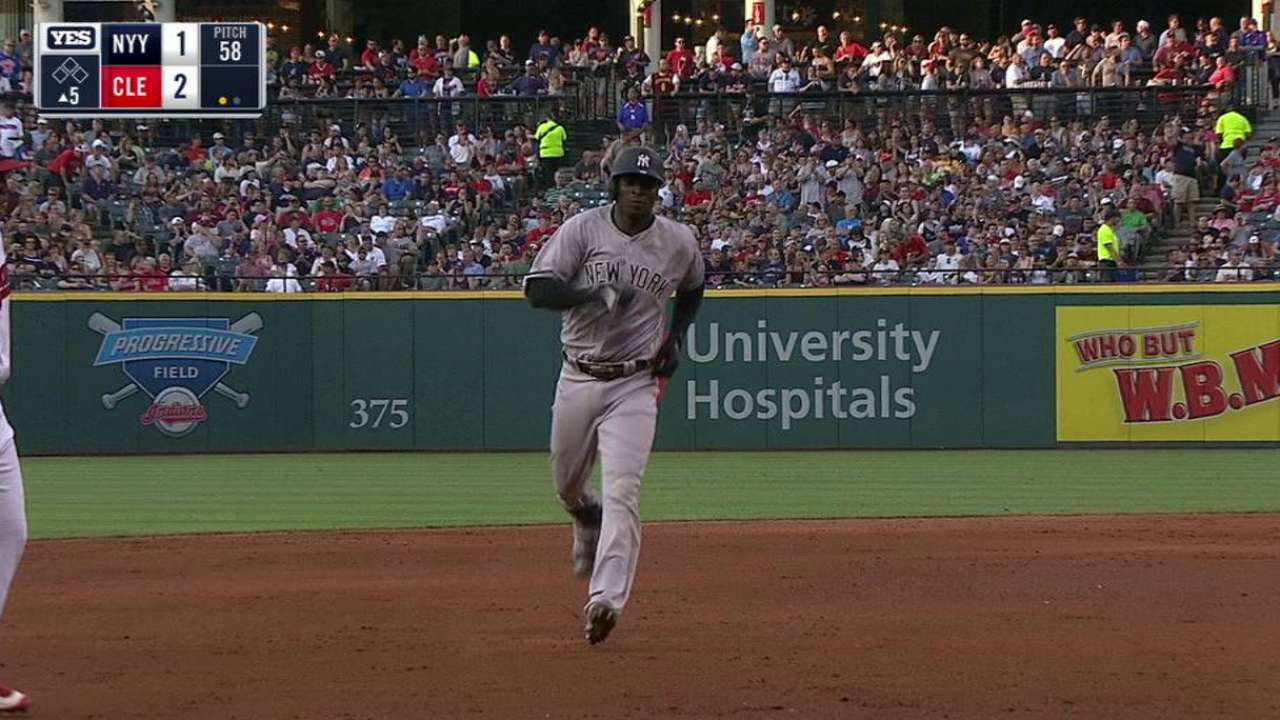 CLEVELAND -- It has almost become a nightly ritual for Yankees manager Joe Girardi to compliment shortstop Didi Gregorius after each game. Thursday's 5-4 come-from-behind win over the Indians was no exception.
"Another big night for Didi," Girardi said, "to get us going. We hadn't done a whole lot off [Indians starter Trevor] Bauer. We hit some balls hard, but we didn't have anything to show for it. Then Didi kind of breaks through with a home run."
Trailing, 2-0, Gregorius sparked the comeback at Progressive Field in the series opener with a solo shot in the fifth frame. Per Statcast™, the ball traveled an estimated 399 feet with an exit velocity of 103 mph. The Yankees would tack on another run before the end of the inning, which snapped an 11-inning scoreless streak by Tribe righty Bauer that dated back to June 27.
In fact, prior to Gregorius breaking through against Bauer, the Yankees were a mere 1-for-13 through the first four innings. But then New York would score five runs to hand him the loss.
"It's a good come-from-behind [win] because he's been really good," Girardi said. "You look at his month of June and the way he's been throwing lately, he's been outstanding. It's an impressive win."
For Gregorius -- who was involved in the 2012 trade that sent Bauer to Cleveland -- it was his 10th blast of the season, which set a new career high. He became just the fourth Yankees shortstop to hit at least 10 homers before the All-Star break.
"I'm just trying to barrel the ball," Gregorius said. "I ended on a good note last year. I was trying to do the same thing, trying to hit line drives gap to gap. If it turns into home runs, it turns into home runs. But I'm not going out there looking for home runs."
But Thursday's efforts are just the latest example of a player becoming more comfortable at the plate each day. Entering Friday, Gregorius was batting .369 (31-for-84) with 18 runs scored, four doubles, six homers, and 18 RBIs since June 14.
However, the recent success hasn't gone to the young shortstop's head. Despite this stellar stretch, he is quick to credit his teammates.
"Nothing has changed for me," Gregorius said. "Just play the game with the best guys here. Everybody talks to each other and helps each other out. So maybe when everybody tells you it makes you even better."
Shane Jackson is a reporter for MLB.com based in Cleveland. This story was not subject to the approval of Major League Baseball or its clubs.