Hill immediately contributes in Red Sox debut
Batting eighth, 3B goes 2-for-4 with pair of RBI singles after long day of travel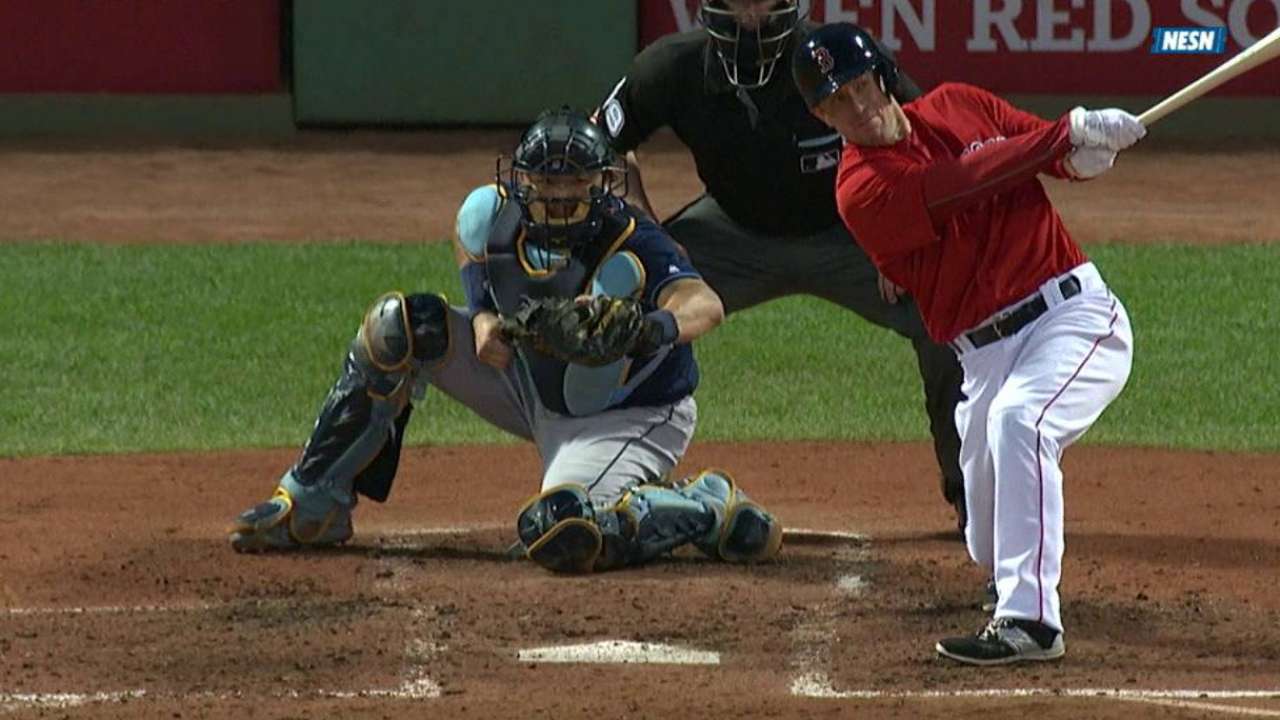 BOSTON -- Being a member of the Red Sox in their 6-5 win over the Rays in the series opener on Friday night at Fenway Park made Aaron Hill's transition to Boston much easier.
"Definitely made me forget that I got up at 4:30 in the morning, that's for sure," Hill said. "The electricity in this place is always solid. You always wondered on the visiting side what it's like over here. Just being able to get a taste of it is pretty neat."
Hill had a long travel day from Milwaukee before making his Red Sox debut at third base in place of injured Travis Shaw, and he went 2-for-4 with a pair of RBI singles. His hit to left off the Green Monster in the fourth added an insurance run after David Ortiz's solo shot earlier in the inning, and he added an opposite-field single in the eighth.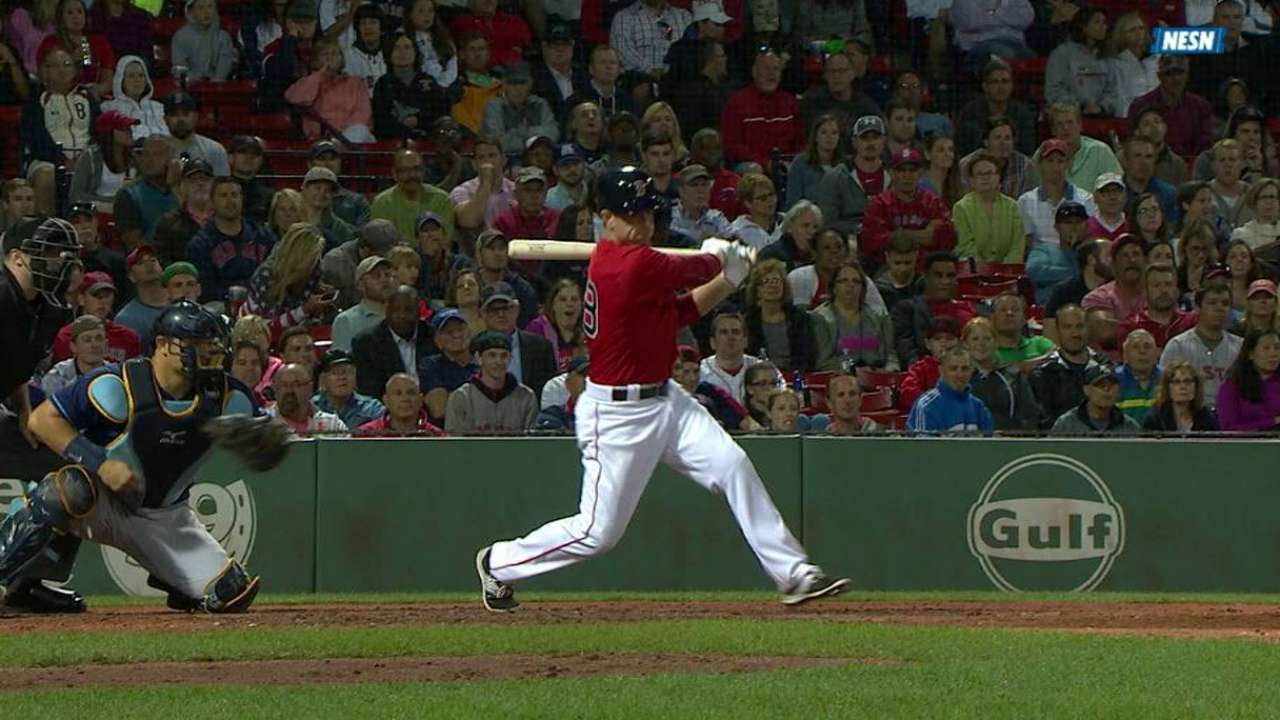 Hill said he'd been working with his former hitting coaches at Milwaukee on going the opposite way.
"[I'm] just trying to be not so much a puller, I guess -- not necessarily using the whole field, but just using a different approach. So we'll see where it goes," Hill said. "Obviously, it's nice to put one off the Monster, but at the same time, I don't want to become too pull happy and make myself vulnerable to other pitches."
Hill found success in the eight-hole against Tampa Bay's Chris Archer, who gave up five runs on seven hits over six innings.
The 34-year-old Hill has hit safely in each of his four team debuts over the course of his career. He's driven in at least one run in three of the four.
"I'll take any hits that come, that's for sure," Hill said. "Especially if it means runs are crossing the board. I look forward to be working with [Red Sox hitting coach] Chili [Davis]."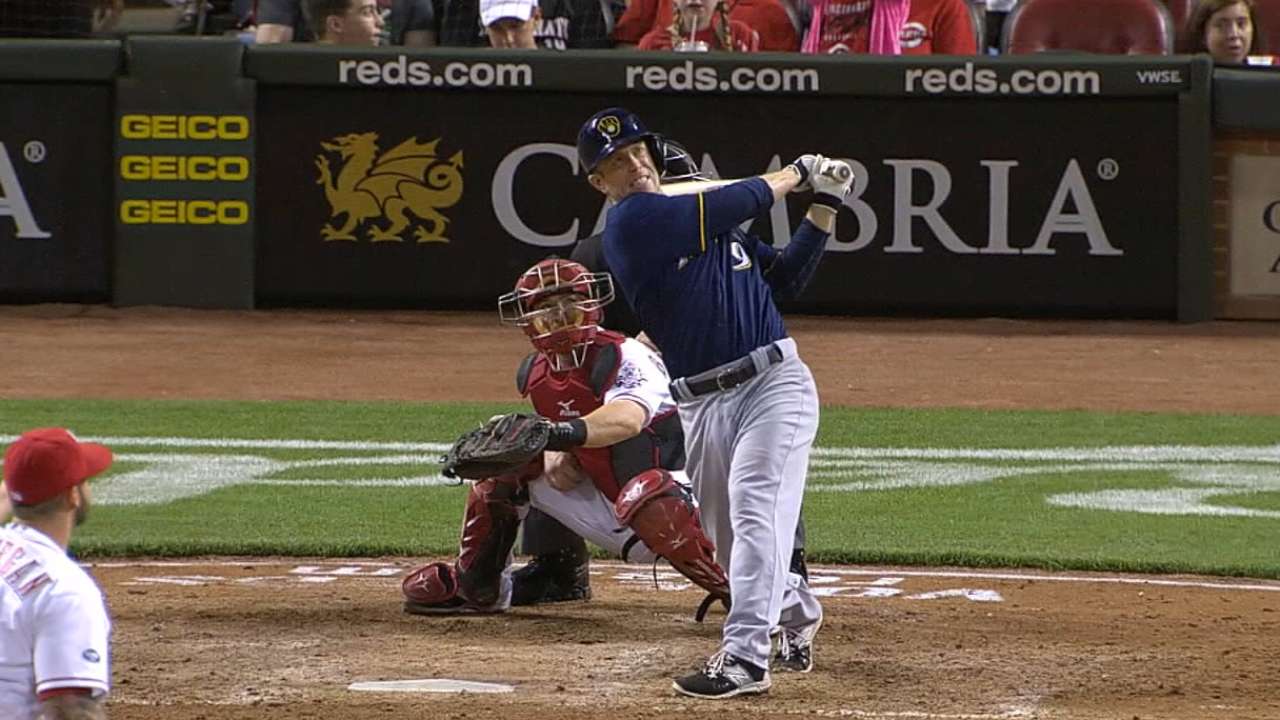 Before the game, Red Sox manager John Farrell admired Hill's versatility as an infielder that could provide injury protection for not only Shaw, but also give second baseman Dustin Pedroia or first baseman Hanley Ramirez a break when needed.
Afterward, Farrell appreciated Hill's ability to get on base and score runs in clutch situations.
"Aaron comes in and gives us a spark," Farrell said. "Two big quality at-bats for a couple of RBIs, no bigger than the final one, the way it finished out with [Evan] Longoria's solo home run in the ninth."
Hill's former club, Milwaukee, was trailing the first-place Cubs by 14 1/2 games before he left for Boston. In his last 21 games, Hill is batting .341 (28-for-82) with 10 RBIs.
"To get the win was pretty impressive," Hill said. "Obviously, the last day has been kind of a whirlwind, and to walk away with a win and be able to contribute, it was a special day."
Deesha Thosar is a reporter for MLB.com based in Boston. This story was not subject to the approval of Major League Baseball or its clubs.