Wright struggles in bullpen appearance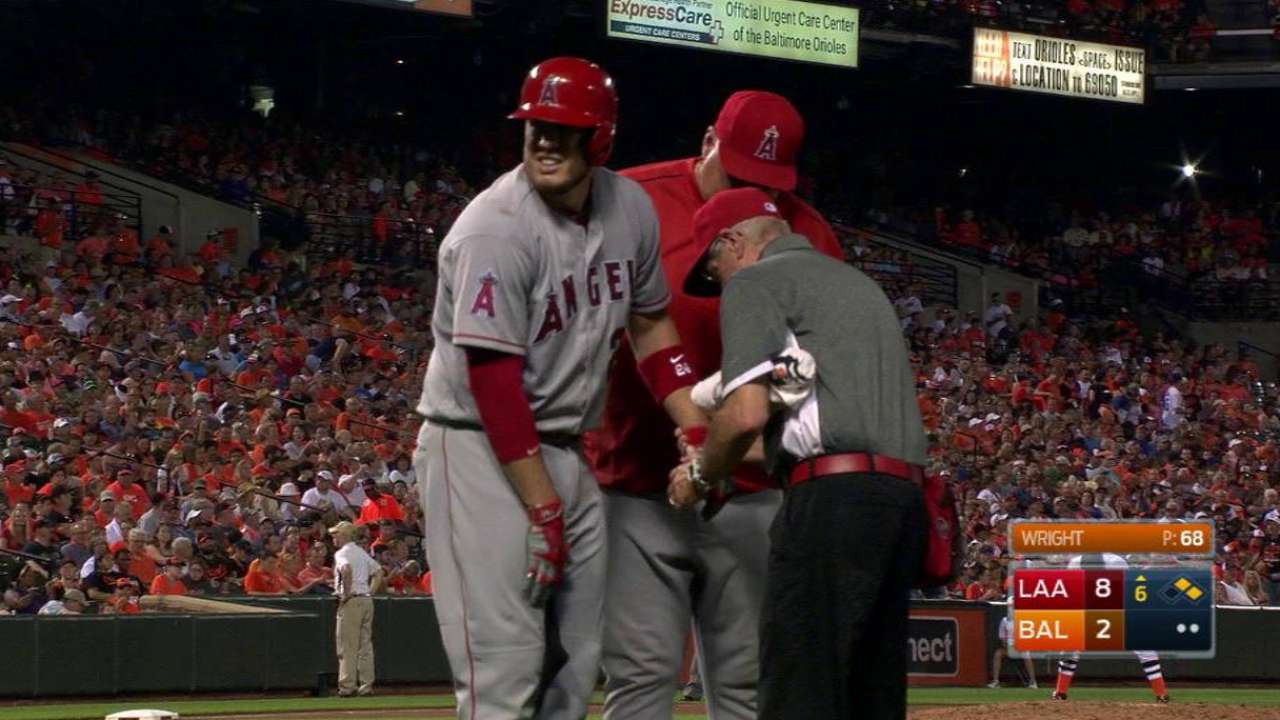 BALTIMORE-- The Orioles optioned pitcher Mike Wright back to Triple-A Norfolk following Friday's 9-5 loss to the Angels after they called him up earlier in the day for bullpen help.
Manager Buck Showalter said before the game that they'd be ready to use him in any kind of bullpen role, long or short, depending upon their needs.
Wright came in during the second inning of Friday's game when starter Ubaldo Jimenez lasted just 1 1/3 innings and allowed five runs on five hits. But Wright again struggled. Wright gave up four runs on three hits in 4 2/3 innings -- hitting three batters and walking two.
"I thought it was a really good situation for him, nothing to lose coming in. You saw some of the things that he needs to be working on down in Norfolk," Showalter said. "He never just was consistent."
Wright now is 3-4 with a 5.97 ERA in 14 games, 12 of which are starts. He's also hit nine batters in 69 1/3 innings.
The Orioles are a bit taxed in the bullpen for various reasons. Darren O'Day remains on the disabled list but played catch on flat ground on Friday. T.J. McFarland, also on the DL, will be going to Dr. James Andrews on Monday for a second opinion on his left knee inflammation.
Mychal Givens could be leaving at any minute as his wife is due to give birth on Sunday. Showalter said she might be induced.
"That's imminent, so we want to make sure we cover ourselves," he said.
After the game, Showalter said that Givens also is dealing with conjunctivitis.
In addition, Showalter said that starter Kevin Gausman could come out of the bullpen on Sunday if needed. Starter Tyler Wilson, recently sent down to Norfolk to take a bit of a break and refresh his arm, will start throwing the day after the break, according to Showalter.
The skipper also said starters Chris Tillman and Yovani Gallardo will be given an extra day of rest after the break, but Showalter would not confirm that Gausman would start the first game of the second half on Friday. He did not want to name a starter just yet.
Pedro Alvarez also returns to the team Friday. He's been on bereavement list since July 4.
Jeff Seidel is a contributor to MLB.com. This story was not subject to the approval of Major League Baseball or its clubs.