Ausmus sticking to rest plan with veteran K-Rod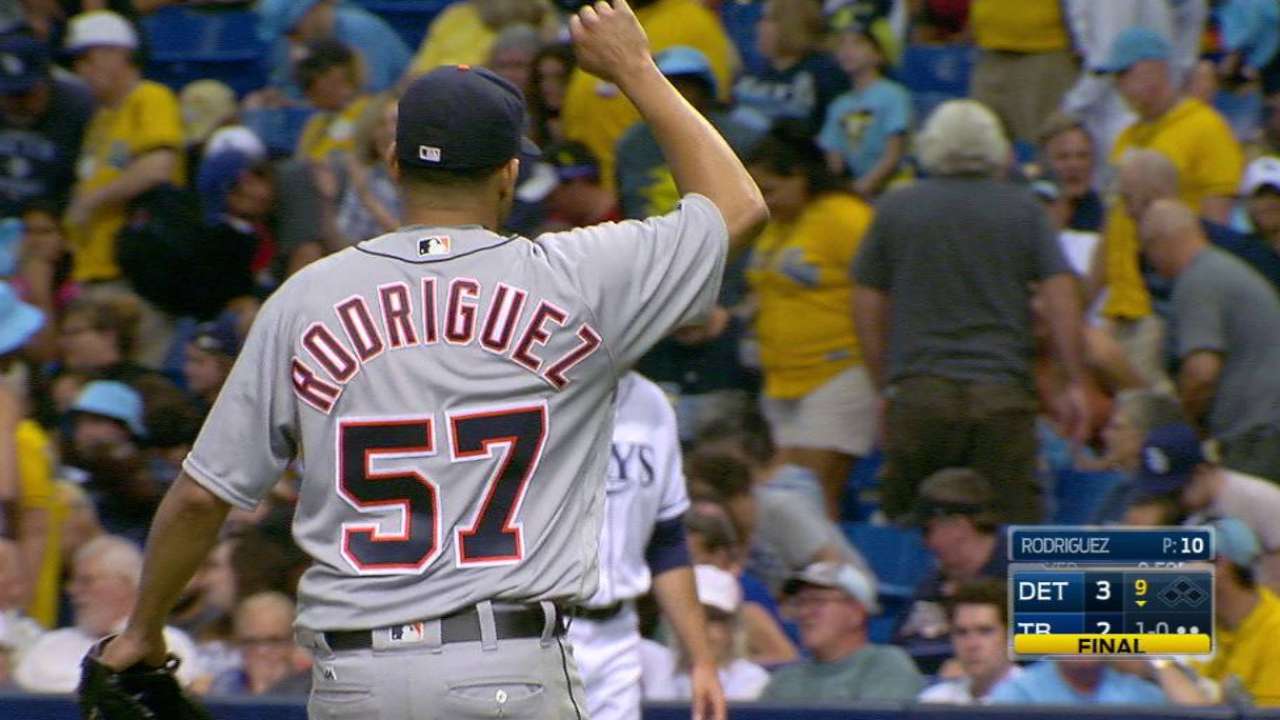 TORONTO -- Tigers manager Brad Ausmus has a set of rules with his closer, Francisco Rodriguez.
Ausmus does not bring Rodriguez into a tie game on the road in the ninth inning, or extra innings for that matter.
He does not necessarily have to get Rodriguez into a game once every few days, as Jim Leyland used to do with his closer.
And, at least for now, Ausmus does not want to bring in Rodriguez for a four-out save.
"It's just personal preference," Ausmus said after Thursday's 5-4 loss to the Blue Jays, who rallied for two runs in the eighth with Rodriguez sitting in the bullpen.
Rodriguez has pitched in 32 games this season. Only one lasted longer than an inning. On June 1, Ausmus turned to Rodriguez with a 2-0 lead against the Angels and runners on second and third with two outs in the eighth. Justin Wilson wasn't available that day, Ausmus said at the time, and the manager was trying to avoid using Alex Wilson.
Rodriguez ended up throwing 33 pitches that day, the last 10 of them to Jefry Marte to strand a runner on second. It was the veteran closer's first four-out save since June 8, 2014.
"I don't want to do it often," Ausmus said at the time.
He hasn't, no matter the situation. Rodriguez has had five, six and five days' rest between outings in the past month. Thursday was his fifth day of rest since his last outing on Saturday vs. the Rays, but he did not warm up as the Jays assembled their eighth-inning threat.
"I thought about it," Ausmus said, "but I didn't want to do that again."
If Rodriguez was younger, Ausmus said, he might be more inclined to let him go for the final four outs in a game. As it is, the 34-year-old Rodriguez is getting his pitches conserved.
Ausmus has gone to great lengths to make sure that one of the Wilsons is available to pitch. Both pitched in the eighth inning Thursday, with Alex Wilson following Justin Wilson with the bases loaded against Troy Tulowitzki, who hit a go-ahead two-run single.
Quick hits
• Jordan Zimmermann, speaking for the first time since he went on the 15-day disabled list with a neck strain Monday, said he visited Dr. Robert Thompson, a thoracic outlet specialist in St. Louis, to have his condition checked out, given the recent spate of diagnoses around baseball. An examination confirmed a muscle strain in his neck, and he hopes to resume throwing in a few days.
"If I have to throw in Wisconsin, I've got plenty of buddies," Zimmermann said.
• J.D. Martinez took fungo swings off a tee Thursday, according to Ausmus. It was his first baseball activity since he fractured a bone in his elbow three weeks ago, forcing him onto the 15-day DL.
Jason Beck has covered the Tigers for MLB.com since 2002. Read Beck's Blog, follow him on Twitter @beckjason and listen to his podcast. This story was not subject to the approval of Major League Baseball or its clubs.