Yelich homers, Fernandez cruises in Marlins' win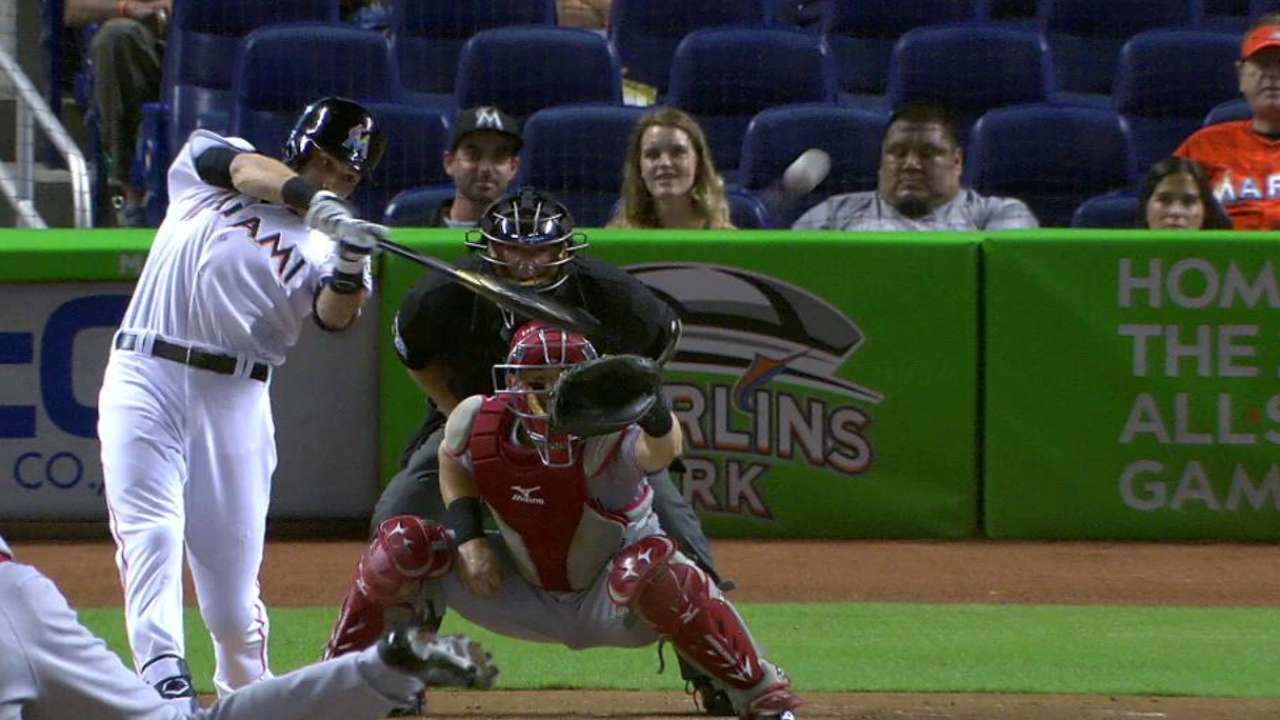 MIAMI -- The ballpark may have the Marlins' name in the title but their ace, Jose Fernandez, certainly seems to own it when he pitches.
Fernandez allowed one unearned run over seven innings as Miami took a 3-1 victory over the Reds in Friday night's series opener. He allowed six hits without a walk and struck out eight to improve to 25-1 with a 1.43 ERA in 36 career starts at Marlins Park. His team has won 31 of those games.
"I was actually thinking about it when I was warming up today," Fernandez said. "I was out there playing catch. I'm trying to figure it out. It's just like home. The fans. It's just being home. I'm trying to make the adjustment to feel the same on the road, if that makes sense."
Reds starter Dan Straily gave up three earned runs on six hits over six innings with two walks and two strikeouts.
"I thought I pitched well but not good enough," Straily said. "It's one of those deals I've talked about a couple of times before that certain nights you have to go out there and win the ballgame, 1-0. I wasn't able to get that done tonight."
Back-to-back one-out doubles by Martin Prado and Christian Yelich put Miami ahead by a 1-0 score in the first. In the fourth, after Billy Hamilton led off with a single and took second base on Giancarlo Stanton's error, Adam Duvall drove him in with an RBI single to left. Duvall also went to second base on a Yelich error but was thrown out at the plate to end the inning trying to score on Brandon Phillips' infield hit behind second base.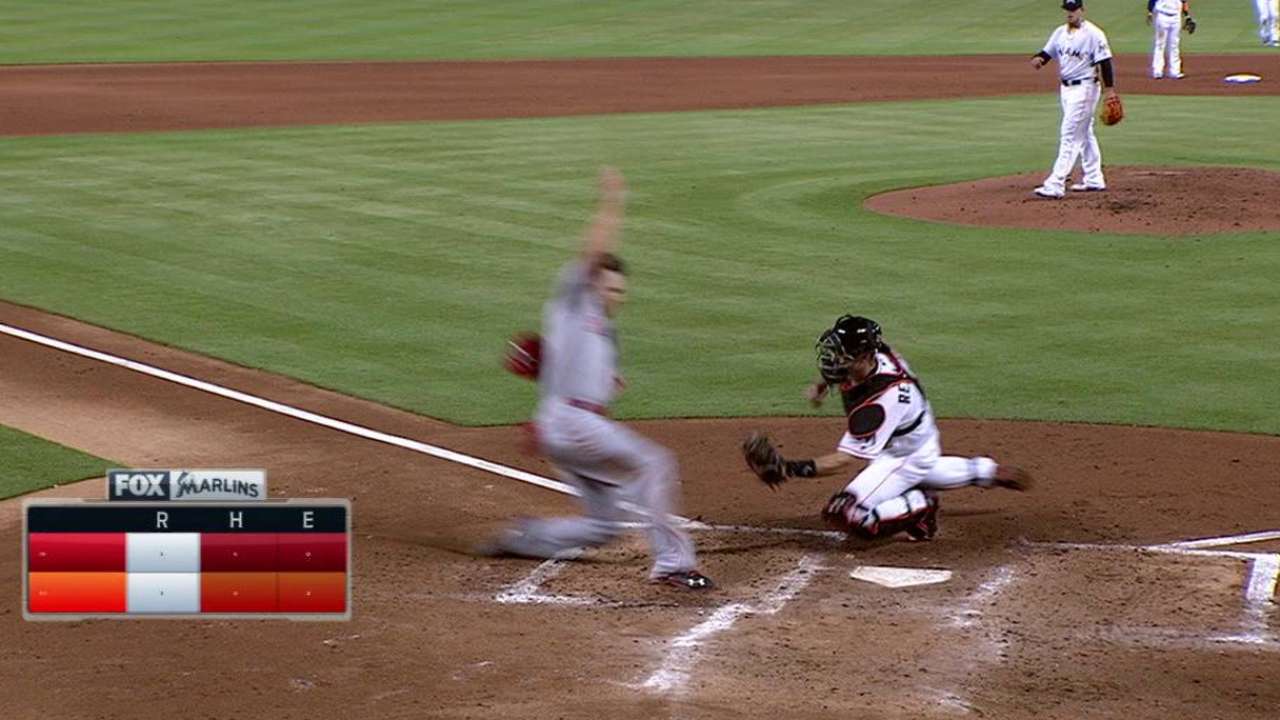 Aided by back-to-back walks to begin the bottom of the fourth, the Marlins took the lead back on Derek Dietrich's RBI single that scored Yelich.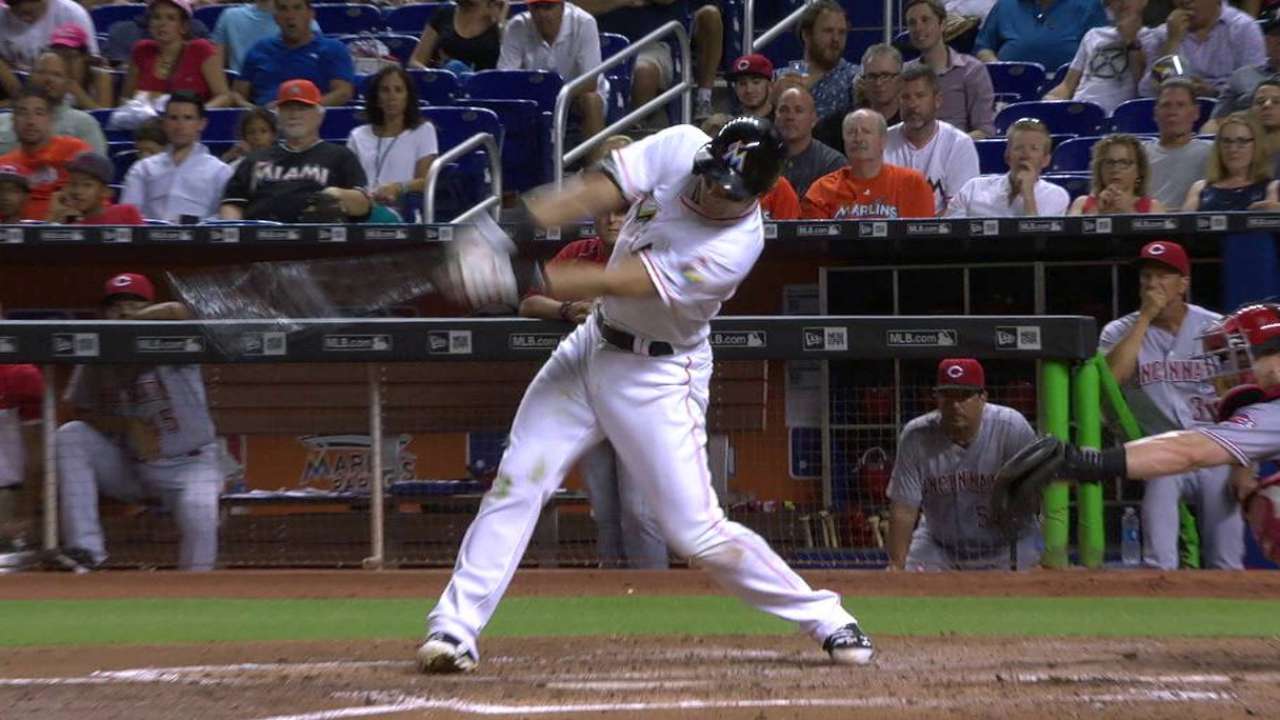 Yelich slugged a 1-0 Straily pitch to straightaway center field for a homer, his seventh of the season, with one out in the sixth.
"Just looked for something to put a good swing on," Yelich said. "I got a little backspin on it, and it carried out."
Marlins manager Don Mattingly said Yelich and Prado, who led the way with two hits each, have been the bread-and-butter of Miami's offense during the first half.
"To me, Yeli is really one of the best hitters in the game," Mattingly said, "and he's starting to show it more and more. We still feel like there's room for improvement."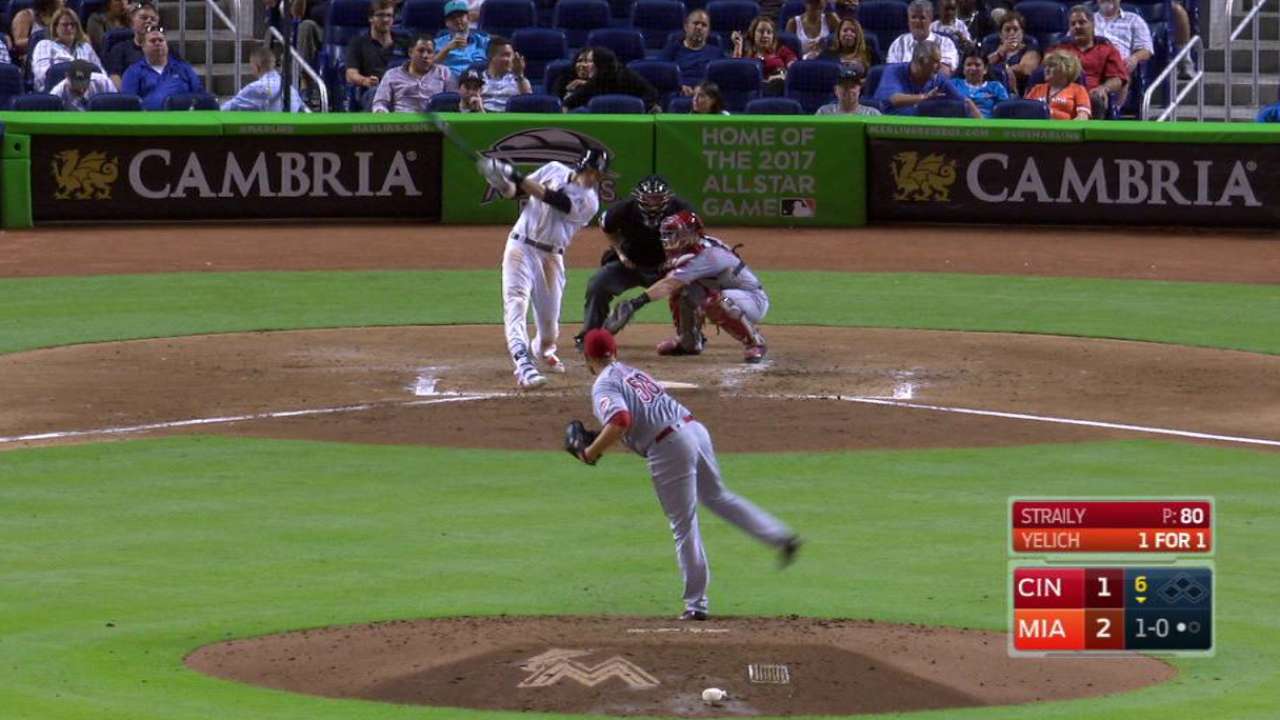 MOMENTS THAT MATTERED
Nice defense by Reds: In the second, Reds first baseman Joey Votto turned an unassisted double play when he caught Adeiny Hechavarria's liner and lunged to touch first base to double up Don Kelly to end the inning. Hechavarria was robbed of extra bases when Hamilton went a long way to track down a drive to left-center field and made the tough catch as he crashed into the chain-link fence covering the out-of-town scoreboard. The play banged up his right knee, which was iced after the game. Hamilton was sore but expected to play on Saturday.
"There's a lot of space here where you can run," Hamilton said. "I was talking to Christian Yelich at the barbershop today, getting a haircut, and was like, 'Yeah, it's fun out here to play on this field.' I like to play shallow. He hit it pretty good. I ran into the fence and got my leg caught up in the fence area. It's something where I'm fine right now."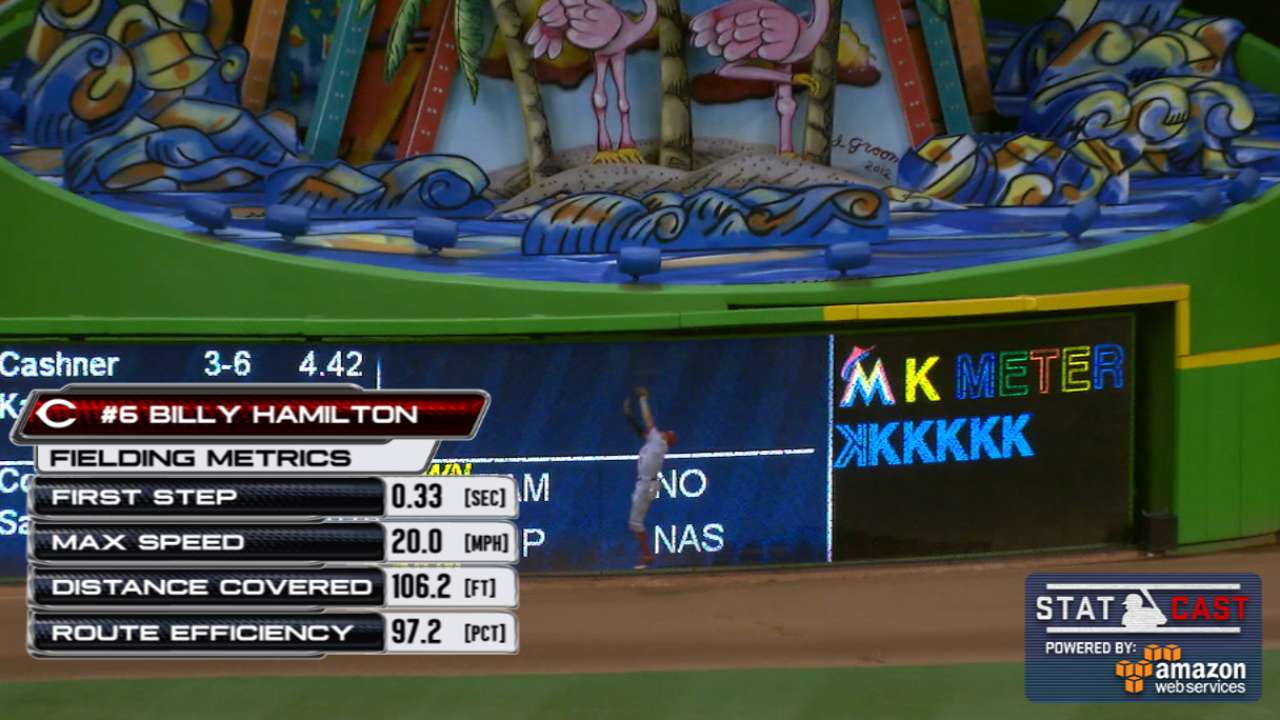 Back to himself: Marlins ace Fernandez bounced back with authority from his worst start of the season. After surrendering a career-high nine runs (six earned) to the Braves last time out, he was back to form against the Reds. Holding on to a 2-1 lead in the fifth inning, Fernandez yielded back-to-back hits to Eugenio Suarez and Tucker Barnhart. Following a sacrifice bunt, he struck out Zack Cozart and induced a groundout of Billy Hamilton to escape the jam. Fernandez walked none for the third time this year and was efficient, needing just 93 pitches to get through seven innings en route to his 11th win. More >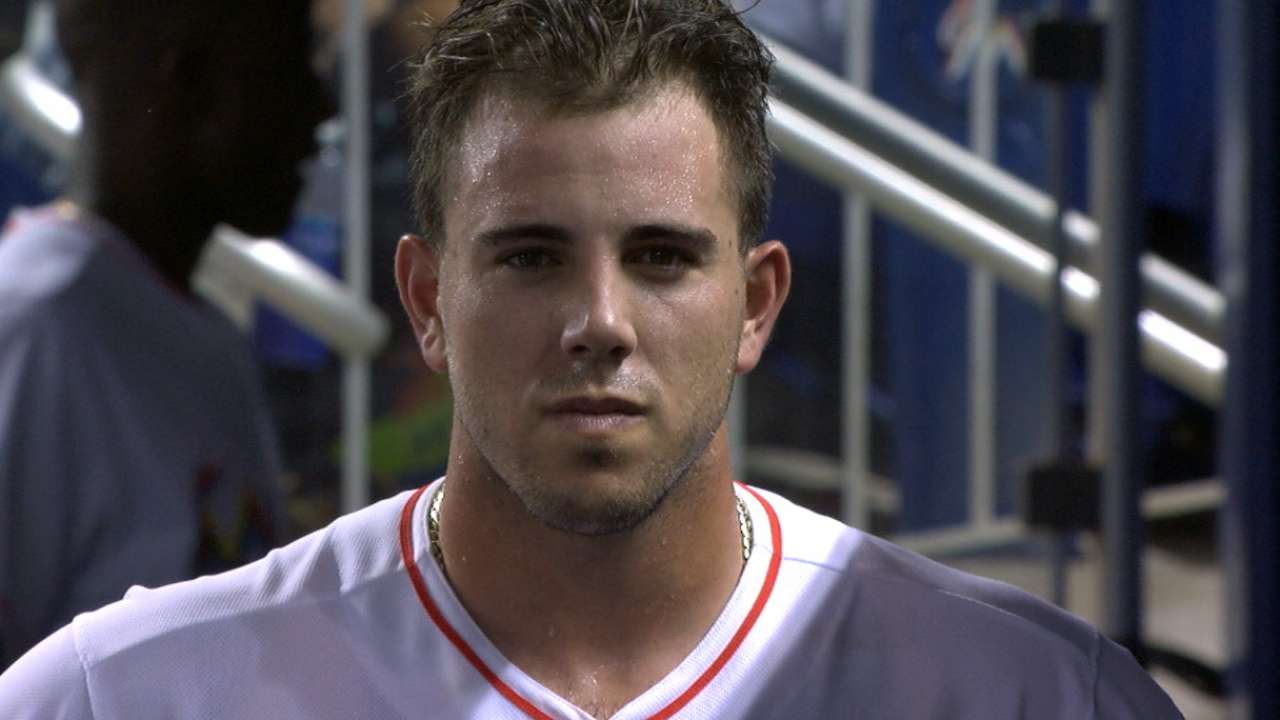 "I thought seven [innings] was good for us," Mattingly said. "His pitch count got lower -- I think he was at 76 going into the last two but ended up right around 90. He gets the double-play ball, which was nice, in the seventh there. It was good to see him bounce back, and it was a win we needed."
All-Star 'pen: For the first time since he was acquired from the Padres, Fernando Rodney and A.J. Ramos, two of Miami's four All-Stars, threw scoreless innings in the same game. Rodney pitched a perfect frame in the eighth to earn his second hold with the Marlins. Ramos locked down his 26th save with a hitless inning of his own, putting him in a tie for second place among Major League saves leaders.
"Obviously, when you put Fernando in the game, he's a guy that has a track record of being in those situations," Mattingly said. "You know he's not going to panic, and A.J.'s been great this year."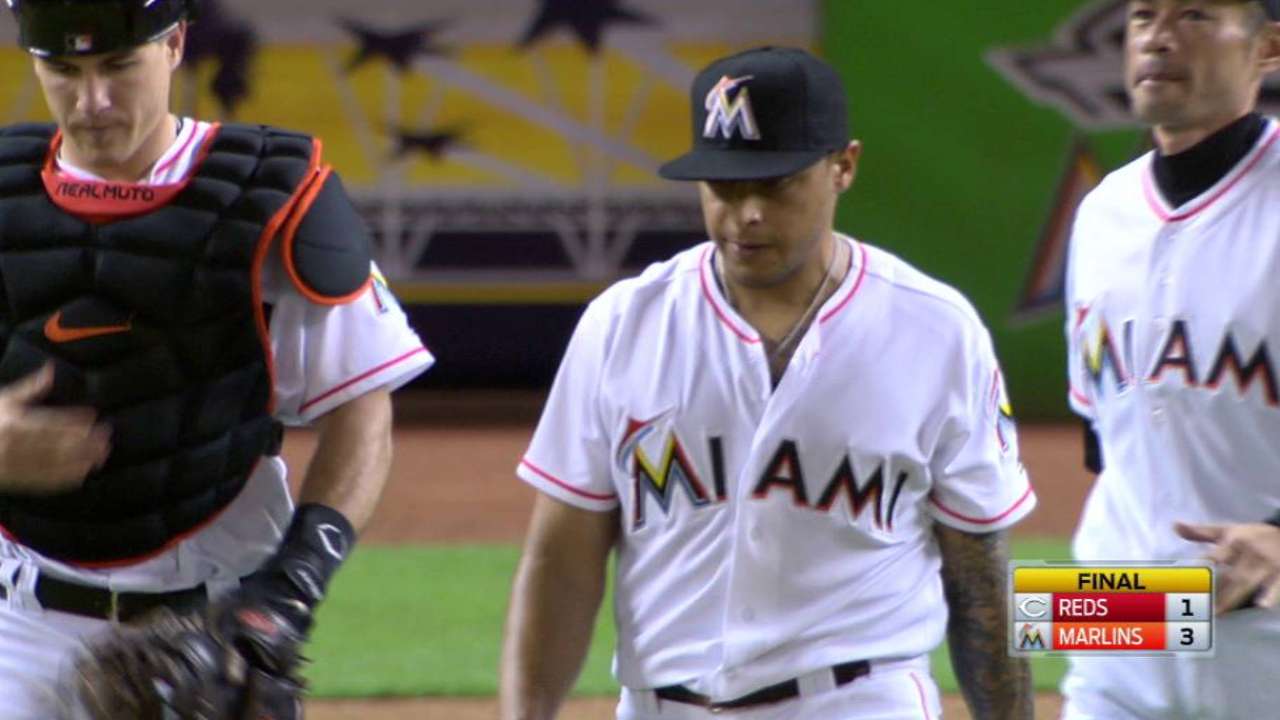 Duvall out at plate: On the inning-ending play at the plate in the Reds' fourth, Duvall was waved around to go home by third-base coach Billy Hatcher. After Dietrich made the diving stop, he threw out Duvall ahead of his feet-first slide.
"I talked to Billy after, and he was anticipating that Dietrich was going to throw the ball to first base and make an attempt to throw Brandon out," Reds manager Bryan Price said, "so he kept Duvall going. Dietrich cocked, chose not to throw, checked that Duvall was scoring and was able to throw him out."
QUOTABLE
"There was a point in time you look up there and say, 'We should be winning this game,' and we weren't. They were able to take advantage of some scoring opportunities, and their defense had a couple missed plays in the outfield that didn't come back to bite them. It was unfortunate. We played a pretty good ballgame and came away with a loss." -- Price
PHILLIPS EXITS WITH INJURY
Leading off the top of the seventh, Phillips was hit on the left hand by an 87-mph changeup from Fernandez. Phillips remained in the game, but he was removed in a double switch before the bottom of the eighth. X-rays taken after the game revealed a hairline fracture on his left hand, but he might still be able to play on Saturday. More >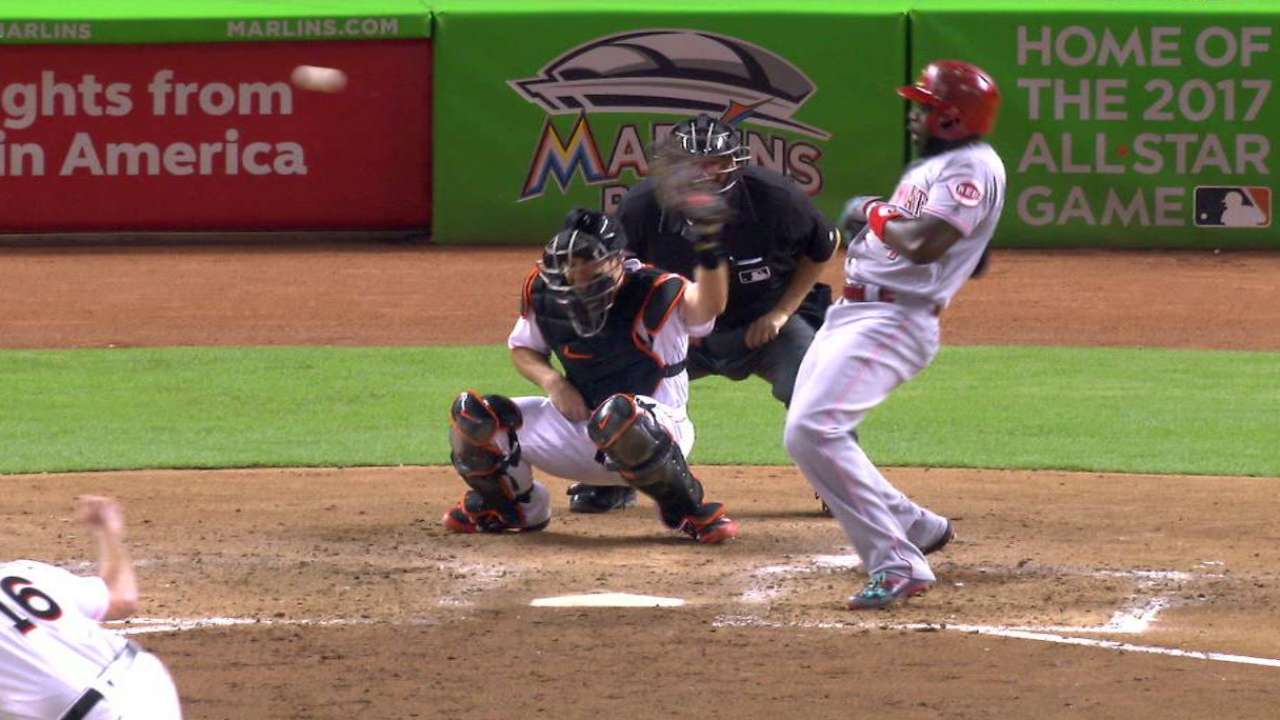 WHAT'S NEXT
Reds: John Lamb will try to finish his first half with a better outcome than his previous start when the series continues at 4:10 p.m. ET on Saturday. Lamb gave up a career-high eight runs on eight hits over 4 1/3 innings during last Sunday's 12-1 loss to the Nationals.
Marlins: Left-hander Adam Conley (5-5, 3.65 ERA) will start against the Reds for the first time since winning his first career start July 11, 2015, at Marlins Park. He's 2-3 with a 3.29 ERA in seven home starts this season.
Watch every out-of-market regular-season game live on MLB.TV.
Mark Sheldon has covered the Reds for MLB.com since 2006, and previously covered the Twins from 2001-05. Follow him on Twitter @m_sheldon and Facebook and listen to his podcast.

Patrick Pinak is a reporter for MLB.com based in Miami and covered the Marlins on Friday.

This story was not subject to the approval of Major League Baseball or its clubs.