Cubs sign third-round Draft pick Hatch
Contreras to catch Lester Saturday; Hendricks shows versatility in relief appearance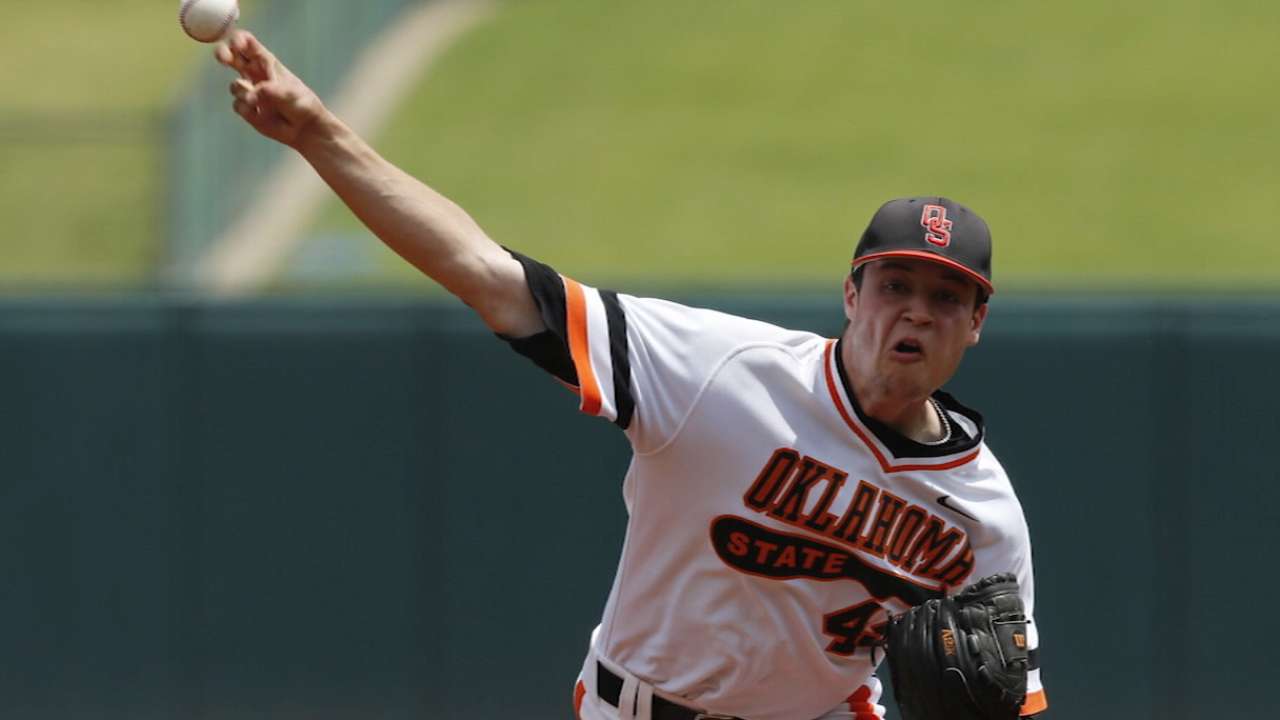 PITTSBURGH -- The Cubs have signed right-handed pitcher Thomas Hatch, the team's third-round pick in the 2016 Draft. Overall, the Cubs have signed 21 selections in advance of the July 15 signing deadline.
According to MLB.com's Jim Callis, Hatch, 21, signed for $573,900. The right-hander completed his redshirt sophomore season at Oklahoma State by helping lead the Cowboys to the College World Series. He went 9-3 with a 2.14 ERA in 19 starts, including four shutouts. He is the 13th pitcher in OSU history to reach the 100-strikeout mark in a single season.
Hatch, recommended by area scout Ty Nichols, was named the Big 12 Pitcher of the Year.
The Cubs have signed their first eight selections, including right-handed pitcher Tyson Miller of California Baptist (fourth round); right-handed pitcher Bailey Clark of Duke (fifth round); right-handed pitcher Chad Hockin of Cal State Fullerton (sixth round); catcher Michael Cruz of Bethune-Cookman (seventh round); right-handed pitcher Stephen Ridings of Haverford College (eighth round); right-handed pitcher Duncan Robinson of Dartmouth (ninth round); and right-handed pitcher Dakota Mekkes of Michigan State (10th round).
• David Ross gave Willson Contreras a tutorial on how to handle Jon Lester, and the Cubs will see how well the rookie catcher learned his lessons on Saturday when he's paired with the left-hander.
Ross is on the seven-day concussion disabled list, and went home to Florida rather than make the Cubs' trip to Pittsburgh. He has been matched with Lester this season, but now it's Contreras' turn. Cubs manager Joe Maddon liked how Contreras stood up to the Braves' Jeff Francoeur on Thursday night.
"He's demonstrated that he's fearless," Maddon said of Contreras. "He's not intimidated by playing in the Major Leagues at all. That's what I'd heard."
Francoeur was upset at a fastball that was a little too far inside. Kris Bryant was hit twice by pitches and Anthony Rizzo once earlier in the game. Francoeur and Contreras exchanged a few words, and both benches emptied.
"I think it's great," Maddon said. "Not often will you see a rookie stand his ground like he did yesterday. It's not surprising at all."
• Kyle Hendricks chipped in Thursday night, pitching in relief for the first time in his career. He threw 32 pitches in the Cubs' 11-inning game, and walked one and struck out one.
"That was spectacular what he did," Maddon said.
Hendricks enjoyed the moment, although he admitted it was very different coming into the game in the sixth inning.
"After I got a couple hitters, I started settling in," Hendricks said. "Being down there and ready to go at any moment was the only thing [different]."
He finished the first half at 7-6 with a 2.55 ERA, and will open the second half against the Rangers. You could make an argument that Hendricks belongs in the All-Star Game, too.
"He's definitely a name that deserved consideration," Maddon said.
• All-Star Dexter Fowler, on the disabled list with a right hamstring strain, went 0-for-2, walked twice and struck out once Friday night as the designated hitter for Class A South Bend. He was scheduled to play the outfield on Saturday. If all goes well, Fowler will fly to San Diego on Sunday to take part in the All-Star Game festivities.
"He's very happy about this -- it's big for him and his family," Maddon said of Fowler's first All-Star selection. "He's earned it. I don't know if it was a chip [on his shoulder], but he probably felt he had something to show from being overlooked this offseason."
The Cubs made a qualifying offer to Fowler in November, and he rejected it. He eventually re-signed with the Cubs in late February.
Carrie Muskat has covered the Cubs since 1987, and for MLB.com since 2001. She writes a blog, Muskat Ramblings. You can follow her on Twitter @CarrieMuskat and listen to her podcast. This story was not subject to the approval of Major League Baseball or its clubs.