Toles goes 1-for-4 in big league debut
Dodgers call up outfielder from Triple-A OKC before win vs. Padres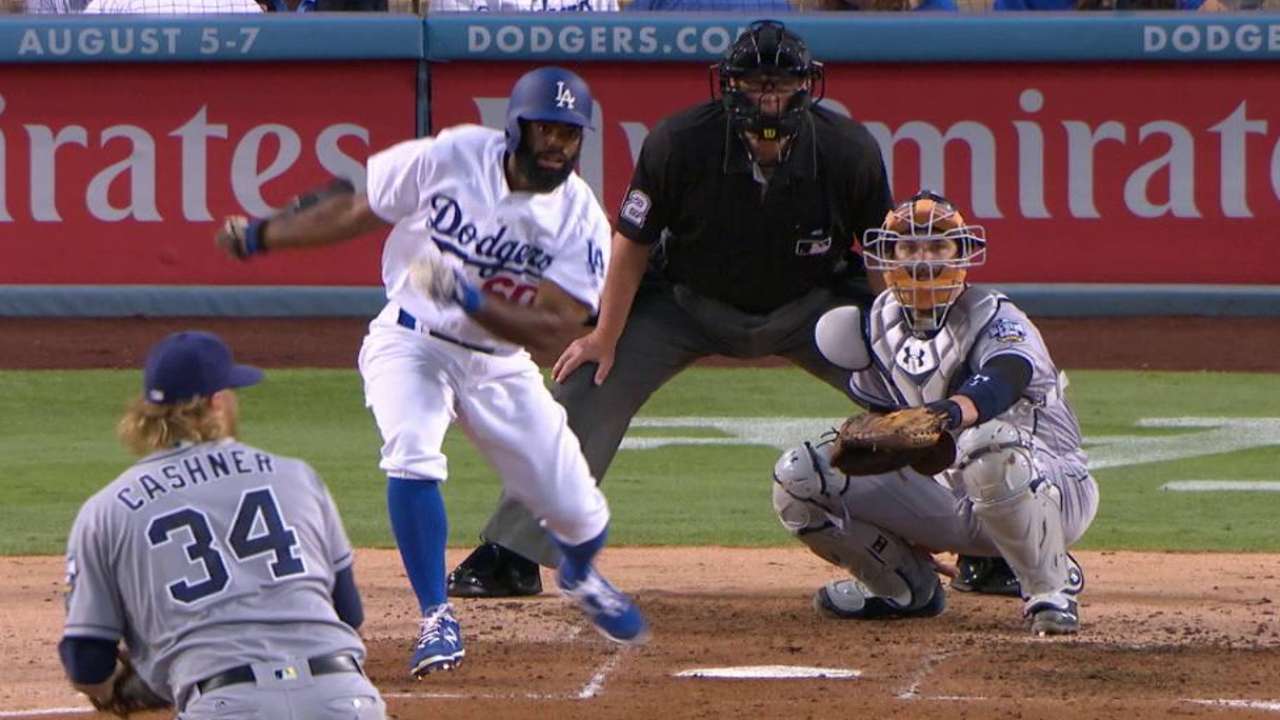 LOS ANGELES -- Andrew Toles, out of baseball in 2015, was the Dodgers' starting center fielder for his Major League debut on Friday night in a 10-6 win over the Padres. He went 1-for-4, doubling in his first at-bat.
The left-handed-hitting Toles, ranked by MLB Pipeline as the Dodgers' No. 28 prospect, was promoted from Triple-A Oklahoma City to replenish the bench, taking the place of reliever Carlos Frias, whose reward for pitching four shutout innings on Thursday night was an option back to OKC. To create room on the 40-man roster, the club designated Cole Figueroa for assignment.
Manager Dave Roberts said the absence of left-handed-hitting center fielder Joc Pederson, currently rehabbing a separated right shoulder in Arizona, prompted Toles' promotion.
"Looking at the roster with Joc being down, just having a guy that can hit right-handed pitching, and when he's not in there, the opportunity to pinch-hit, that's intriguing," Roberts said.
Toles' whirlwind transformation from being out of baseball to big leaguer is linked directly to Dodgers president of baseball operations Andrew Friedman, who drafted Toles in the third round in 2012 when he ran the Tampa Bay Rays. Last spring, while Friedman was in his first year in charge of the Dodgers, Toles was released by the Rays after a series of personal issues.
"It was a situation where a lot of things didn't go my way and we couldn't come to an agreement with the Rays," Toles said. "It didn't fit for both of us. There was a lot going on. I've matured a lot, don't talk as much, try to be on time. A lot of different small stuff."
Toles said he wasn't going to "talk bad about the Rays, but we got good coaches here that helped me out. They all played a big part." He conceded that in getting a second chance, there's pressure "not to mess it up." The Dodgers signed him last September, sent him to Class A Advanced Rancho Cucamonga for a month to start this season, to Double-A Tulsa for two months and OKC barely a week ago. After going 0-for-11 after joining OKC, Toles had 10 hits in his last 22 at-bats with four extra-base hits and six RBIs. He leads the Dodgers' farm system with a .330 average, 99 hits, 52 runs and 23 stolen bases.
"Andrew is fond of him as a person, as a player," said Roberts. "I don't know the whole story, but with what he went through in the past, it's a great story to see him in the big leagues, and we're excited to have him. He's dynamic, he can run and defend and hit. It'll be fun to throw him out there and see what he can do."
While sitting out, Toles said he mostly waited for the phone to ring. He worked briefly at a market.
"Just sit at home, waiting on phone calls," he said. "Worked at a grocery store for two weeks, and they've been blowing that out of proportion."
The Dodgers carried a bench of only three during Thursday night's 6-0 loss to San Diego, going with a 14-man pitching staff after Wednesday's 14-inning 6-4 loss to Baltimore.
Ken Gurnick is a reporter for MLB.com. This story was not subject to the approval of Major League Baseball or its clubs.