Here's the case for Pomeranz as an All-Star
Surging Padres are 18-15 since the start of June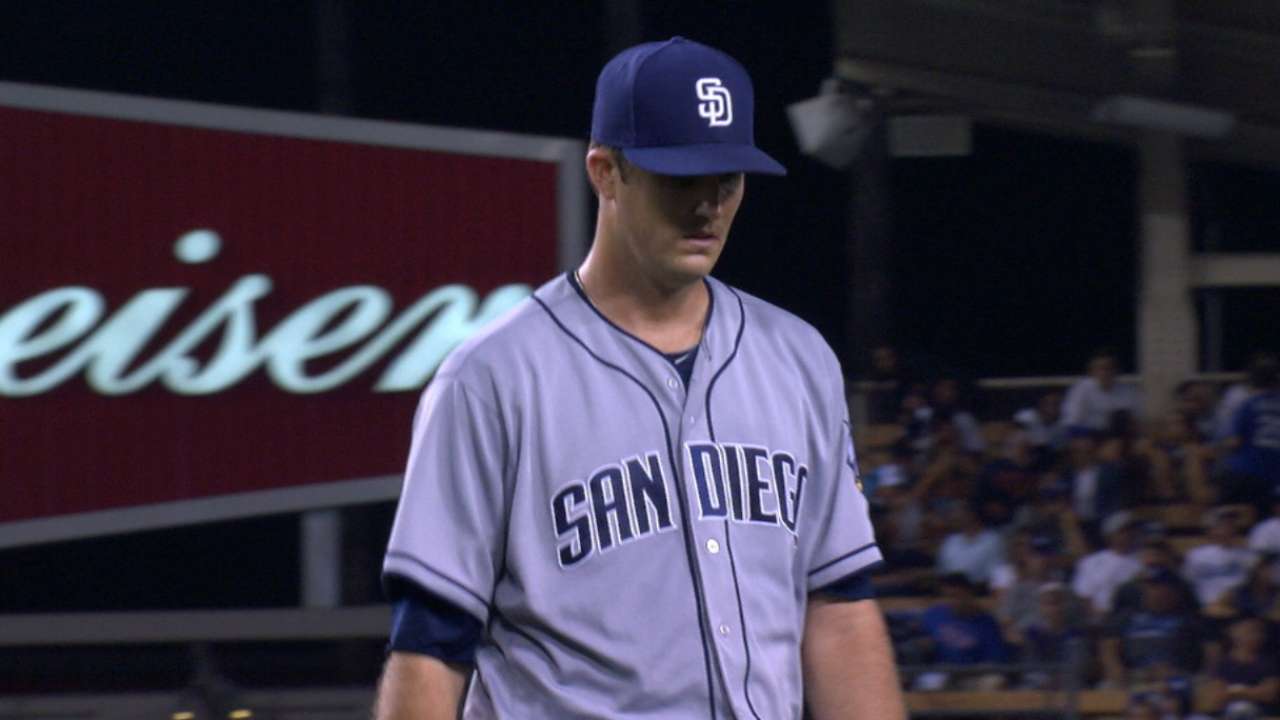 Bill Center, longtime sportswriter for U-T San Diego, is an employee of the Padres.
Drew Pomeranz is making a strong case for his addition to the National League All-Star team as an injury replacement.
On Thursday night, Pomeranz shut out the Dodgers on two hits and two walks over seven innings. He also hit a batter and had six strikeouts.
Over his past three starts, Pomeranz has allowed one run on 10 hits and three walks with 19 strikeouts in 21 innings for a 0.43 ERA. Pomeranz has an 8-7 record with a 2.47 ERA in 17 starts. The Padres are 9-8 in his 17 starts.
The 27-year-old, who was acquired from Oakland last offseason in exchange for first baseman Yonder Alonso, has allowed no earned runs in seven of his starts, one earned run in two starts and two earned runs in three.
Pomeranz has worked seven innings and averaged 100 pitches in each of his past three starts. And while allowing only one run, he has three hits, including a home run, with three RBIs.
Pomeranz has the lowest opponents' batting average among qualifying NL pitchers with a .184 mark. He also has 115 strikeouts in 102 innings -- an average of 10.1 strikeouts per nine innings.
Although Pomeranz has already eclipsed 100 innings for the first time in his career, the Padres have placed no limits on how far he can go this season.
Pomeranz ranks among the NL leaders in ERA (sixth), WHIP (10th, 1.059), hits per nine innings (second, 5.912), strikeouts per nine innings, strikeouts (tied for seventh), starts (tied for ninth) and pitcher's WAR (3.1).
"I think anyone who is tuned into this game and is looking for a replacement ... I think Drew's clearly a candidate," said Padres manager Andy Green.
Notes from the scorebook
Remember when the Padres were shut out by the Dodgers in three straight games to open the season. After being outscored 25-0 in those three losses, the Padres have gone 5-2 against the Dodgers, while outscoring them 31-21.
For the first time since May 25, the Padres awoke this morning out of the basement in the NL West. Arizona lost for the eighth time in 10 games on Thursday to drop into the cellar, a half-game behind the Padres. The Padres are 18-15 since the end of May and 5-2 in July.
Left fielder Alex Dickerson is 4-for-9 over the past three games with two doubles and a triple for two RBIs and two runs scored.
Right fielder Matt Kemp is 9-for-26 with four doubles, five RBIs and six runs scored during a six-game hitting streak.
Third baseman Yangervis Solarte is 10-for-22 with three doubles, three homers, 10 RBIs and six runs scored in a five-game hitting streak.