Crisp serves 1-game ban for ump incident
A's outfielder says, 'I feel like I deserve the suspension'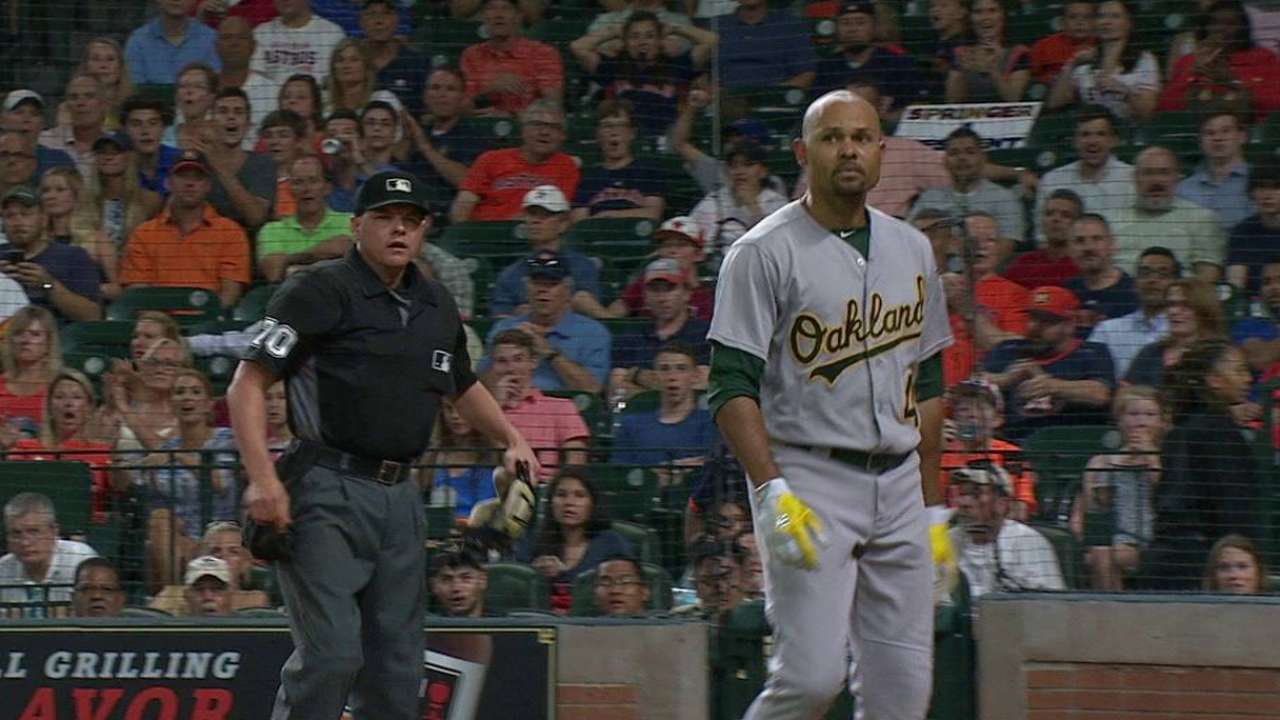 HOUSTON -- A's outfielder Coco Crisp served a one-game suspension Friday night in Houston on the basis of "intentionally throwing his bat in the direction of home plate umpire D.J. Reyburn," as stated in a release issued by Major League Baseball.
Crisp maintained Friday that the act was not intentional, but he also deemed the punishment to be "fair," which is why he didn't appeal it and opted to sit out the A's 10-9 walk-off loss to the Astros.
"Not for my intentions, but for what happened," Crisp explained. "My intentions weren't to hit him with a bat. But because it came so close, I feel like I deserve the suspension."
The veteran Crisp, irked by a called strike in the middle of his third at-bat during the A's 3-1 win Thursday night, tossed his bat in the direction of Reyburn after striking out and was promptly ejected. He said after the game he planned to personally apologize to Reyburn but had not seen him as of Friday afternoon.
MLB's release said Crisp's bat "struck Reyburn on the foot."
"When I do see him, I'll still apologize to him, even though he said that the bat hit him," Crisp said. "I still don't believe that it did, but it's all good. I'll still apologize because it did get too close. I still feel like I deserve it because it did get too close. It wasn't my intention to actually get that close, but it did, so I just have to deal with it and move forward."
"He was frustrated, he certainly didn't mean to throw the bat at him, and he's taking his medicine today," A's manager Bob Melvin said. "He knew once he threw his bat he was probably going to get thrown out of the game, but the intent was not to throw it that close to the umpire."
Crisp, batting .243 with seven home runs this season, planned to go through all pregame activity Friday before returning to the team hotel.
Jane Lee has covered the A's for MLB.com since 2010. This story was not subject to the approval of Major League Baseball or its clubs.