MLB.com Columnist
Jonathan Mayo
What to expect from Pirates' Bell in big leagues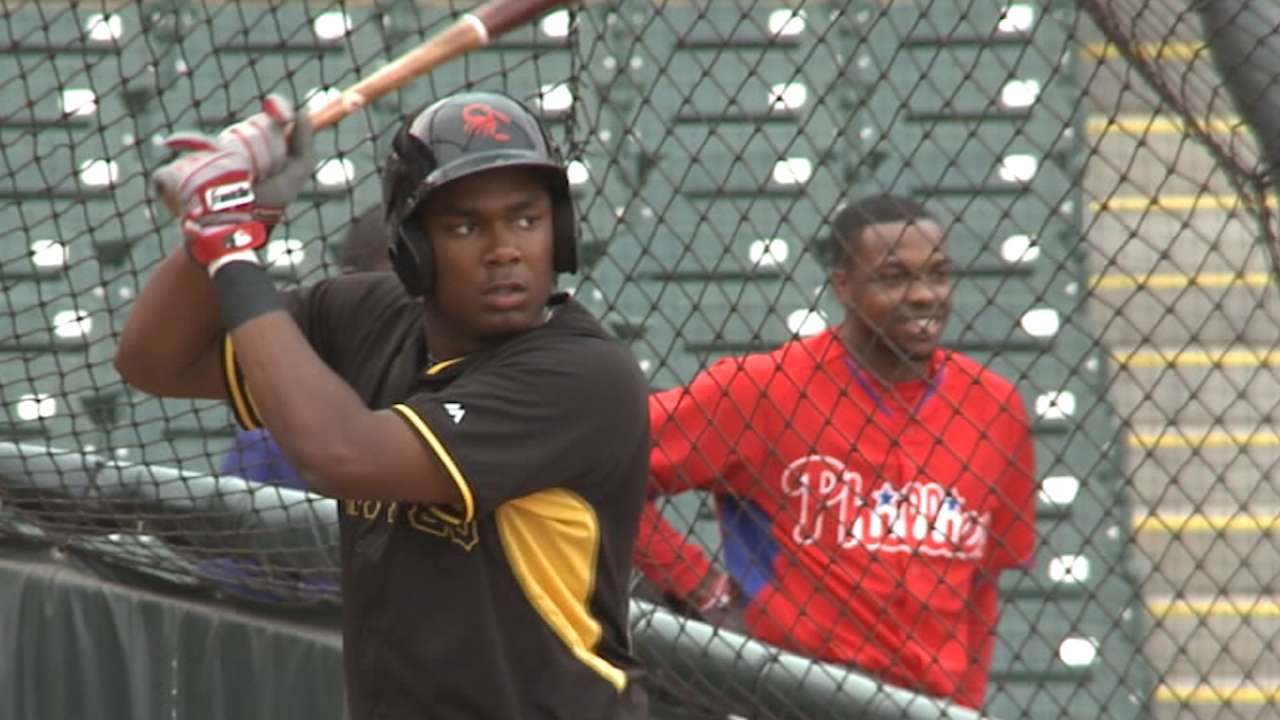 The Pirates have had to lean on their farm system quite a bit in recent weeks. Starting with Jameson Taillon in early June and followed by Chad Kuhl, Steven Brault and, most recently, Tyler Glasnow, Pittsburgh has dipped into its strong stable of Top 30 prospects to get help solely on the mound.
The Pirates added a hitter to the mix on Friday when first baseman Josh Bell, ranked No. 3 on the Bucs' list and No. 43 on the overall Top 100, was called up in time for the weekend series against the Cubs. Like Taillon and Glasnow, Bell was expected to make his big league debut at some point this season. Now Pirates fans will get a brief glimpse of the team's future at first base before the All-Star break hits.
• Complete Pirates prospects coverage at MLBPipeline.com/pirates
The Pirates took many by surprise when they selected Bell, who had told teams he was headed to the University of Texas, in the second round of the 2011 Draft. This was before the Draft rules changed and there was no bonus pool to adhere to. The Pirates used the system well, giving Bell a $5 million bonus to sign.
The scouting staff felt they saw a future middle-of-the-order presence, one who would hit for both average and power. Bell's career hit a stumbling block right out of the gate as knee surgery forced him to miss all but 15 games of his first full season in 2012. Since then, though, he has been hitting his way up the ladder.
Bell has always shown an advanced approach at the plate, and from both sides of it. He was largely focused on developing his hit tool during the early stages of his career. Bell has always hit for average, and he has also shown an ability to work counts and draw walks. His career .309 average and .377 on-base percentages are not flukes or numbers inflated by big performances in the lower levels.
Once Bell reached the upper levels, the Pirates challenged him to start finding pitches to drive more regularly. Power is often the last tool to show up consistently, and it started to in 2015 for Bell with an uptick in extra-base hits. He started clearing fences more regularly this season, his first full campaign in Triple-A, and has already matched his career high for home runs in a season with the 13 he had at the time of his callup. Bell led the International League with his .942 OPS.
Bell isn't one of those switch-hitters in name only. He can really swing it from both sides of the plate. Most of Bell's homers (10) have come from the left side, but he has a .922 OPS hitting right-handed, compared to .951 as a lefty. This is a player who profiles as a daily presence in the lineup, not one who will slide into some kind of platoon. If Bell sticks, John Jaso will have to find his at-bats elsewhere.
Bell's defense is still a work in progress. Drafted as an outfielder, Bell switched to first base full time for the 2015 season. He made 16 errors a year ago and has made 10 so far in 2016, so it's clear he's not a finished product defensively. But Bell is athletic and a tireless worker, so there is confidence he'll grow into an adequate defender at first.
Based on how Bell has swung the bat -- he hit .364 with seven homers and 26 RBIs in June -- it's pretty clear he was ready to impact the big league club. He may not hit cleanup like he did more often than not in Triple-A, but it won't be long before he becomes a mainstay in the middle of Pittsburgh's lineup.
Bell's first stint with the big league club is expected to be a short one. The Pirates would like to expose him to the Majors by using him as an extra bat off the bench, and they can achieve that goal by going with one less pitcher this weekend.
Jonathan Mayo is a reporter for MLBPipeline.com. Follow him on Twitter @JonathanMayo and Facebook, and listen to him on the weekly Pipeline Podcast. This story was not subject to the approval of Major League Baseball or its clubs.