Photo-finish #FinalVote? Tweet your vote now
NL race between Belt, Marte flips again; Saunders carrying Canada in AL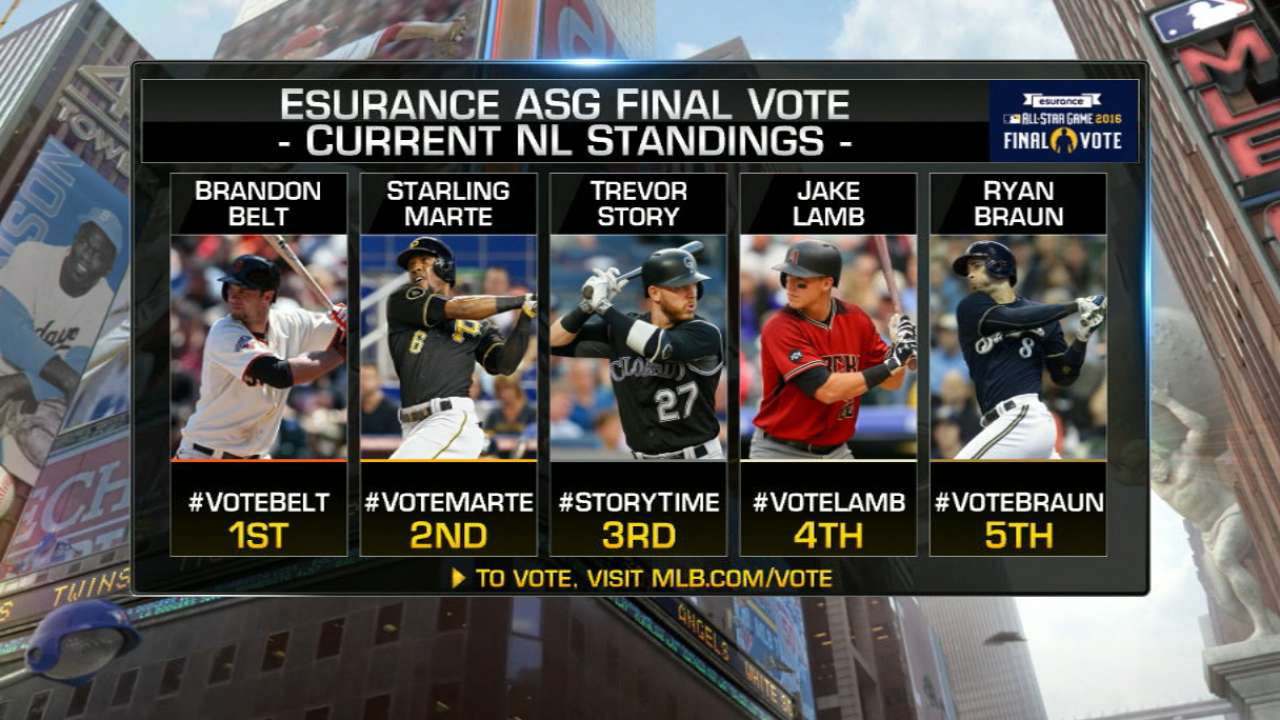 Will it be time for San Francisco's faithful by the Bay to get Brandon Belt to the promised land, or will Pirates fans raise the Jolly Roger for their main man Starling Marte in the National League?
Will Michael Saunders hold on to the American League top spot for the city of Toronto and his native country of Canada?
These burning questions all pertain to the Esurance MLB All-Star Game Final Vote, and they will be answered today. The last update prior to the 4 p.m. ET live announcement of the Final Vote winners on MLB Network is in, but a lot could change as the votes continue to pile up.
• Cast your Esurance All-Star Game Final Vote
In the National League, Belt (#VoteBelt) inched back ahead of Marte (#VoteMarte) in the latest update in a wild race that's promising to go down to the wire. Belt's nearly 8.5 million votes as of 10 a.m. had him back ahead of Marte, with Rockies shortstop and mobile text ballot leader Trevor Story (#StoryTime) in third, followed by D-backs third baseman Jake Lamb (#VoteLamb) and Brewers outfielder Ryan Braun (#VoteBraun).
In the American League, Saunders (#VoteCaptainCanada) stayed in the top spot, where he's been from start to finish, and has now amassed more than 15 million votes. He remained ahead of Astros outfielder and overall mobile text ballot leader George Springer (#VoteSpringer), Tigers second baseman Ian Kinsler, Red Sox second baseman Dustin Pedroia (#VotePedey) and Rays third baseman Evan Longoria (#VoteLongo).
But don't think for a moment that any of this is over. With plenty of time left to vote exclusively on MLB.com and the individual club sites, as well as texting and tweeting, there's a good chance for a surprise, especially when you consider the hefty influence of the hashtag.
Until 4 p.m. ET, any tweet that includes a designated player hashtag from the ones listed above will be tabulated as part of the official vote total used to determine the AL and NL winners. Voters also can use their mobile devices to cast ballots at MLB.com/vote or via text message. To receive the ballot, text the word "VOTE" to 89269.
To vote for a specific player, fans can text the choice to 89269. Text "A1" to vote Kinsler, "A2" to vote Longoria, "A3" to vote Pedroia, "A4" to vote Saunders, "A5" to vote Springer, "N1" to vote Belt, "N2" to vote Braun, "N3" to vote Lamb, "N4" to vote Marte or "N5" to vote Story. Message and data rates may apply. Text "STOP" to end and "HELP" for information. Mobile voting in Canada also is available and fans should text their choices to 101010.
• Clubs get creative to get out the Final Vote
Fans can also peruse our interactive map and break down each state by county to see where all the voting action is coming from. You'll notice that players are getting big-time support in and around their home cities, but there are some outliers worth watching, too.
NL
• Marte had been completely ruling Pennsylvania, but as of Friday morning's voting update, Belt backers were coloring three counties (Wyoming, Carbon and Pike) in the eastern part of the state in the first baseman's favor while Monroe County was trending toward Story. Marte still had most of the state and was doing well in Indiana (the site of the Pirates' Triple-A team in Indianapolis) and a good portion of Florida, where the Pirates hold Spring Training.
• Story homered twice on Thursday night and already has 21 this season, matching Dave Kingman (1972) and Albert Pujols (2001) as the only rookies to have that many in the first half of a season. It might have gotten Story more votes throughout the Midwest, where he'll need more and more support if he's to vault to the top. Story is a native of Texas, but so is Belt, who seems to be getting a similar number of votes there while dominating the West Coast states.
• Lamb owns Arizona and Braun owns Wisconsin. There's no surprise whatsoever that each guy would be dominating those states, but both have also gotten some action in states in the Northwest (Washington, Oregon, Idaho and Montana).
AL
• Kinsler is dominating Michigan, and while Springer is doing well in Texas, as expected, there's still some love for Kinsler in the state in which he used to play (for the Rangers) before being traded to the Tigers for Prince Fielder prior to the 2014 season. Kinsler is also pulling well in Western Pennsylvania and Ohio, theoretically from fans of the Tigers' Triple-A affiliate in Toledo or displaced Michiganders.
• So much for the Yankees-Red Sox rivalry when it comes to Pedroia, who is doing extremely well throughout the entire state of New York -- even in Yankees-friendly downstate counties such as Orange, Dutchess, Putnam, Westchester and the Long Island counties of Nassau and Suffolk. Apparently Boston is close enough.
• The hotly contested state of Alaska had some of the biggest changes overnight. On Thursday, Longoria had mysteriously dominated the 49th state. But on Friday morning, Alaska's proximity to Canada had become the likely culprit for Saunders taking control of the middle part of the state and Kinsler vaulting into prominence in the Kenai Peninsula Borough.
Fans can cast ballots in the 2016 Esurance MLB All-Star Game Final Vote until 4 p.m. ET today. The winners will be announced during a Final Vote-themed telecast of "MLB Now" featuring commentary from political analyst Jeff Greenfield, live on MLB Network and MLB.com from 4-5 p.m. ET. MLB Network will provide extensive coverage across all of its studio programming during the Final Vote, including interviews with the candidates, frequent updates, heat maps indicating the cities where votes are being cast for each candidate, news on player and club campaigns and a running countdown clock leading up to the announcement.
Baseball fans have cast nearly 600 million online votes for Final Vote candidates since the program's inception in 2002.
For the fifth consecutive year, the Final Vote includes social balloting, as Twitter support for the 10 candidates over the last six hours of balloting will count toward their vote totals. Until 4 p.m. ET on Friday, any tweet that includes a designated player hashtag will be tabulated as part of the official vote total used to determine the winners.
On Tuesday, starting at 7:30 p.m. ET, watch the 2016 All-Star Game presented by MasterCard live on FOX, and during the game visit MLB.com to submit your choice for the Ted Williams Most Valuable Player Award presented by Chevrolet via the 2016 MLB All-Star Game MVP Vote. The 87th All-Star Game, in San Diego, will be televised nationally by FOX, in Canada by Rogers Sportsnet and RDS, and worldwide by partners in more than 160 countries via MLB International's independent feed. ESPN Radio and ESPN Radio Deportes will provide national radio coverage of the All-Star Game. MLB.com, MLB Network and SiriusXM will also provide comprehensive All-Star Week coverage. For more information, please visit allstargame.com.
Doug Miller is a reporter for MLB.com. Follow him on Twitter @DougMillerMLB. This story was not subject to the approval of Major League Baseball or its clubs.