Wilmer's knack? Hitting clutch HRs vs. Nats
Mets infielder's go-ahead blast invokes memories of last July's walk-off homer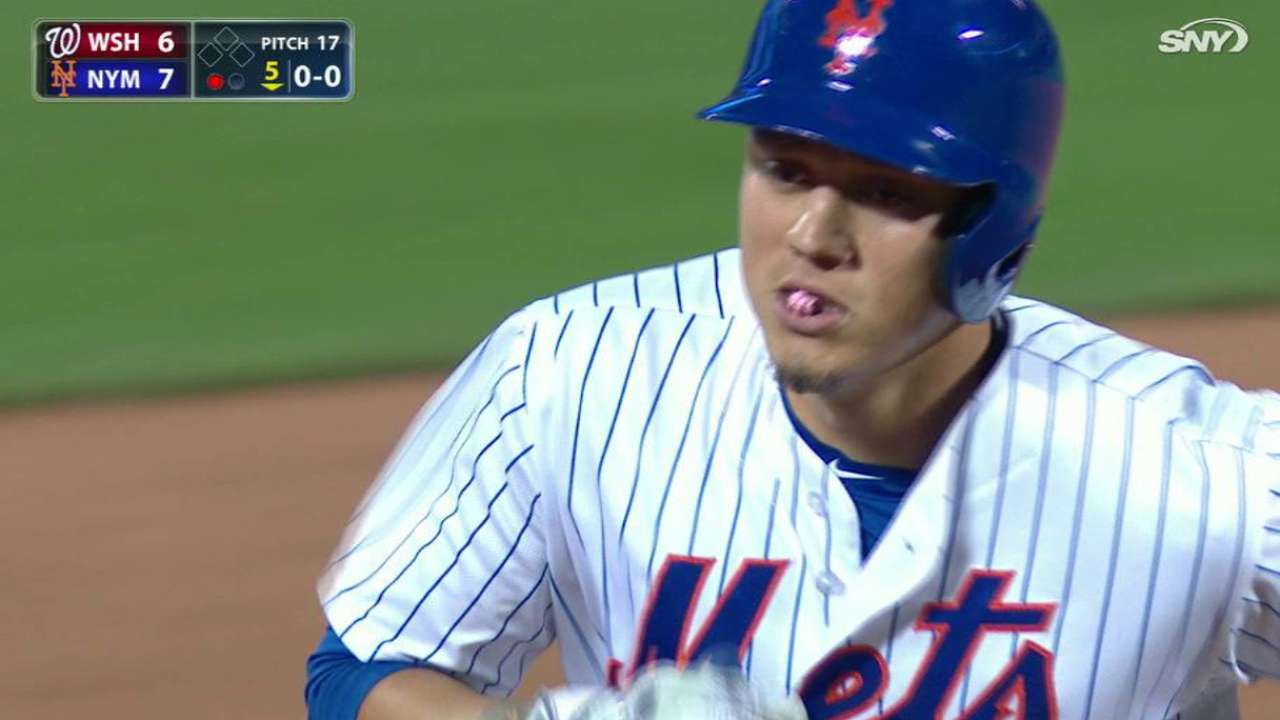 NEW YORK -- Wilmer Flores did not need much prodding. He had only just finished celebrating with his teammates when, heeding the chants of his name at Citi Field, Flores shuffled his way back over to the dugout steps, made the short climb up and acknowledged the crowd.
It is nearing the one-year anniversary of Flores' near-trade to the Brewers, the first event in a cascade that saw him weep openly on the field, hit a walk-off home run against the Nationals two days later and forever endear himself to a wide swath of Mets fans. Those same supporters now seem forever primed to salute him. So when Flores came off the bench to hit a go-ahead three-run home run in the Mets' 9-7 win over the Nats on Thursday, slugging his fifth home run in as many days, more than a few of the 37,569 in attendance snapped their minds back to last July.
"That was the first thing I thought of," Mets manager Terry Collins said. "God, this guy gets huge hits against these guys in big situations."
For Flores, the circumstances surrounding Thursday's homer were a bit dimmer than last year, not quite so dramatic. But the scale is relative; Flores' homer last July was one of the most emblematic plays in franchise history, defining both his career and the Mets' season.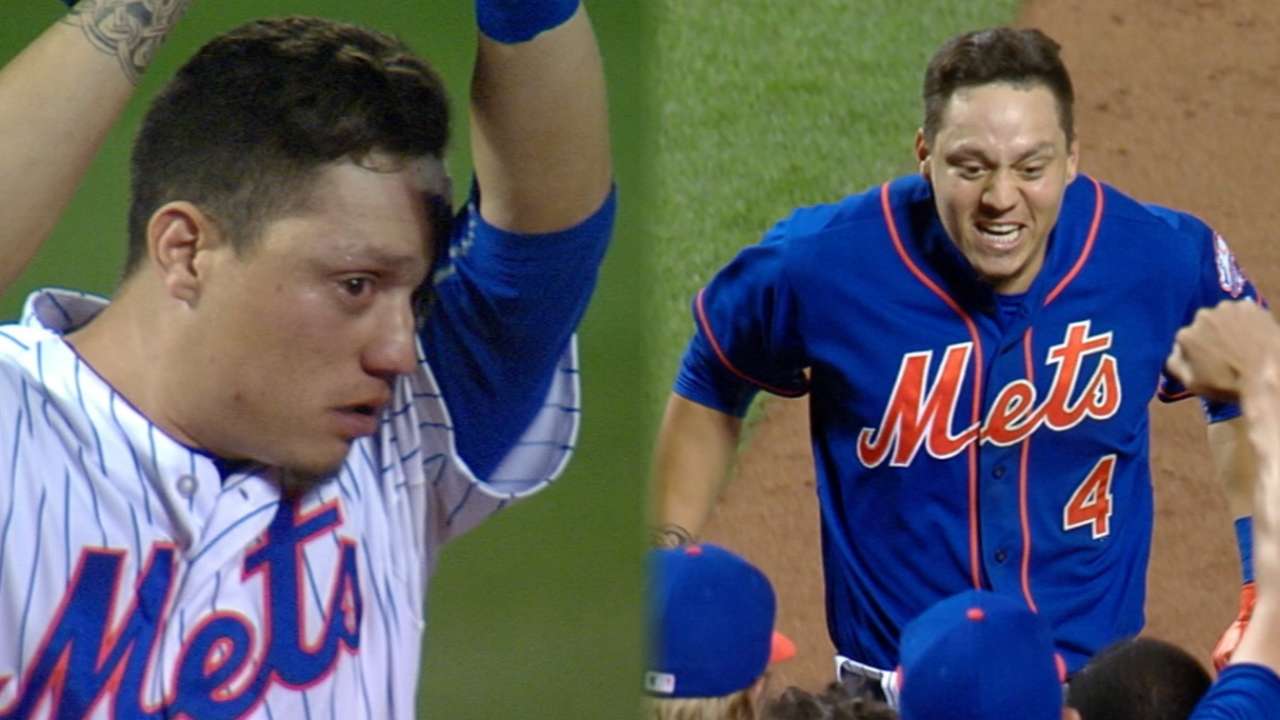 Thursday's encore was simply a much-needed boost for a Mets club clawing its way to the All-Star break, working daily to overcome injuries to David Wright, Lucas Duda, and now Matt Harvey.
"It was a good moment as a team," Flores said.
It was a moment made possible by Collins' pregame decision to bench Flores in favor of Jose Reyes, despite the former's six-hit game Sunday and two-homer effort three days later. As the Mets and Nationals descended into a wild night at Citi that included 16 runs and 27 hits, Collins double-switched Flores into his lineup in the top of the fifth.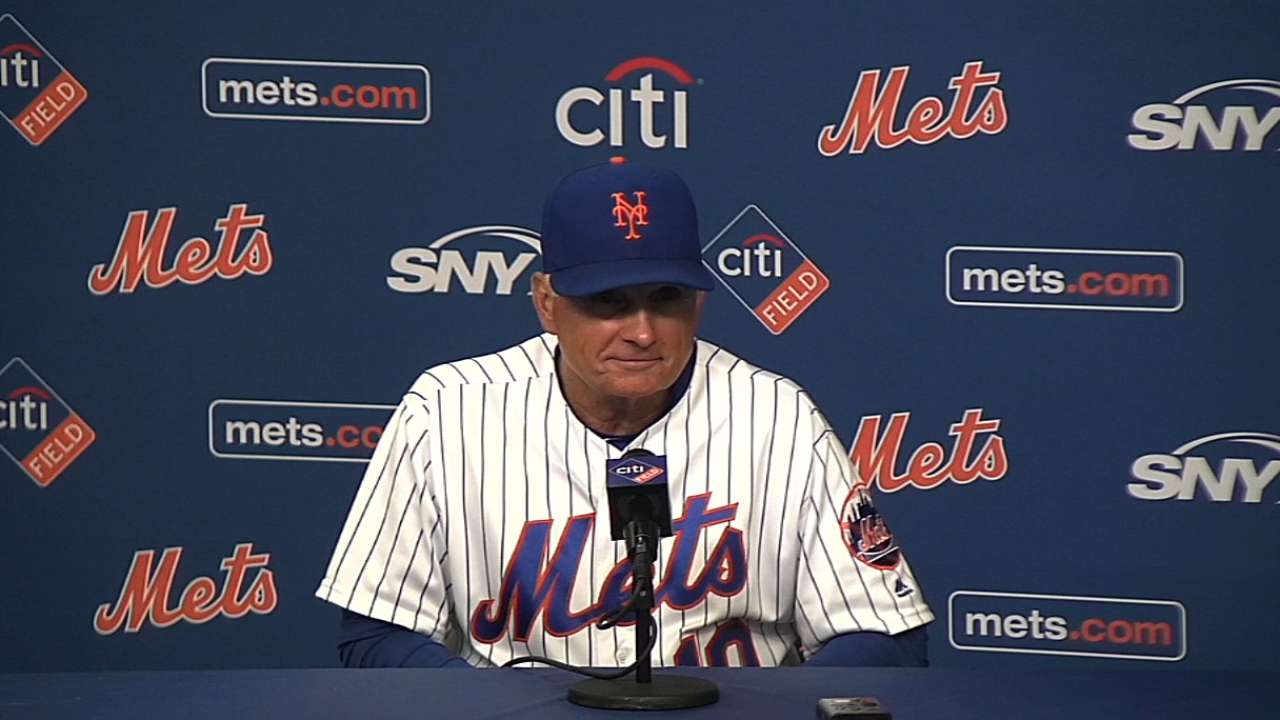 Half an inning later, with two men on base, Flores clubbed the first pitch he saw from Oliver Perez over the fence for his go-ahead homer.
"I wasn't planning on having the opportunity to go out there," Flores said. "I was just ready for him."
If the play has any lasting impact on Flores, it is more likely to come in the form of increased playing time than anything else. As Collins recently noted, it's easy to forget that Flores was struggling as recently as late last month. Flores did not produce much down the stretch last season, hit .195 in the postseason and, on the morning of June 24, was hitting .226 with a .648 OPS.
That was the day before the Mets agreed to terms with Reyes, who threatened to swipe much of his playing time at third base. Since that time, Flores is hitting .327 in 13 games, with five of his eight homers and 14 of his 24 RBIs.
"It's not my swing that's really good," Flores said. "It's that I'm swinging at good pitches and I'm seeing the ball well. ... Definitely a good feeling."
Anthony DiComo has covered the Mets for MLB.com since 2008. Follow him on Twitter @AnthonyDiComo and Facebook, and listen to his podcast. This story was not subject to the approval of Major League Baseball or its clubs.