Morgan optioned after another rough start
Mackanin, McClure meet with Phils righty to steer him in right direction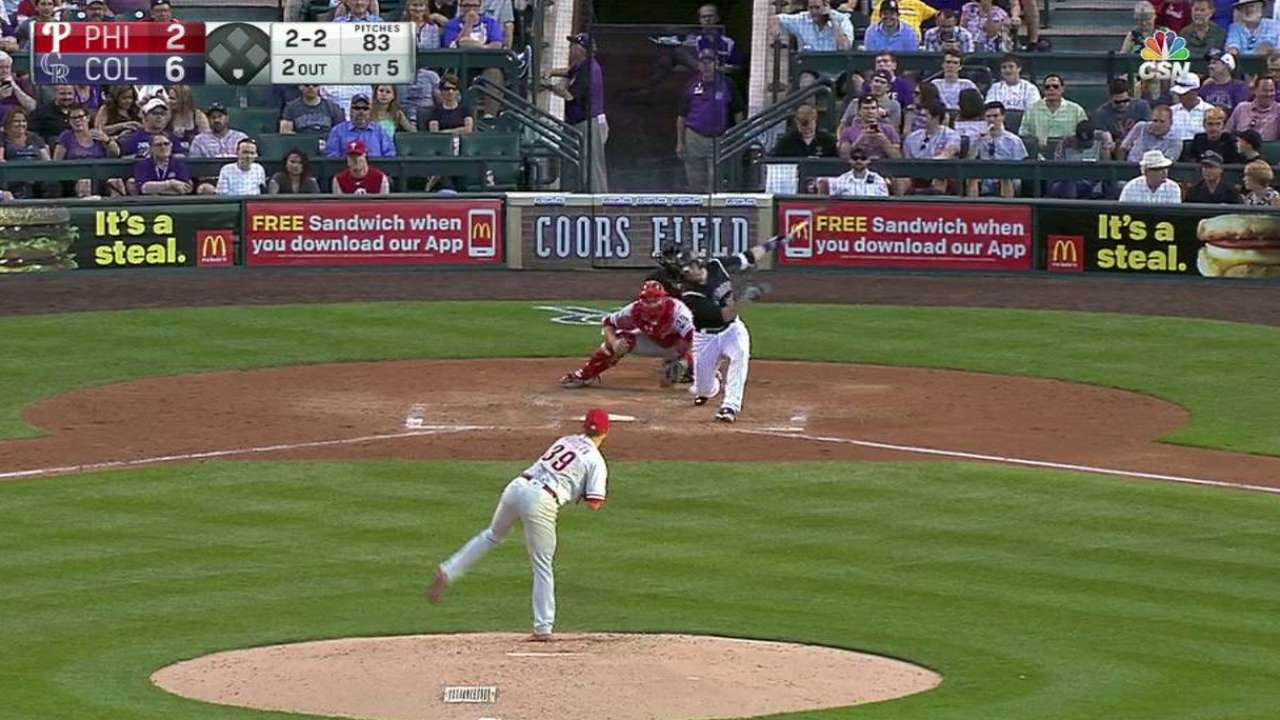 DENVER -- Phillies left-hander Adam Morgan emerged from Pete Mackanin's office nearly 40 minutes after the final out of Thursday's 11-2 loss to the Rockies at Coors Field.
Morgan had just been optioned to Triple-A Lehigh Valley, but he also had a long talk with Mackanin and pitching coach Bob McClure about everything that has gone wrong this season and everything that needs to go right to have another opportunity to pitch with the Phillies. Morgan allowed nine hits, six runs and three home runs in five innings and fell to 1-7 with a 6.65 ERA.
"It was the truth and I needed to hear it," Morgan said. "They shot me straight, which is all you can ask for as a player. My point of view right now is I can only go up from here."
Morgan has allowed 16 home runs in 66 1/3 innings. His 2.17 home runs per nine innings average is second in baseball among pitchers with at least 60 innings, behind only Kansas City's Chris Young (3.90 homers per nine innings). It also is more than half a homer more than he averaged last season, when he went 5-7 with a more respectable 4.48 ERA in 16 starts.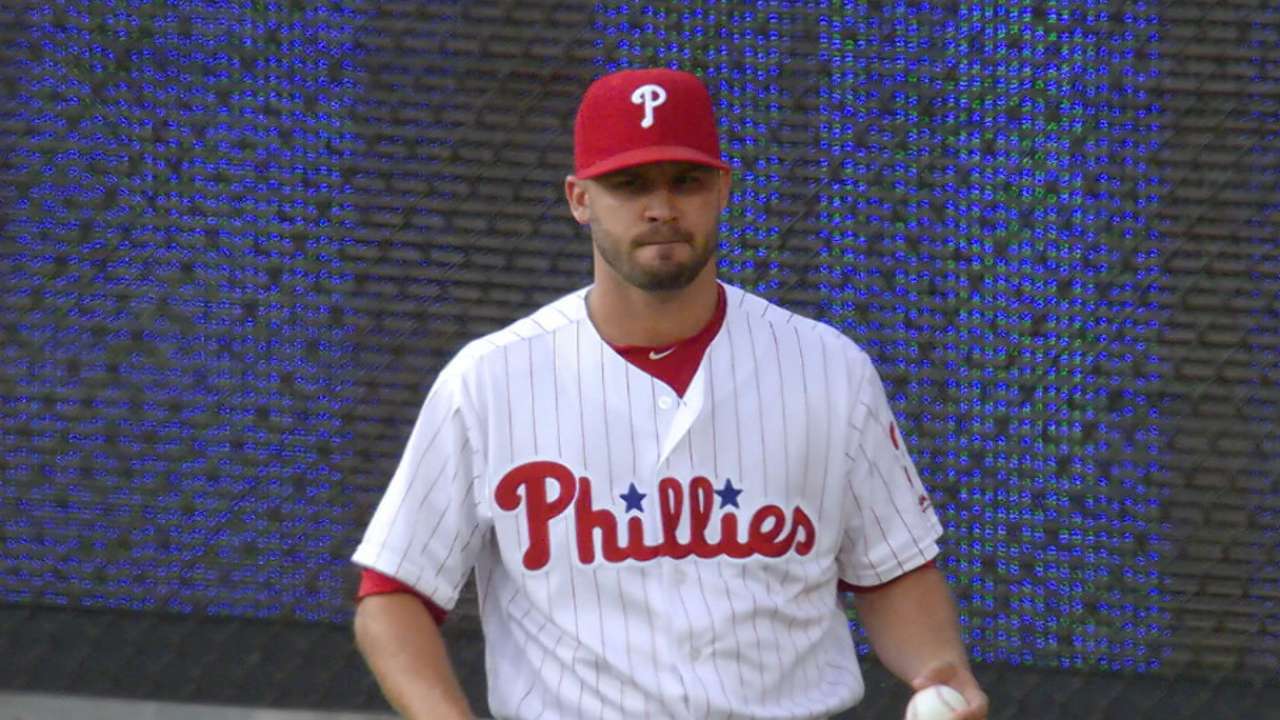 "I've been making a lot of mistakes," Morgan said. "I haven't been making any excuses, but I just need to get better."
He also needs to clear his mind.
"Lately, it hasn't been fun," Morgan said. "I've been putting a lot of pressure on myself. And this break coming up, I feel like will be good. And also going down there and being able to work on things and not feel so much pressure … like I said, it can only go up from here."
Morgan's season has not gone according to plan. He pitched well in Spring Training, but narrowly lost the No. 5 starter's competition to Vince Velasquez, who is 7-2 with a 3.34 ERA. Morgan started the season in Triple-A, but joined the rotation in April when Charlie Morton suffered a season-ending hamstring injury.
He struggled and got bumped to the bullpen late last month when Velasquez rejoined the rotation after spending some time on the disabled list. Morgan got the call to pitch in place of Aaron Nola, whose turn in the rotation got skipped Thursday in an effort to clear his mind after his own recent struggles.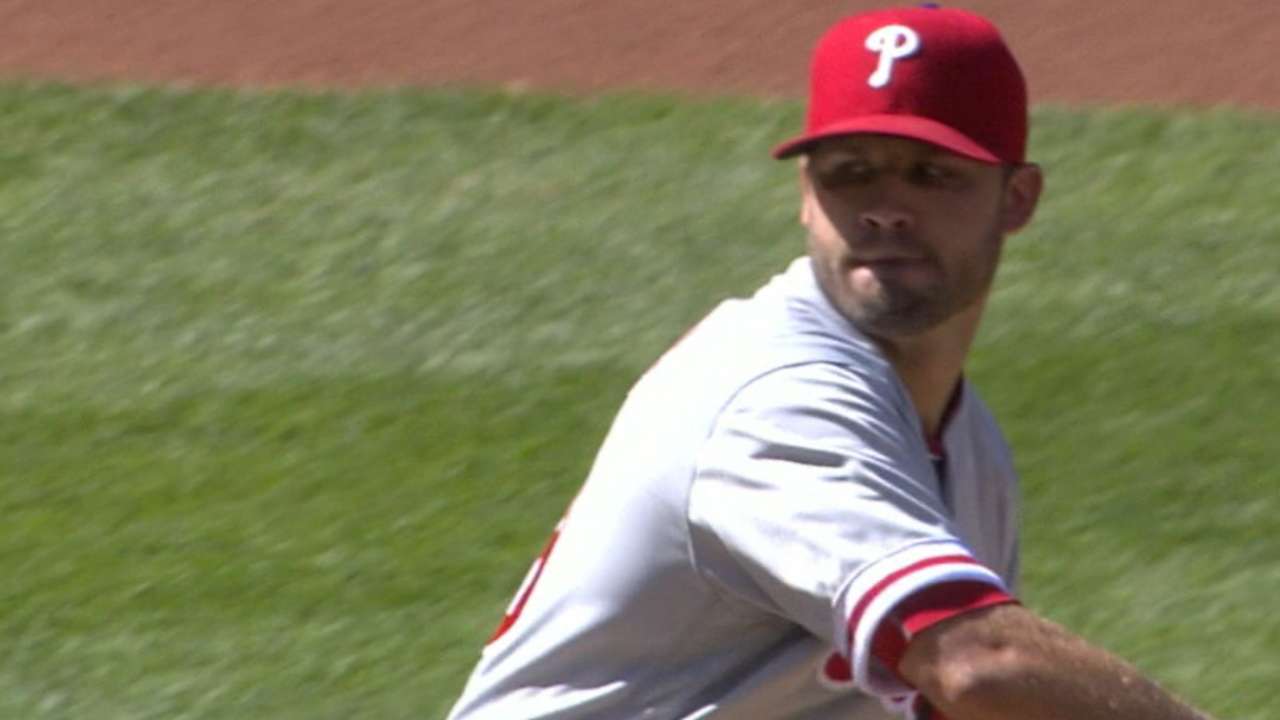 Morgan will join the IronPigs' rotation. He hopes to remain a starter, although he acknowledges he is open to anything if it means an opportunity in the big leagues.
Morgan has some people rooting for him. In fact, Mackanin explained why he and McClure had such an unusually long postgame conversation with him.
"Bob McClure and I really like this guy," Mackanin said. "We know he's a fighter. We know how much it means to him. He's sincere and dedicated and he's a very likable guy. We're trying to give him as much positive reinforcement, but at the same time let him know what he needs to do to become successful."
Phillies right-hander Andrew Bailey is expected to be activated before Friday's game, taking Morgan's spot on the roster. He has been on the DL since late last month with a strained left hamstring.
Todd Zolecki has covered the Phillies since 2003, and for MLB.com since 2009. Read his Phillies blog The Zo Zone, follow him on Twitter and listen to his podcast. This story was not subject to the approval of Major League Baseball or its clubs.