Strasburg-Thor showdown leads MLB.TV slate
Arrieta, Fernandez try to bounce back; Sale looks for 15th victory before All-Star break
Noah Syndergaard and Stephen Strasburg are both tall, right-handed power pitchers who debuted in the Majors with great hype and are fully capable of dominating a game. But despite both calling the National League East home, the two NL All-Stars have not faced each other since Syndergaard arrived in the big leagues last season.
That is about to change. When the Mets host the Nationals at Citi Field tonight in the second game of their four-game series, New York will send Syndergaard to the hill against Strasburg, looking to cut into the Nats' three-game division lead following Thursday's wild 9-7 victory.
Syndergaard and Strasburg are only two of the many All-Star starters fans can watch today on MLB.TV, along with the likes of Jake Arrieta, Jose Fernandez, Cole Hamels, Corey Kluber and Chris Sale.
MLB.TV Premium has returned with the same features as last year, and is only $79.99 for the rest of the season. This package has the best value and provides access to more than 400 devices and a free subscription to the MLB.com At Bat Premium app (a $19.99 value). It offers the best picture quality ever -- a new 60 frames per second -- for supported devices. Monthly signups for MLB.TV Premium are now underway as well for $24.99.
The new MLB.TV Single Team package is also available as a $59.99 yearly subscription. You can watch a single team's live out-of-market games in full HD.
Here is a look at what to watch for today in the Majors (all times ET):
Battle of big arms: WAS@NYM, 7:10 p.m.
When he faced the Nats on June 27, Syndergaard allowed five runs in only three innings, leading to questions about whether the performance was tied to a bone spur in his valuable right elbow. He put that to rest last Sunday, holding the Cubs to one run on seven hits over seven innings, dropping his ERA to 2.41 while striking out eight and walking none. Strasburg overcame his own health issues that day, holding the Reds hitless for 6 2/3 innings in his first start since June 15, after which an upper back strain sent him to the disabled list. Manager Dusty Baker removed Strasburg (11-0, 2.71 ERA) after he walked four and struck out five over 109 pitches.
"It's tough to take a guy out of a no-hitter, but we've got to think about the future, and where he had come from off the DL," Baker said afterward. "You've got to weigh the future with the present."
Stat that matters: Strasburg (31.2 percent) and Syndergaard (30.6) rank fourth and fifth among qualified Major League pitchers in strikeout rate. Syndergaard is second with a 1.89 FIP, while Strasburg (2.91) is sixth.
Adjustment time for Jake: CHC@PIT, 7:05 p.m.
Heading into the start of this three-game set at PNC Park, the Cubs own an 8-1 record against the Pirates this season, including a three-game sweep in Pittsburgh last month. However, Chicago has been scuffling of late, while the Bucs had won a season-high seven straight before losing at St. Louis on Thursday. Like his team, Arrieta has hit a bit of a rough patch, lasting no more than 5 1/3 innings in three straight starts, with a 5.87 ERA and 14-to-11 strikeout-to-walk ratio.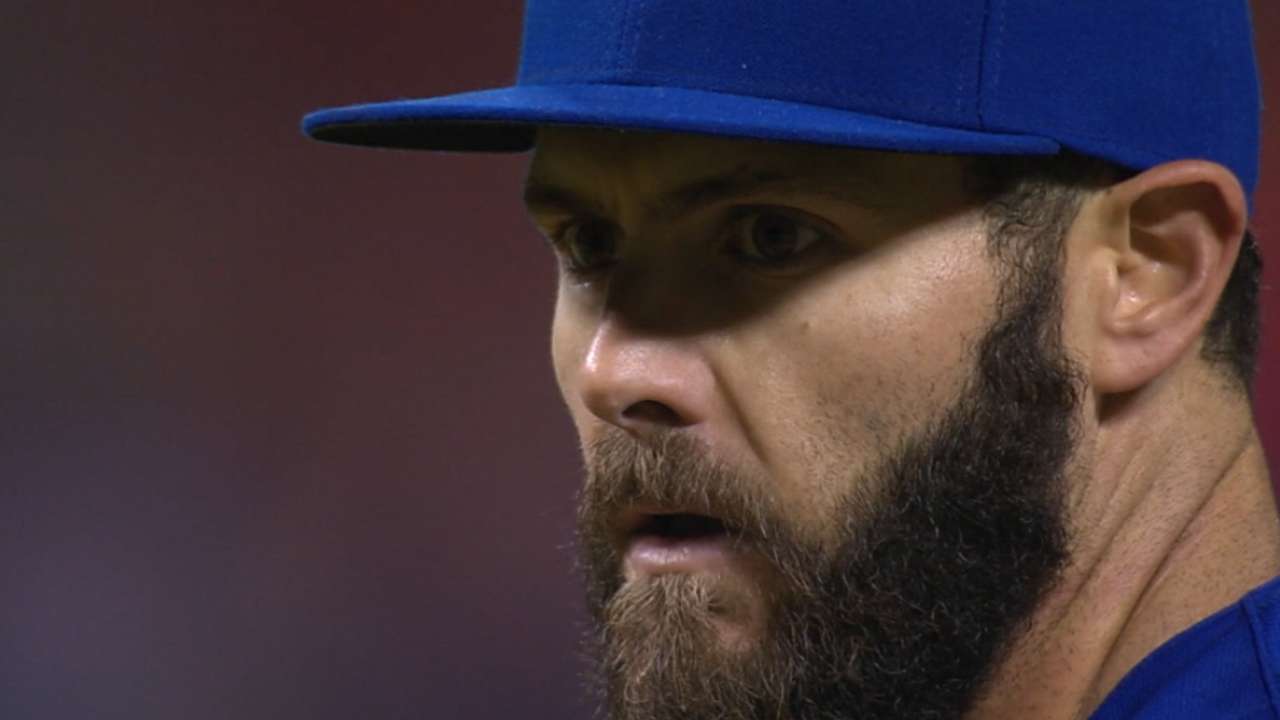 "It's frustrating for me," Arrieta said after his most recent outing. "I expect a lot more out of myself, and to let it continue for three, four starts is not something that I like to see happen. ... I just need to do a better job of being aggressive early in the count and forcing the issue."
Stat that matters: Pirates starter Francisco Liriano has pitched twice against the Cubs this season, allowing 12 earned runs on 15 hits over 10 1/3 innings, with nine walks and four homers.
Looking for a rebound: CIN@MIA, 7:10 p.m.
After a 3-6 road trip and an off-day, the Marlins return home for the final three games before the All-Star break, facing the Reds for the first time this season. Fernandez, who will face Cincinnati's Dan Straily, is likely glad to be back at Marlins Park, where he is 24-1 with a 1.48 ERA in 35 career starts (7-1, 1.72 this year). The last time the right-hander took the mound, last Saturday at Atlanta, he allowed a career-high nine runs (six earned) on eight hits over 5 2/3 innings. Before that, opponents had reached Fernandez for eight runs over his previous nine outings combined.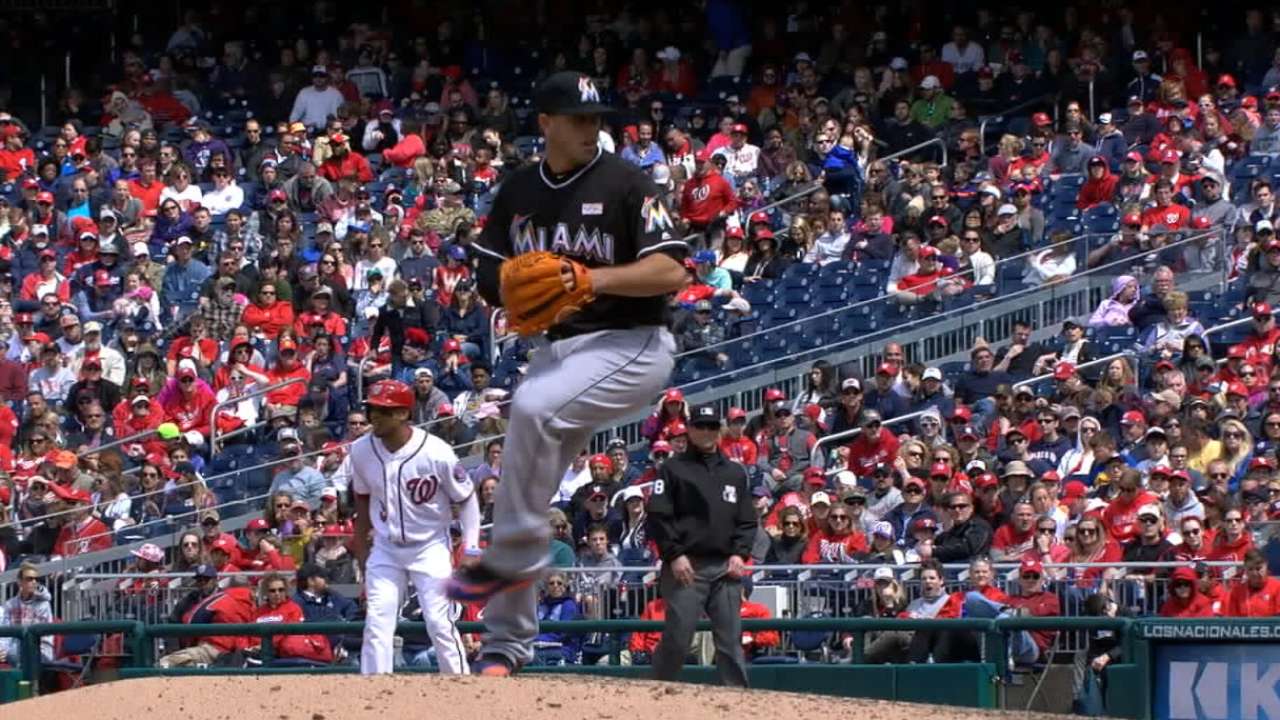 "Rough day, man," Fernandez said. "It's so funny because baseball is so fantastic. It gets you back on your toes and get ready for your next start. It's that simple."
Stat that matters: Fernandez has struck out eight or more batters in eight of his past 10 games.
Sale into the break: ATL@CHW, 8:10 p.m.
The White Sox, who have won six of their last eight, begin a three-game Interleague series against the Braves, whom they haven't faced since 2013. In the opener, Sale (14-2, 2.93 ERA) will try to become the first AL pitcher since David Wells in '00 for the Blue Jays to collect 15 victories before the All-Star break. Sale has picked up a win in each of his past five outings, although his ERA is a modest 3.86 over that span. Atlanta will counter with righty Matt Wisler (4.16 ERA), who has logged four consecutive quality starts.
Stat that matters: Sale's 13 starts of seven or more innings ties him for second in the Majors, behind only Clayton Kershaw.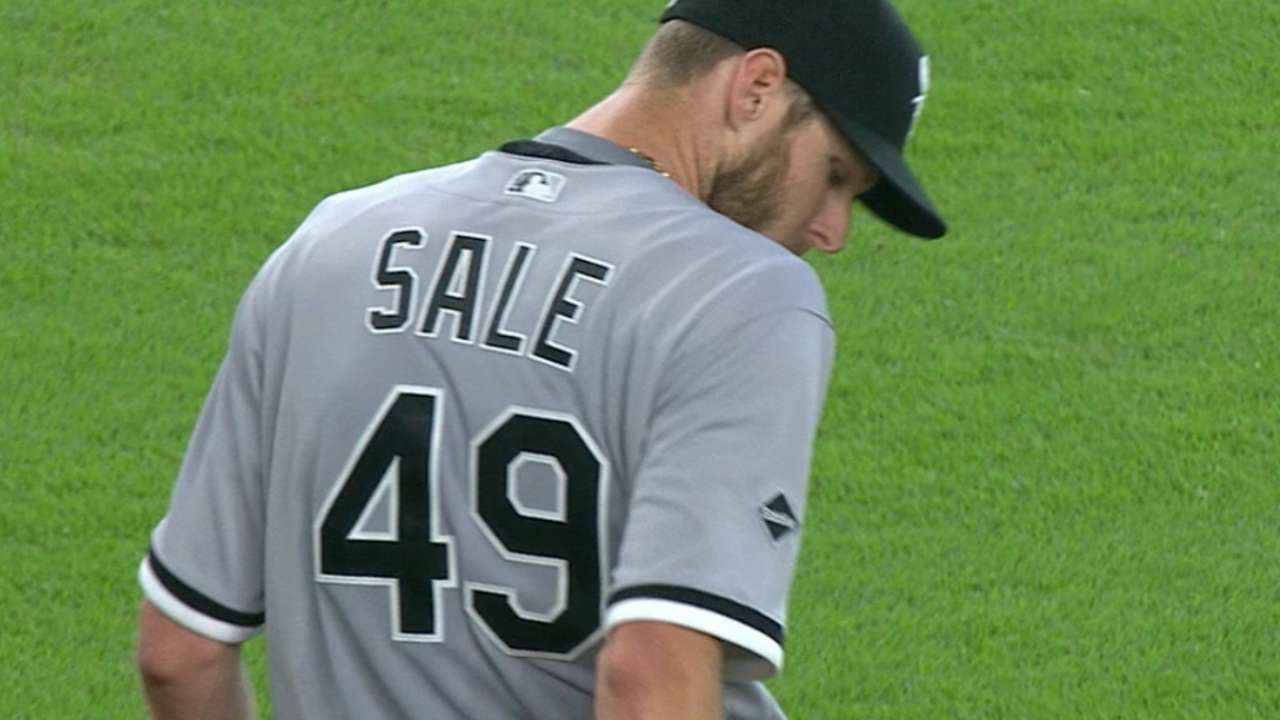 MLB.TV Premium subscribers get the Mosaic View -- split screen or quad, available on PC or Mac only. That always comes in handy, especially when scoreboard-watching looms. MLB.TV Premium and MLB.TV Single Team subscribers both enjoy HD and both will get real-time highlights and player stats automatically loaded moments after they occur (only for the game you are watching with MLB.TV Single Team, and for all games with MLB.TV Premium).
Andrew Simon is a reporter for MLB.com. Follow him on Twitter @AndrewSimonMLB. This story was not subject to the approval of Major League Baseball or its clubs.