Three days' rest fuels Yankees bullpen's fire
Betances, Miller, Chapman blank Indians over 3 2/3 combined frames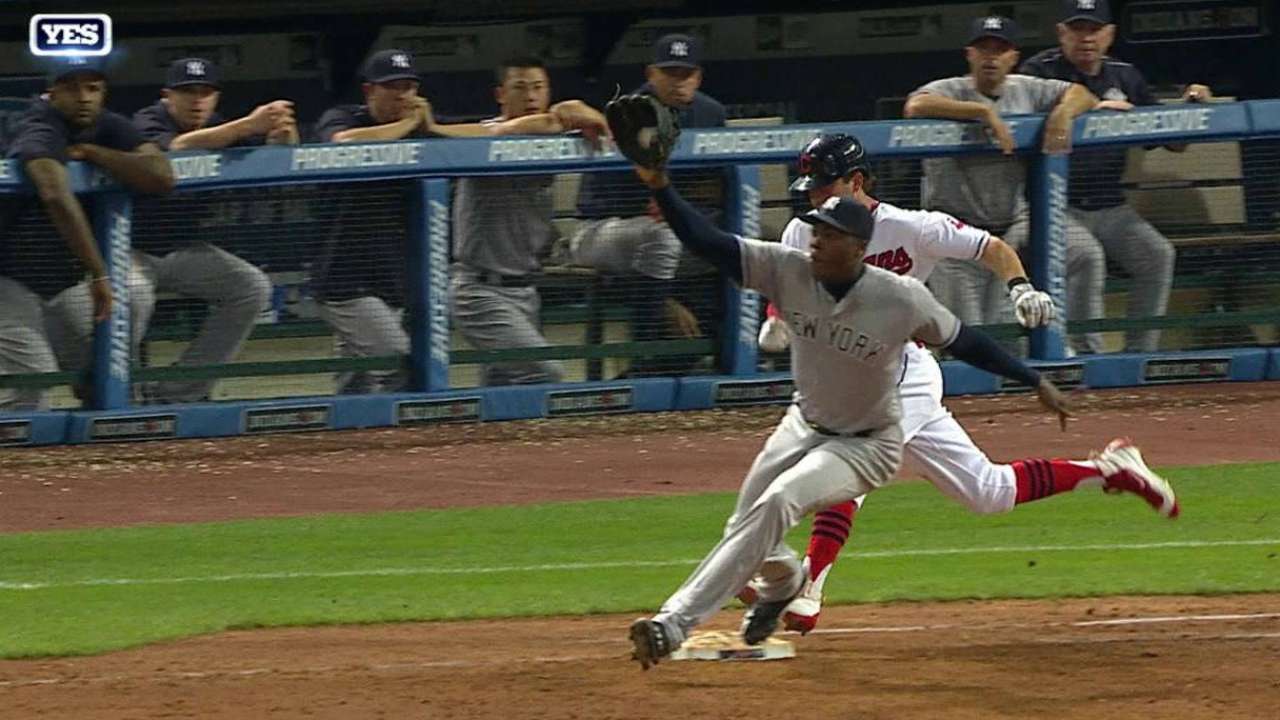 CLEVELAND -- Yankees manager Joe Girardi wasn't taking any chances.
In Thursday's 5-4 win over the Indians at Progressive Field, Girardi called upon his three-headed monstrous backend of the bullpen sooner than he would in most games.
"I hadn't used them in three days, and that's why I asked them to get us 11 outs tonight," Girardi said. "My hope was that [Ivan] Nova could get us through six, and we turn it over to them. I felt like I had to make a change. I'll continue to stick to my rules, because their future is important to us."
The big three hadn't pitched in a game since Sunday in San Diego. After a whole series off in between, they were more than ready to answer the call. With a runner 90 feet away and a two-run lead, Dellin Betances entered the fray in the sixth. He was asked to get the final two outs.
Betances did just that, getting the next two batters out on groundouts. One run would score in the process, but the lead was safe. Betances rarely pitches that early in the game, but Girardi felt the need to go to him that soon due to the Indians' recent success.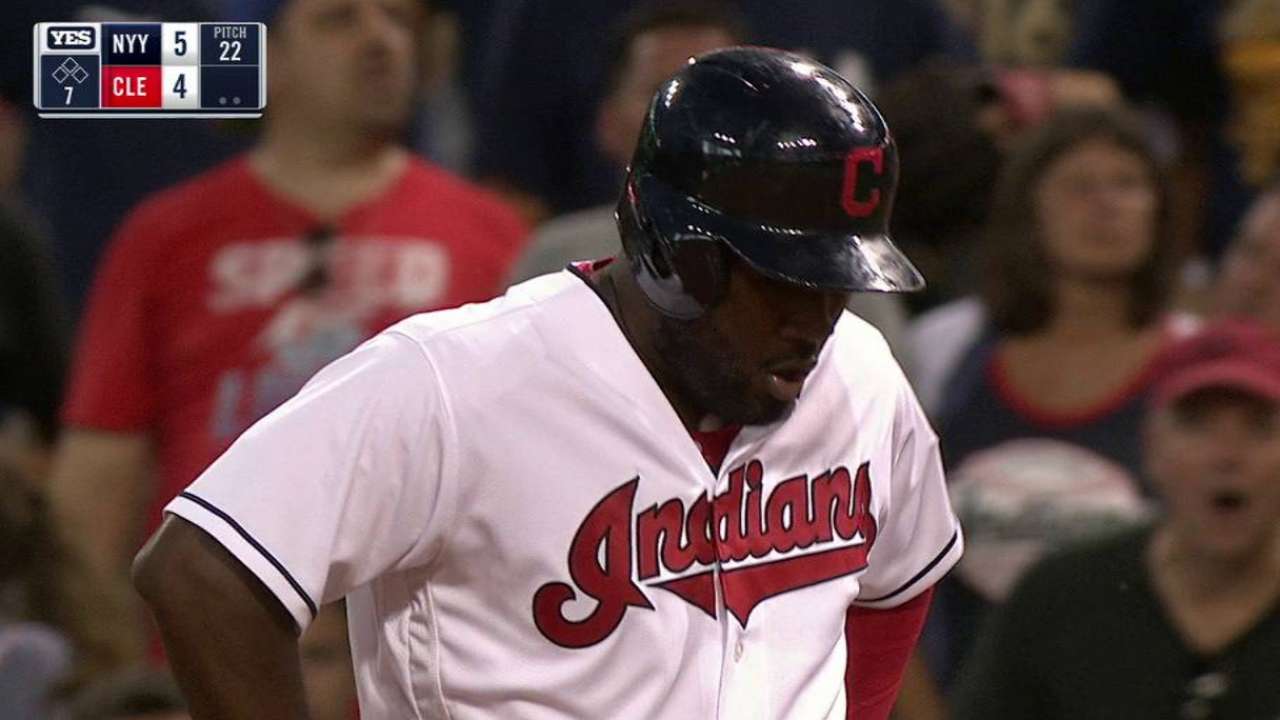 "I said, 'There needs to be a sense of urgency,'" Girardi said. "Months are ticking away. You can't expect to have just one good month and be in the playoffs. I would have done this in April if they were rested like that. I felt like it was an important game."
Entering Thursday, Betances had logged just two of his 41 total frames in the sixth inning. But he was not done after the sixth. He came back out in his usual seventh-inning role to throw a scoreless frame before turning the ball over to lefty Andrew Miller.
Miller then shut down the Tribe in order on a dozen pitches, setting the stage for Chapman's 17th save of the season. Chapman ran into a bit of a trouble but ultimately worked around a leadoff walk and a one-out single.
The Yankees moved to 15-1 when the three relievers pitch in the same game. In those 16 games, the trio has posted a 1.31 ERA and has retired 62 of 74 batters with 31 strikeouts.
"You always want to give the bullpen the lead," said Nova, who earned the win. "You know when they come in, it's almost a sure win. We always feel confident."
A win over a ballclub that is 25-10 since June 1 is certainly big. But the Yankees are already focused on Friday's game.
"It was a big win," Chapman said through a translator. "But we still have three more games in the series. We want to try to win the series. We get a break after that, and hopefully in the second half, we can play better baseball."
Shane Jackson is a reporter for MLB.com based in Cleveland. This story was not subject to the approval of Major League Baseball or its clubs.