Almonte's hesitation proves costly for Indians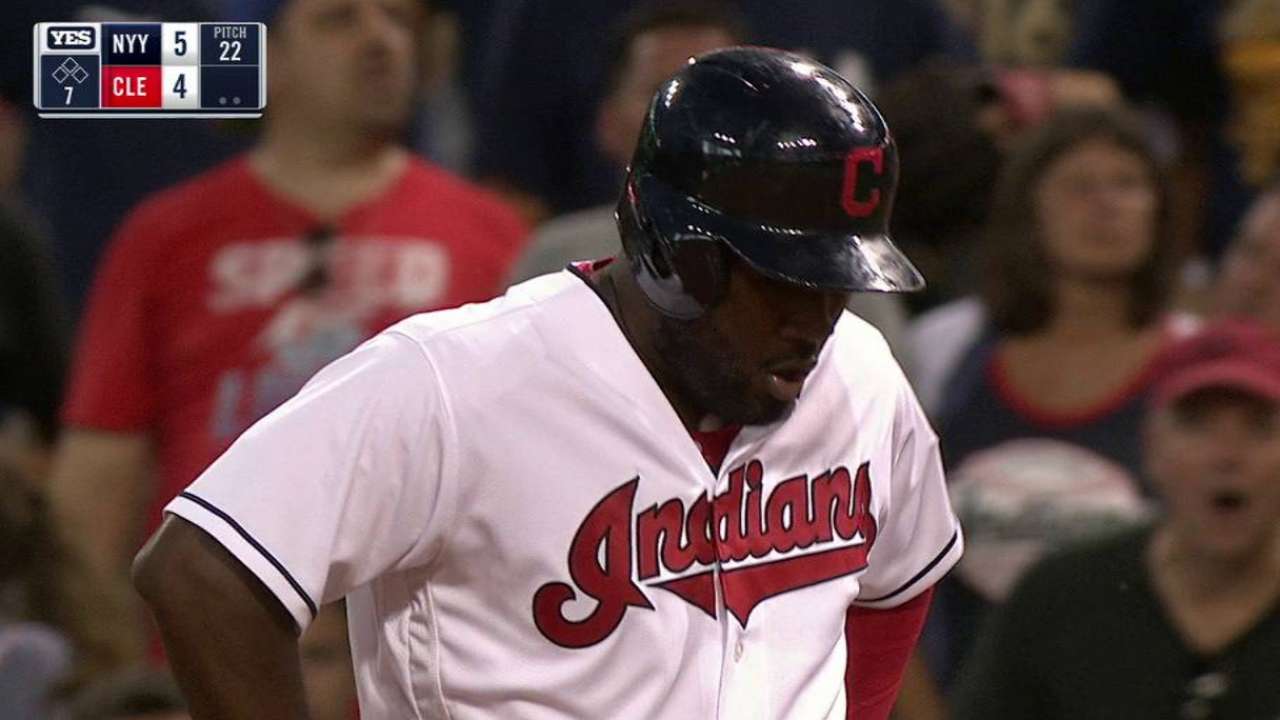 CLEVELAND -- The Indians had an opening. Yankees setup man Dellin Betances fired a curveball and, while Abraham Almonte swung through the pitch for a strikeout, the baseball skipped away behind the plate, creating a chance for Cleveland that would not have otherwise existed.
"Taking advantage of little things like that," Almonte said after the Indians' 5-4 loss on Thursday night. "That's what we're always looking for."
Unfortunately for Cleveland, Almonte could not capitalize.
In their first look at New York's dominant bullpen trio of Betances, Andrew Miller and Aroldis Chapman, the Indians were blanked over 3 2/3 innings. Cleveland fought hard against Chapman in the final frame, putting two runners aboard with two outs, but it was Almonte's misstep to end the seventh that loomed large in the immediate aftermath of the Tribe's loss.
With New York leading by one run, Indians rookie outfielder Tyler Naquin was on second base when Almonte stepped in as a pinch-hitter. Naquin had singled and stolen second, and the rook was ready to score when Betances struck Almonte out with a sharp breaking pitch. When the baseball bounced away from Yankees catcher Brian McCann, Naquin saw his chance.
As McCann chased the ball, Betances walked off the mound, but stayed in the infield.
No one was covering the plate.
"I read the ball down," Naquin said. "And I knew, I was hoping, expecting, assuming it was going to kick away. Sure enough, it got by the catcher. As I was running into third, I kind of glanced out of the corner of my eye and saw Betances. He wasn't even moving. I knew all I had to do was beat him there."
Naquin did his part, but Almonte did not react swiftly enough.
After striking out, Almonte remained in the batter's box, as the the crowd rose in volume with each bounce of the baseball. When he realized the baseball was deep into foul territory, Almonte dropped his bat and sprinted up the first-base line, but his mad dash was too late. The throw arrived to first, beating the outfielder by a step for the third out, as Naquin crossed the plate.
"If he sees it, he's safe at first," Indians manager Terry Francona said. "Naquin did a great job of baserunning. If he sees it, he gets there easily. ... Perfect world, he saw it just a hair sooner, we get the call at first and Naquin scores."
Almonte said he just did not see it in time.
"I didn't figure out right away that he dropped the ball," Almonte said. "If I would've picked it up early enough, I would run. It's not the way you want to get on base, but it's for your team. So, if I would've seen the ball early enough, I definitely would run hard."
Instead of the game moving into a tie, Cleveland faced a one-run deficit with Miller and Chapman coming next out of the Yankees' bullpen. Combined with Betances, that trio has punched out 177 batters, while issuing just 19 walks, in 103 1/3 innings this year.
They sidestepped some ninth-inning drama and closed the door on Cleveland.
"You know going in that they're some of the best in the league," Francona said. "That doesn't mean you're not going to win. I thought we had some really good at-bats, but it's certainly challenging."
Jordan Bastian has covered the Indians for MLB.com since 2011, and previously covered the Blue Jays from 2006-10. Read his blog, Major League Bastian, follow him on Twitter @MLBastian and listen to his podcast. This story was not subject to the approval of Major League Baseball or its clubs.