Glasnow savors debut but also flashes talent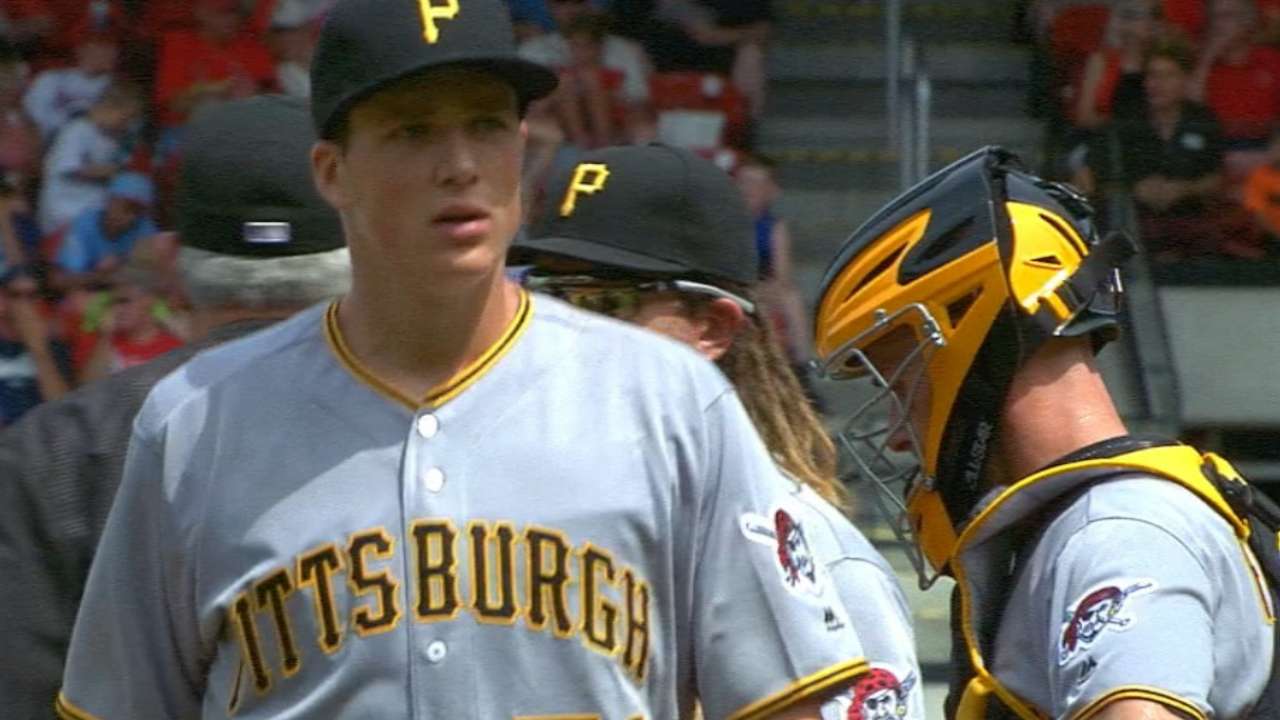 ST. LOUIS -- Tyler Glasnow stepped out of the visitors' dugout at Busch Stadium in the middle of the first inning on Thursday afternoon, made his way to the mound and stood there for a moment, alone on the field except for catcher Eric Fryer crouched behind the plate.
Glasnow did his best to look around and appreciate the moment. In the stands, his father, Greg, took a deep breath. Seven pitches later, Glasnow began his Major League career with a walk. Then the Pirates' top prospect settled in for most of the day, although he took the loss in his debut as the Bucs fell, 5-1, to the Cardinals.
• Marte leads NL Final Vote | Cast your Esurance Final Vote for Marte
"Every time I was out there, I felt pretty comfortable," Glasnow said. "There was a little bit of nerves, but I think I was pretty surprised to feel more excited than nervous. It felt good."
Glasnow was charged with four runs on three hits in 5 1/3 innings, although two of those runs scored when reliever Arquimedes Caminero served up a three-run homer after taking over for Glasnow with one out in the sixth inning.
• Glasnow's dad drops foul ball mid-interview
Overall, the 22-year-old right-hander showed the promise that has made him one of baseball's best prospects. He leaned on a 95- to 96-mph fastball and big curveball, striking out one batter in each of his first five innings.
"I just went out there and felt good," Glasnow said. "I think my stuff didn't have as much bite to it, but it was definitely nice going out there and being able to control it."
After issuing a leadoff walk to Cardinals third baseman Greg Garcia in the first inning, Glasnow retired nine hitters in a row, striking out three of them.
"He showed the ability to go out and make pitches and get after people," Pirates manager Clint Hurdle said. "He stayed aggressive and remained poised throughout the game."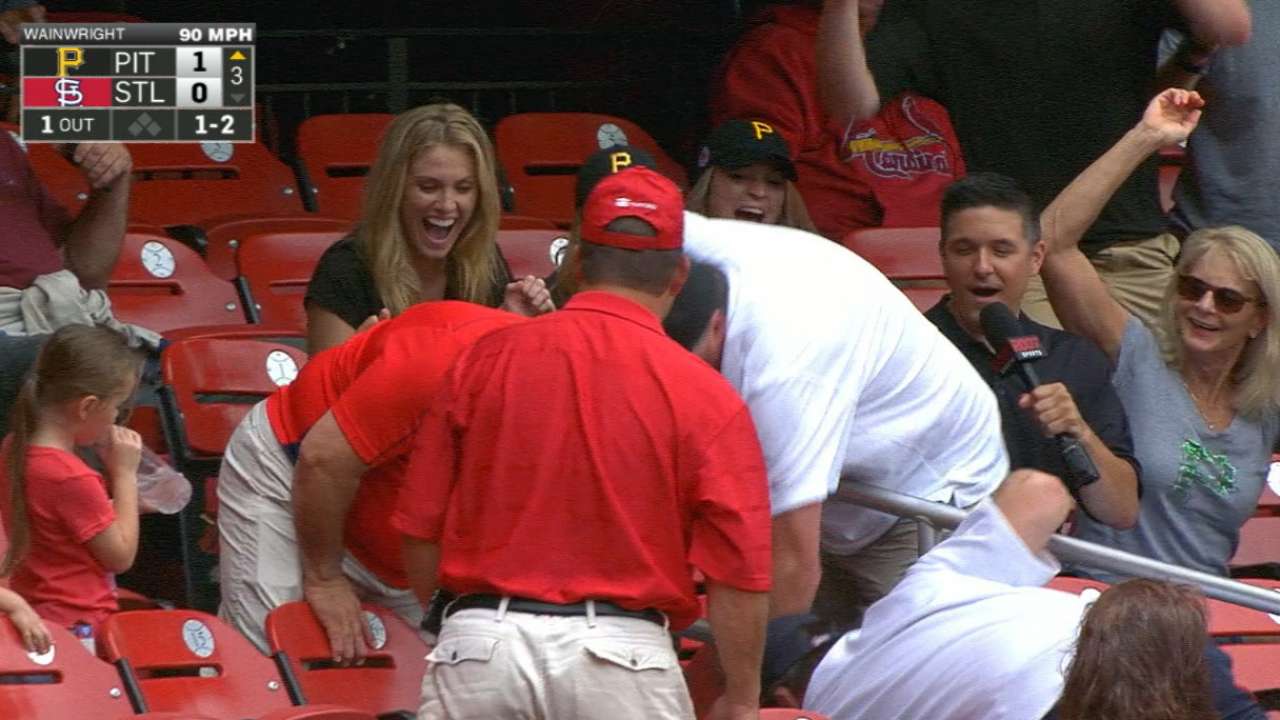 Glasnow didn't allow a hit until the fourth inning, when All-Star shortstop Aledmys Diaz bounced a leadoff triple off the left-field wall and scored on a wild pitch. Glasnow gave up a solo homer to Randal Grichuk in the fifth.
Both of the big hits came against Glasnow's curveball, typically a "chase" pitch that often found the strike zone in his debut.
Glasnow, occasionally prone to running up big walk totals and high pitch counts, threw 22 pitches in the first inning and 19 in the second. He got through the next three frames on 38 pitches combined. He walked only two of the 21 batters he faced. He even recorded a hit off Cardinals ace Adam Wainwright.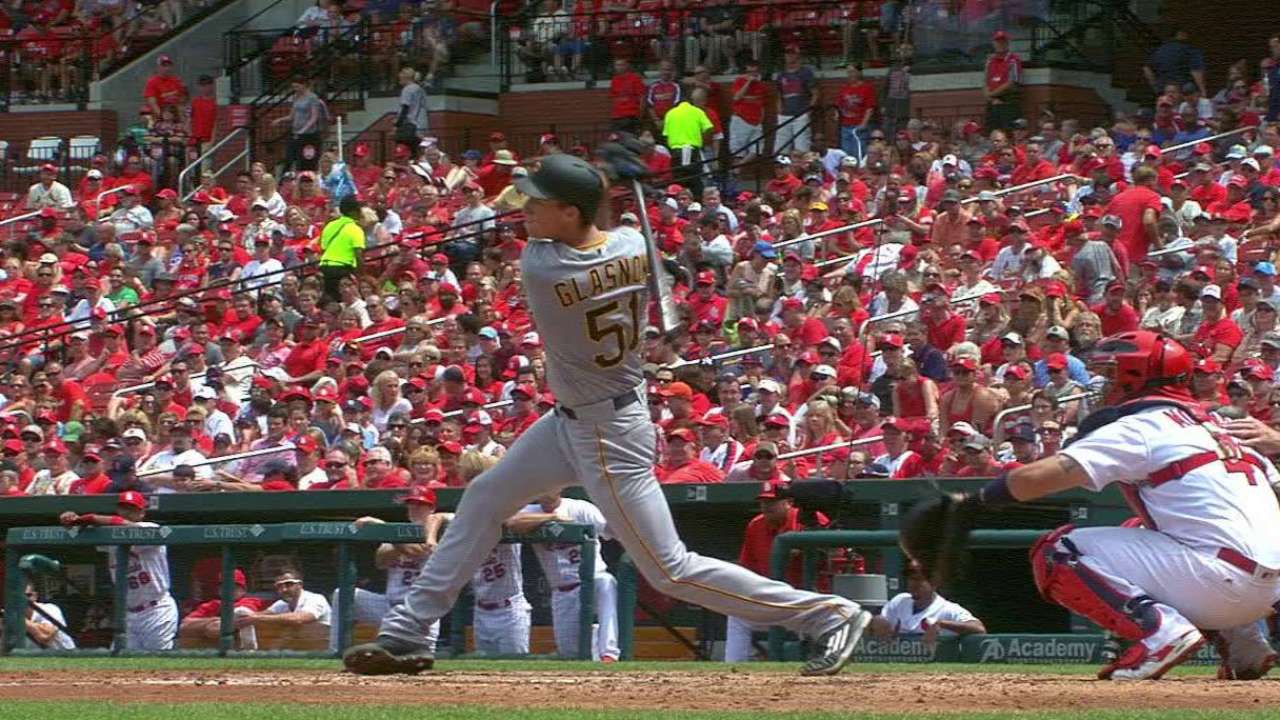 "It was fun to watch him," Hurdle said. "Good poise. Good rhythm. Good tempo."
With the Pirates' All-Star break beginning on Sunday night, it's unclear what will come next for Glasnow. But like Jameson Taillon, Chad Kuhl and Steven Brault before him, Glasnow showed in his debut that he belongs.
• Bauman: Depth through system sets Bucs' staff apart
"It was kind of crazy waking up and coming to the ballpark," Glasnow said. "I think I took it all in, from warmups to getting out in the game. It was a fun experience."
Adam Berry has covered the Pirates for MLB.com since 2015. Follow him on Twitter at @adamdberry. This story was not subject to the approval of Major League Baseball or its clubs.