Perez caps Royals' rally with walk-off double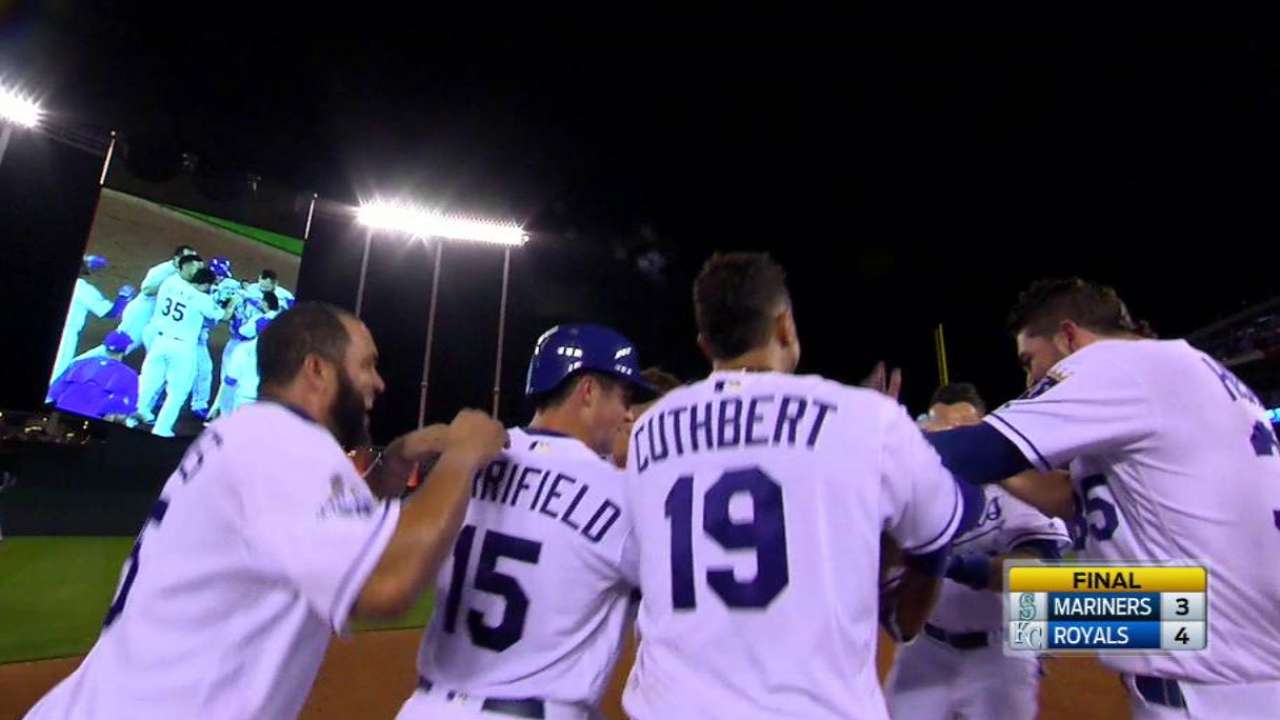 KANSAS CITY -- Salvador Perez delivered a two-run double in the ninth inning to lift the Royals to a 4-3 comeback victory over the Mariners on Thursday.
The Royals trailed, 3-0, before scoring two in the eighth and two in the ninth. Kansas City broke a four-game losing streak while the Mariners dropped their fourth in a row.
Seattle left-hander James Paxton needed just 57 pitches to get through seven innings, but the Royals had the answers late and Steve Cishek wound up with a blown save. Brooks Pounders picked up his first career victory.
The momentum seemed to change when the Royals had runners at first and second with one out in the eighth. Alcides Escobar hit a sharp grounder back to the mound, but Paxton elected not to go for the double play. The runners moved to second and third as Paxton tossed out Escobar at first. Then Paulo Orlando hit a two-run single to bring Kansas City to within 3-2.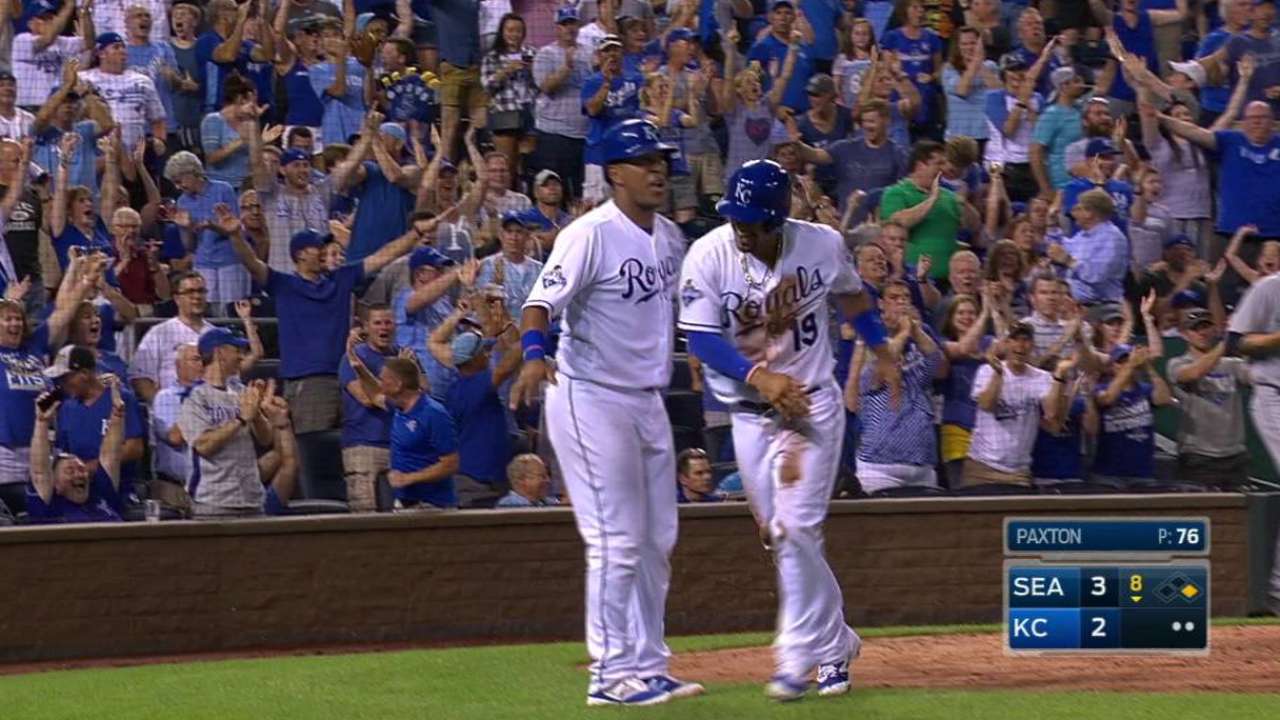 "That would have been a tough double play to turn with Esky," Royals manager Ned Yost said. "He chose to get the safe out. Now you've got runners at second and third and a chance to get within one."
Whit Merrifield doubled past third to start the Royals ninth, and Cishek hit Kendrys Morales with a pitch. Eric Hosmer struck out, but Perez sent everybody home with his blast to right-center, capping a three-hit night.
"I knew I hit it good," Perez said.
The Royals, 44-41, recorded their sixth walk-off win and fourth when trailing after eight innings. Danny Duffy worked 6 1/3 innings with another strong start, allowing just two runs to match the two runs allowed by Paxton through eight.
"Just didn't get it done at the end," Mariners manager Scott Servais said. "We should've won that ballgame."
MOMENTS THAT MATTERED
2x4: After committing four errors throughout their last two games, the Mariners' defense looked like a well-oiled machine on Thursday. The team racked up four double plays, including three in the first three innings of the game. Adding to that defensive display was shortstop Ketel Marte, who pulled off a smooth diving catch that saved a run to get the team out of the third inning.
"We've made some mistakes here and there, but that's baseball," Mariners catcher Chris Iannetta said. "We're a really good team. We're a really good defensive team. We're fine."
Those double plays helped Paxton keep an exceptionally low pitch count, as he made it through the first five innings of his start on just 35 pitches. He'd finish the outing throwing just 78 pitches in eight innings of work, giving up seven hits and two earned runs.
Duffy's power stuff: Duffy was a strikeout machine in June, and he's following the same in script in July. After getting eight strikeouts last Saturday in Philadelphia, he fanned seven Mariners on Thursday. Duffy's 45 strikeouts in June tied for third most in the Majors. Perhaps even more impressively, his seventh-inning walk of Daniel Robertson marked his first walk since June 22. He went 88 batters between walks.
"I felt like I battled through a lot, and I knew the whole time the boys were going to pick me up," Duffy said.
Two out, one in: The Mariners came into the series ranked second in the Majors with 159 two-out RBIs. They wasted little time extending that number to 160, as center fielder Robertson hit a soft single up the middle to score first baseman Dae-Ho Lee from third. The Mariners took an early 1-0 lead on the hit, which was Robertson's first of the season.
That run, along with one more in both the fifth and eighth innings, put the Mariners in position to win the game, leading 3-0 headed to the bottom of the eighth. However, the Royals rallied for four runs in the last two innings, as the Mariners dropped their 10th straight game on the road.
"I don't know if you can go [from being] much more in control of the game to being on the wrong side of things in an inning and a half," Servais said. "Tough game. Tough game to lose."
Pounders comes through: By working a scoreless ninth, Pounders found himself in position to pick up his first Major League win when the Royals rallied in the bottom of the inning. .
"It means a lot," Pounders said. "Just to walk away with a win is unbelievable. It says a lot about the team they have here."
WHAT'S NEXT
Mariners: Right-hander Hisashi Iwakuma (8-6, 4.43 ERA) will take the mound for the second game of the four-game tilt at Kauffman Stadium at 5:15 p.m. PT on Friday. Iwakuma last pitched against the Royals on Sept. 22, 2015, giving up three hits and no runs in seven innings of work.
Royals: Right-hander Yordano Ventura (6-6, 5.26 ERA) will take his regular turn at 7:15 p.m. CT. Ventura sprained his right ankle while running the bases last Sunday in Philadelphia. Ventura showed no subsequent ill effects in his side session or in fielding drills. Ventura is 0-3 in five career starts versus the Mariners.
Watch every out-of-market regular-season game live on MLB.TV.
Scott Chasen is a reporter for MLB.com based in Kansas City and covered the Mariners on Thursday.

Robert Falkoff is a contributor to MLB.com based in Kansas City and covered the Royals on Thursday.

This story was not subject to the approval of Major League Baseball or its clubs.