MLB.com Columnist
Mike Bauman
Depth through system sets Bucs' staff apart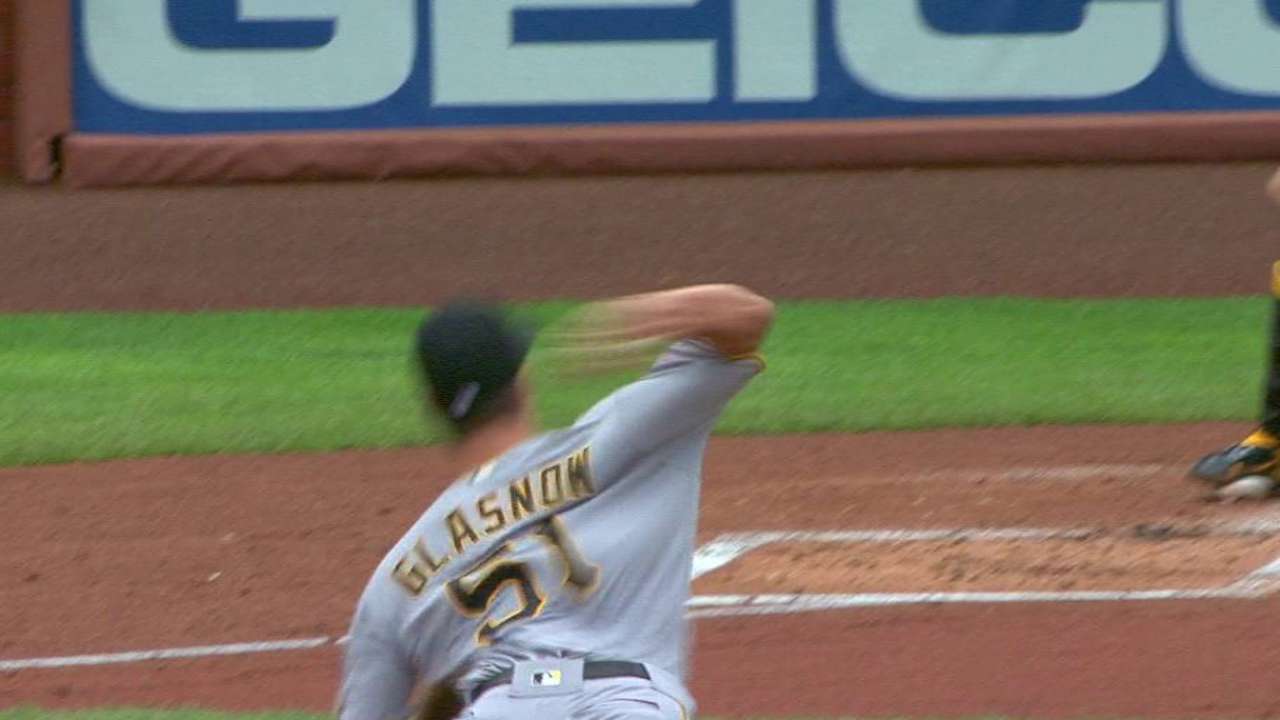 ST. LOUIS -- The Pittsburgh Pirates' remarkable organizational pitching depth was on display again Thursday. The Bucs did not win their eighth game in a row, but there was still plenty of room for optimism.
In recent weeks, the Pirates have called up four-fifth of the rotation at Triple-A Indianapolis. No pitcher who came up was overmatched. All of them were Major League-ready.
• Cast your Esurance Final Vote for Marte
The leader of the pack arrived on Thursday. Tyler Glasnow, rated No. 1 among Bucs prospects and No. 8 overall by MLBPipeline.com, demonstrated in a start against the Cardinals that his stuff was every bit as good as advertised.
Glasnow's line in a 5-1 loss to the Cards: 5 1/3 innings, four runs, three hits, two walks and five strikeouts. Two of the four runs he allowed scored after he left the game.
• Glasnow's dad drops foul ball mid-interview
"I thought he did very, very well," said Pirates manager Clint Hurdle. "It was fun to watch. ... He showed the ability to make pitches and get after people. I thought it was a very, very solid Major League debut. I was proud of the way he went out there and battled."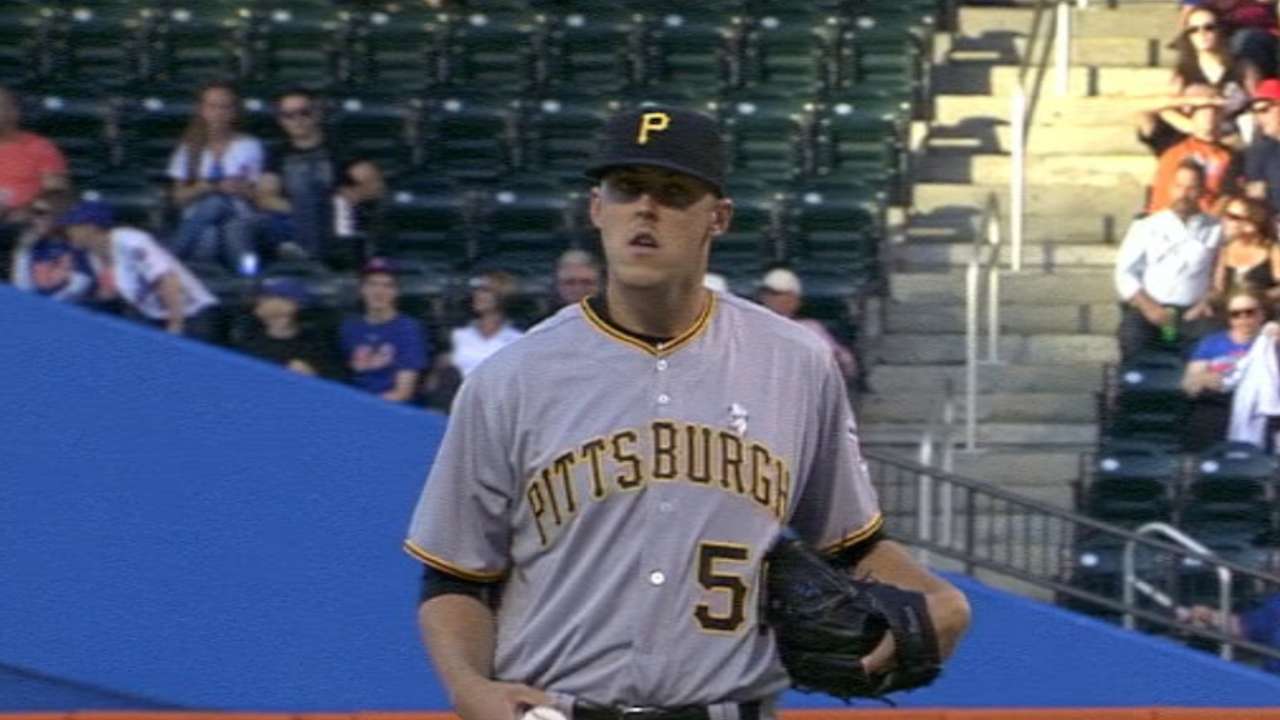 Glasnow may top Pittsburgh's prospect list, but he is the fourth Bucs pitcher to make his Major League debut in recent weeks. Jameson Taillon, Chad Kuhl and Steven Brault have also arrived. There have been injuries to pitchers, most prominently a triceps strain for staff ace Gerrit Cole. But you won't get the downside of the story from Hurdle.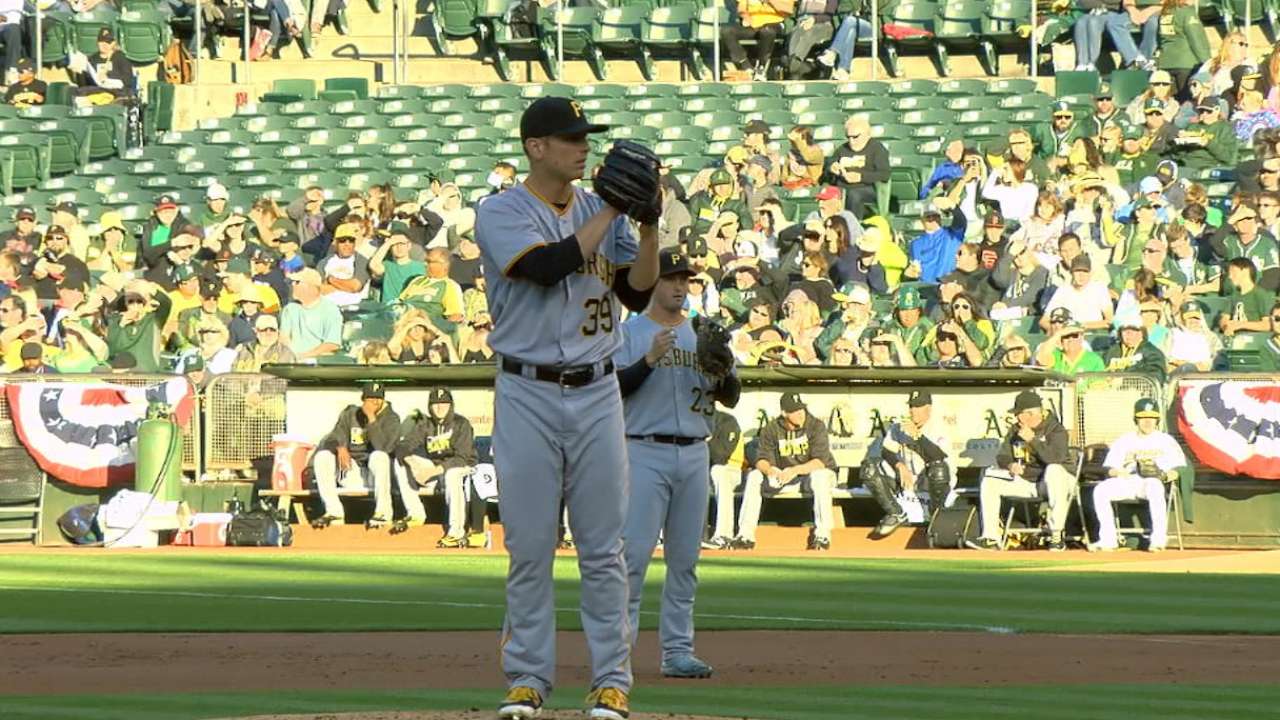 Instead, you get a description of organizational success. And this isn't just rhetoric. The Pirates had an organizational game plan for the young pitchers to be ready if or when they would be needed. Nobody figured four of them would be needed at once, but the plan and the personnel were both good enough.
"Why does it happen?" Hurdle said. "We've had to go through some trying times, but that's all part of it. We've tried to give our players another lens. You hear how so much of this game is about failure. It's about opportunity. Talk about failure here; we know we're going to experience some hard times, some challenging times. But it's about opportunities.
"Brault, in a short time, became a Pirate, but these [other] guys have been drafted by the organization. The depth ... a 162-game season will either expose it or show that you have depth. Right now, we're at the halfway point, and we've had some young men come up and help us.
"Four-fifths of the Indianapolis rotation has been pulled in the first half of the season. Again, it just goes back to opportunity and depth and creativity, the work done by the player development staff, these men all along the way.
"I don't do bad news. I just don't do it. It's opportunity, it's a different look, it's a different angle, it's a different way to go at it now. I mean, we've talked about this long and hard in here. People don't care. The game doesn't care. You've got to move on, find somebody else to play, find somebody else to pitch.
"That's the purpose of having a farm system, working with these young men, not just with their work on the mound, but with their mental toughness, the adaptability, the way they can adjust, improvise, overcome any adversity they may encounter on the way. So I'm proud of our system and I'm proud of the people who work in the program.
"Again, this is what makes the game so great, because nobody's got this before the season. Nobody's got it even a week before it happens. Nobody here had four-fifths of the Indy rotation pitching here. I didn't. And then look where we are right now, so it's kind of crazy good."
Even with their loss Thursday, the Pirates have won 10 of their past 13. They are playing much more like the team that had baseball's second-best regular-season record over the past three seasons.
Beyond their scouts spotting the talent in the first place, what makes the Bucs successful from a player-development standpoint?
"I think [the Pirates] just have a lot of guys who know what they're talking about," Glasnow said. "They've directed me really well. I think everyone feels ready when they come up, because they make you feel ready and they give you confidence. I think everyone comes up and just trusts their stuff and lets it go."
Glasnow is 6-foot-8, with mid- to high-90s velocity, and he pitches with a downhill angle. Trusting his stuff and letting it go appear to be very solid concepts.
Whether the Bucs' player development system favors having a sense of humor or not, it is always good to see when a major talent arrives with that asset.
On Wednesday, just moments after his arrival in the visitors' clubhouse at Busch Stadium, Glasnow was asked to put into words what it was like to reach the big leagues.
"The three feet I walked to my locker, it's been pretty great," Glasnow said with a smile.
Yes, he's ready to be here also.
Mike Bauman is a national columnist for MLB.com. This story was not subject to the approval of Major League Baseball or its clubs.