Contreras to get 1st lesson in catching Lester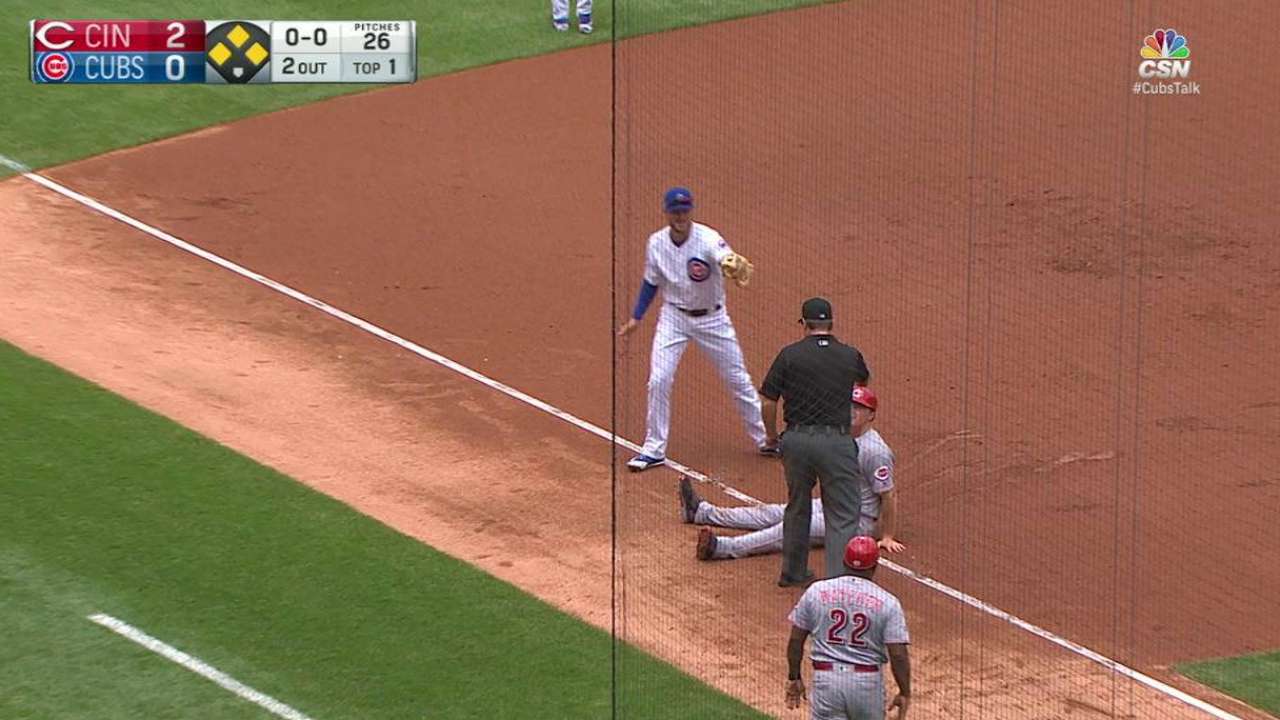 CHICAGO -- With David Ross on the seven-day concussion disabled list, rookie Willson Contreras will catch Jon Lester on Saturday in the All-Star left-hander's final start of the first half.
"Willie's done a great job," Lester said on Thursday of the 24-year-old rookie, who was promoted from Triple-A Iowa on June 17. "I think we've all kind of watched him closely to see how he's handled everything. He went out and played left field after never playing left field before. He had to find a first-base glove to play first base the other day.
"It seems like he takes everything in full stride. He just wants to play. You see that passion he has. He wants to play and do well. You can tell when he's behind the plate that he cares about the game. I'm looking forward to it. It should be good -- get Rossy out of there for a change and try something new."
The latter comment was a good-natured jab at Ross, who has worked with Lester since they played together on the Red Sox. But with Ross retiring at the end of this season, Contreras -- the Cubs' backstop of the future -- might as well get used to catching Lester.
"A lot of the young guys are getting more at-bats than we thought at this time of the year, and guys like Contreras being forced into a more significant moment in July rather than September is just going to benefit him and us," manager Joe Maddon said. "I believe he can do it. Jon knows what he wants to do out there, too."
Maddon also has asked Ross to give Contreras a primer on what Lester likes -- and doesn't like.
• Jason Heyward hasn't exactly had the first half Cubs fans wanted to see, but Maddon sees lots of good things.
"I think he's doing great, and I know people may not agree with that, for all the wrong reasons," Maddon said. "You see the ball in the air more, you see him being on time more consistently. I know how diligent he and [hitting coach John Mallee] have been on this. I have nothing but a positive outlook on this whole thing."
Heyward, 26, who signed an eight-year, $184 million contract with the Cubs, is batting .234 with four home runs and 28 RBIs, and Maddon dropped him in the batting order this week as a test.
"Once he gets his trajectory up there a click more, the ball is going to start going over the wall," Maddon said.
How does Heyward feel about his first half?
"Personally, I feel like coming to a new situation, there's been some growing," Heyward said. "It was rough early on having a wrist injury and trying to hit through that. That's never easy. Once that healed up, I feel it's been a lot of not seeing results from hitting balls hard at people. I feel that's happened more this year than any other time. That's the way it goes sometimes."
• The Cubs are considering using a six-man rotation after the All-Star break to give everyone a breather. Adam Warren made a spot start on Wednesday against the Reds, the first time the Cubs have used a sixth starter. Lester and Jake Arrieta were both named to the National League All-Star team, and both may pitch on Tuesday.
• According to MLB.com's Jim Callis, right-hander Thomas Hatch, the Cubs' third-round pick out of Oklahoma State, received a $573,900 signing bonus from the team. Hatch was the Cubs' highest pick in this year's Draft. Chicago lost its first- and second-round selections after signing free agents Heyward and John Lackey, both of whom were given qualifying offers by the Cardinals.
Carrie Muskat has covered the Cubs since 1987, and for MLB.com since 2001. She writes a blog, Muskat Ramblings. You can follow her on Twitter @CarrieMuskat and listen to her podcast. This story was not subject to the approval of Major League Baseball or its clubs.