Rivals' fans supporting Kinsler for Final Vote?
Tigers' leadoff man in fourth place, but getting support from AL Central counties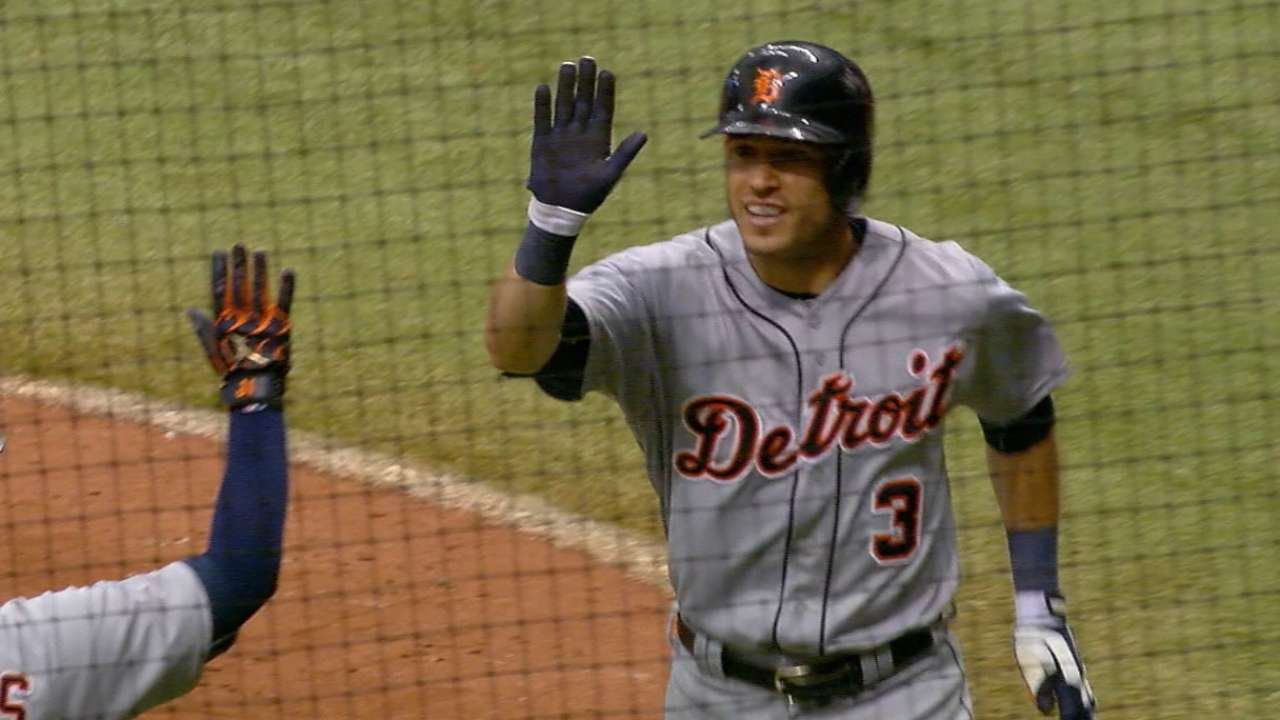 TORONTO -- Ian Kinsler has built a reputation as the kind of player opponents, and especially opposing fans, love to hate. So it says a lot that the opposing fans who see Kinsler the most are lending their support behind his Esurance MLB All-Star Game Final Vote campaign.
While Kinsler continues to linger in fourth place in voting as of Friday morning's update, a breakdown of voting results by state and county shows he's receiving support in unexpected places -- other American League Central cities.
• Cast your Esurance Final Vote for Kinsler
Fans can cast their Final Vote ballots until 4 p.m. ET on Friday, and Twitter support now counts toward the tally.
The fact that Kinsler has been getting nearly every vote in Michigan isn't a surprise. Tigers fans have been through this before, and they lend their support. Go outside the state, though, and his support seems to come in pockets. Among them are Cook County in Illinois, Jackson County in Missouri, Hennepin County in Minnesota and Cuyahoga County in Ohio.
What do they have in common? They're the home counties of AL Central teams -- the Chicago White Sox, Kansas City Royals, Minnesota Twins and Cleveland Indians, respectively. And they're all counties where Kinsler led the vote as of Thursday afternoon. None of those teams are campaigning for Kinsler, so any vote is most likely a sign of respect.
At this point, Kinsler will take it.
"I'd love to go to the game," Kinsler said. "It's always an honor. It's always a privilege to be an All-Star.
"If I'm deserving and people think I'm deserving, then I'll go. There's obviously other really good players in the Final Vote, guys that are having good years. They should all be there. I don't know that it's necessarily fair to the players, because it leaves you hanging, leaves you limbo. But that's the way it is, and it's good for the game, good for the fans. It's a fun thing. They get an opportunity to support their team or whatever player they think is deserving."
Hey @tigers fans.... #VoteKinsler NOW!!!

...and then do it again later

...and again after that

— James McCann (@JamesMcCann34) July 7, 2016
Fans can vote for the 2016 Esurance MLB All-Star Game Final Vote until 4 p.m. ET on Friday. The winners, as chosen exclusively by online fan voting totals, will be announced during a Final Vote-themed telecast of "MLB Now" featuring commentary from political analyst Jeff Greenfield, live on MLB Network and MLB.com from 4-5 p.m. ET. MLB Network will provide extensive coverage across all of its studio programming during the Final Vote, including interviews with the candidates, frequent updates, heat maps indicating the cities where votes are being cast for each candidate, news on player and club campaigns and a running countdown clock leading up to the announcement.
Baseball fans have cast nearly 600 million online votes for Final Vote candidates since the program's inception in 2002. In addition to MLB.com and the official club websites, fans can use their mobile devices to cast votes at MLB.com/vote or via text message. To receive the ballot, text the word "VOTE" to 89269. To vote for a specific player, fans can text their choice to 89269. EXAMPLE: Text "A3" to vote for AL Player 3 or "N3" to vote for NL Player 3. Message and data rates may apply. Text "STOP" to end and "HELP" for information. Mobile voting in Canada also is available and fans should text their choices to 101010.
For the fifth consecutive year, the Final Vote will include social balloting, as Twitter support for the 10 candidates over the last six hours of balloting will count toward their vote totals. From 10 a.m.-4 p.m. ET on Friday, any tweet that includes a designated player hashtag will be tabulated as part of the official vote total used to determine the winners.
On Tuesday, July 12, watch the 2016 All-Star Game presented by MasterCard live on FOX, and during the game visit MLB.com to submit your choice for the Ted Williams Most Valuable Player Award presented by Chevrolet via the 2016 MLB All-Star Game MVP Vote. The 87th All-Star Game, in San Diego, will be televised nationally by FOX, in Canada by Rogers Sportsnet and RDS, and worldwide by partners in more than 160 countries via MLB International's independent feed. ESPN Radio and ESPN Radio Deportes will provide national radio coverage of the All-Star Game. MLB.com, MLB Network and SiriusXM will also provide comprehensive All-Star Week coverage. For more information, please visit allstargame.com.
Jason Beck has covered the Tigers for MLB.com since 2002. Read Beck's Blog, follow him on Twitter @beckjason and listen to his podcast. This story was not subject to the approval of Major League Baseball or its clubs.