Belt's increased production starts at the plate
Hitting coach Meulens impressed by patience of first baseman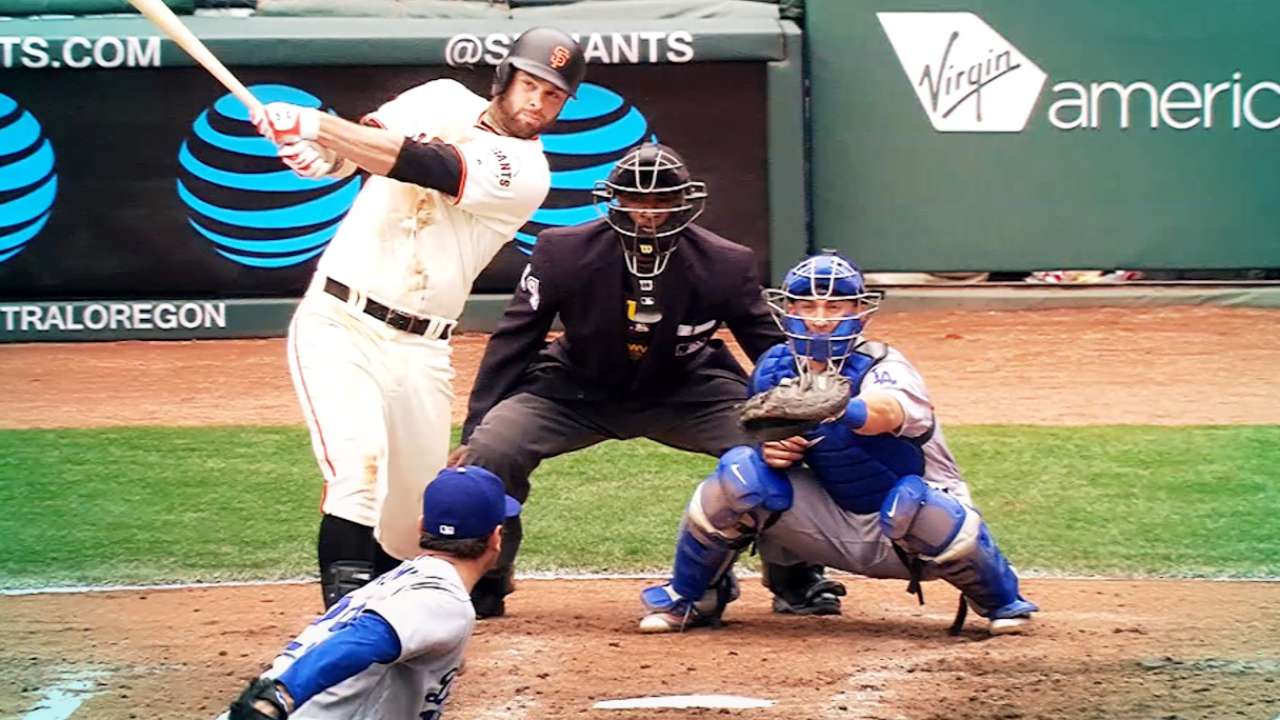 SAN FRANCISCO -- Brandon Belt's ability to make something out of nothing has hastened his improvement as a hitter, which has driven his candidacy in the National League's 2016 Esurance MLB All-Star Game Final Vote.
In Thursday afternoon's balloting update, Belt occupied second place in the five-man field that's competing for the fan-approved final spot on the NL squad for Tuesday's All-Star Game presented by MasterCard in San Diego. Belt is close behind front-runner Starling Marte, Pittsburgh's left fielder. Trailing Belt are Colorado shortstop Trevor Story, Arizona third baseman Jake Lamb and Milwaukee left fielder Ryan Braun.
Voting ends Friday at 1 p.m. PT.
Belt has attributed his increased production -- which includes a .300 batting average, a .917 OPS and a league-high 27 doubles -- to greater consistency. That steadiness, Giants hitting coach Hensley Meulens pointed out, stems not just from what happens when Belt swings, but also from what transpires when he doesn't.
"He's stopping on a lot of pitches that are close instead of swinging and missing," Meulens said.
Belt's restraint has helped him draw 49 walks, leaving him eight short of establishing a personal high with nearly half the season remaining. It follows that being more selective makes him tougher for pitchers to confront.
Meulens characterized Belt as formerly being a "big strikeout guy." Belt averaged 126 strikeouts during the three seasons he appeared in at least 137 games -- 2012, '13 and '15. With 64 strikeouts in 84 games this year, he's making slightly more contact.
"Before, he would strike out before he got a better pitch to hit," Meulens said. "So now he's getting that better pitch to hit and he's doing something with it. Because his ability to stop got better."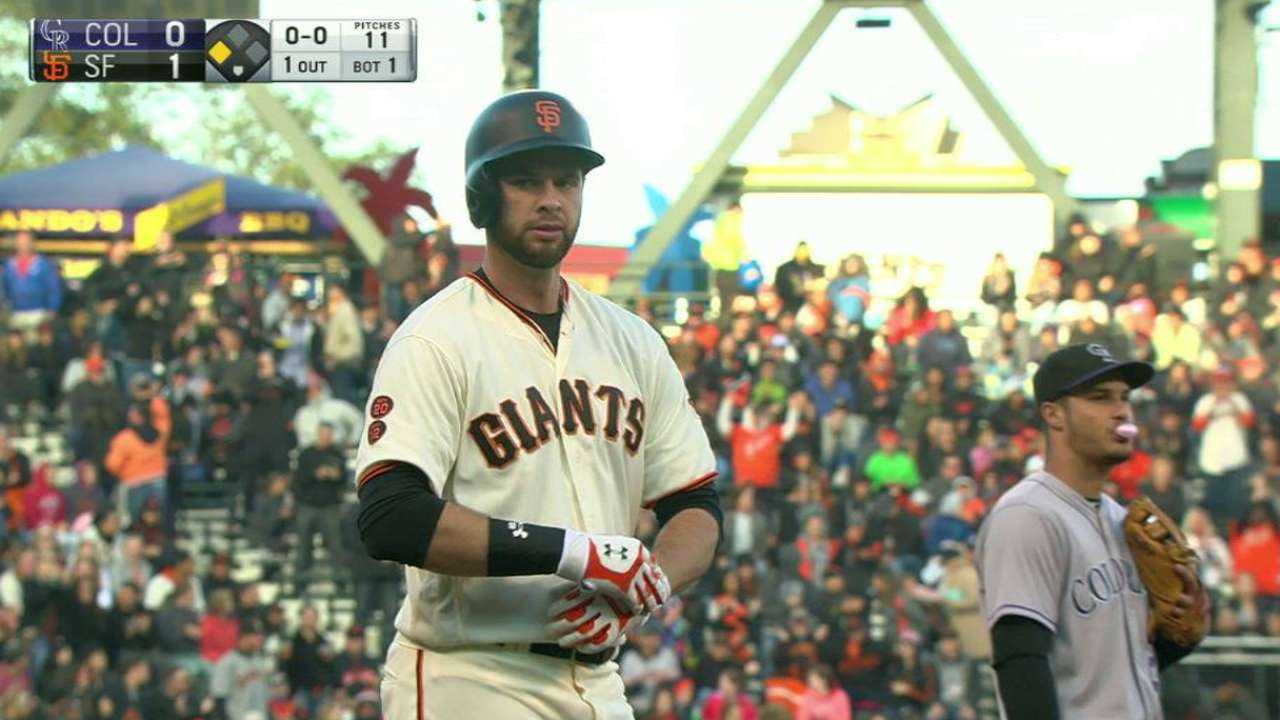 This goes a long way toward explaining Belt's .307 batting average in counts where the pitcher is ahead. Compare that to his totals in the same category in his previous five seasons, which ranged from .197 to .213.
Belt also possesses an uncanny ability to hit in day games. He's batting .370 with a 1.198 OPS in 28 games under the sun, compared with .268 in 58 night games.
None of this has occurred automatically. Belt has altered his habits at the plate.
He stands deeper in the batter's box, enabling him to see pitches travel more. He stands taller and faces the pitcher more squarely, no longer staring over his shoulder at him in peek-a-boo fashion.
"His upper body used to be all turned in and the pitcher could almost see his number," Meulens said. "He's still a little bit turned in, but he's more upright now."
Belt also has lowered his hands, simplifying the effort required to launch his swing.
"Not big, big differences, but there were adjustments for sure," the hitting coach said. " ... He's made some great strides from year to year to year."
Fans can vote for the 2016 Esurance MLB All-Star Game Final Vote until 1 p.m. PT on Friday. The winners, as chosen exclusively by online fan voting totals, will be announced during a Final Vote-themed telecast of "MLB Now" featuring commentary from political analyst Jeff Greenfield, live on MLB Network and MLB.com from 1-2 p.m. PT. MLB Network will provide extensive coverage across all of its studio programming during the Final Vote, including interviews with the candidates, frequent updates, heat maps indicating the cities where votes are being cast for each candidate, news on player and club campaigns and a running countdown clock leading up to the announcement.
Baseball fans have cast nearly 600 million online votes for Final Vote candidates since the program's inception in 2002. In addition to MLB.com and the official club websites, fans can use their mobile devices to cast votes at MLB.com/vote or via text message. To receive the ballot, text the word "VOTE" to 89269. To vote for a specific player, fans can text their choice to 89269. EXAMPLE: Text "A3" to vote for AL Player 3 or "N3" to vote for NL Player 3. Message and data rates may apply. Text "STOP" to end and "HELP" for information. Mobile voting in Canada also is available and fans should text their choices to 101010.
For the fifth consecutive year, the Final Vote will include social balloting, as Twitter support for the 10 candidates over the last six hours of balloting will count toward their vote totals. From 7 a.m.-1 p.m. PT on Friday, any tweet that includes a designated player hashtag will be tabulated as part of the official vote total used to determine the winners.
On Tuesday, watch the 2016 All-Star Game presented by MasterCard live on FOX, and during the game visit MLB.com to submit your choice for the Ted Williams Most Valuable Player Award presented by Chevrolet via the 2016 MLB All-Star Game MVP Vote. The 87th All-Star Game, in San Diego, will be televised nationally by FOX, in Canada by Rogers Sportsnet and RDS, and worldwide by partners in more than 160 countries via MLB International's independent feed. ESPN Radio and ESPN Radio Deportes will provide national radio coverage of the All-Star Game. MLB.com, MLB Network and SiriusXM will also provide comprehensive All-Star Week coverage. For more information, please visit allstargame.com.
Chris Haft has covered the Giants since 2005, and for MLB.com since 2007. Follow him on Twitter at @sfgiantsbeat and listen to his podcast. This story was not subject to the approval of Major League Baseball or its clubs.