Ryu can't follow McCarthy's lead in return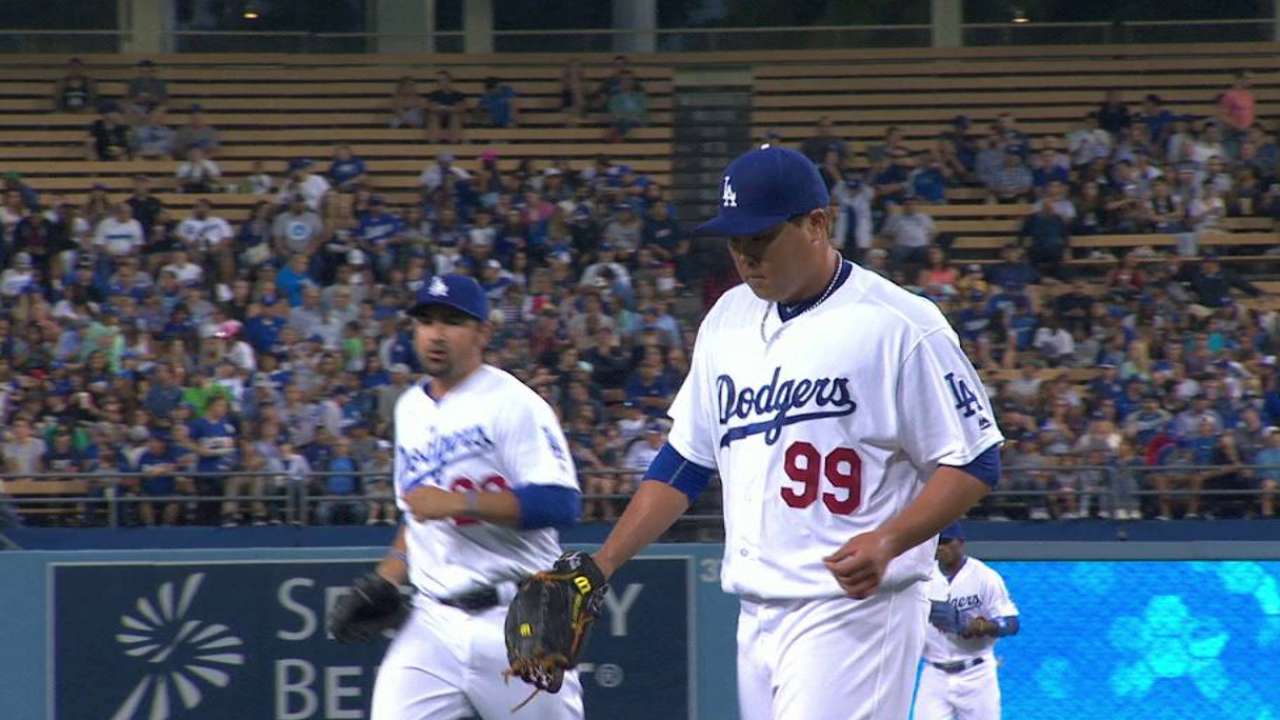 LOS ANGELES -- Brandon McCarthy was ready for his return. Hyun-Jin Ryu, not so much.
McCarthy threw five scoreless innings on Sunday in his first start after Tommy John surgery, but on Thursday night in his first start since shoulder surgery Ryu couldn't get out of the fifth inning in the Dodgers' 6-0 loss to San Diego.
Sounding as if he was talking about a Spring Training start, manager Dave Roberts issued an upbeat assessment of Ryu, even though his depleted club was just blanked by a last-place team and has a three-game losing streak.
"I think the biggest part was getting him back out there and it was a victory in itself and the biggest question will be how he feels tomorrow and the next day," said Roberts. "As far as results, we'd hoped for more and better, but to get him through five innings, there were some good things up until the fifth inning when I felt he ran out of gas a little bit. We're encouraged."
Ryu, charged with six runs in 4 2/3 innings, hadn't pitched in a Major League game since the 2014 National League Division Series against St. Louis. He underwent left shoulder labrum surgery on May 21 last year and had eight starts in an on-again, off-again Minor League rehabilitation.
"Overall, the shoulder felt really great, no issues, I consider it pretty decent today," said Ryu. "As I threw more I was feeling better. I know it will get so much better as I pitch more innings. I was happy with my control. I just need to go through it more times and I will get better."
The Dodgers tried to find a soft spot for his return against the last-place Padres. He came into the game with a 4-0 record against San Diego and a 0.84 ERA.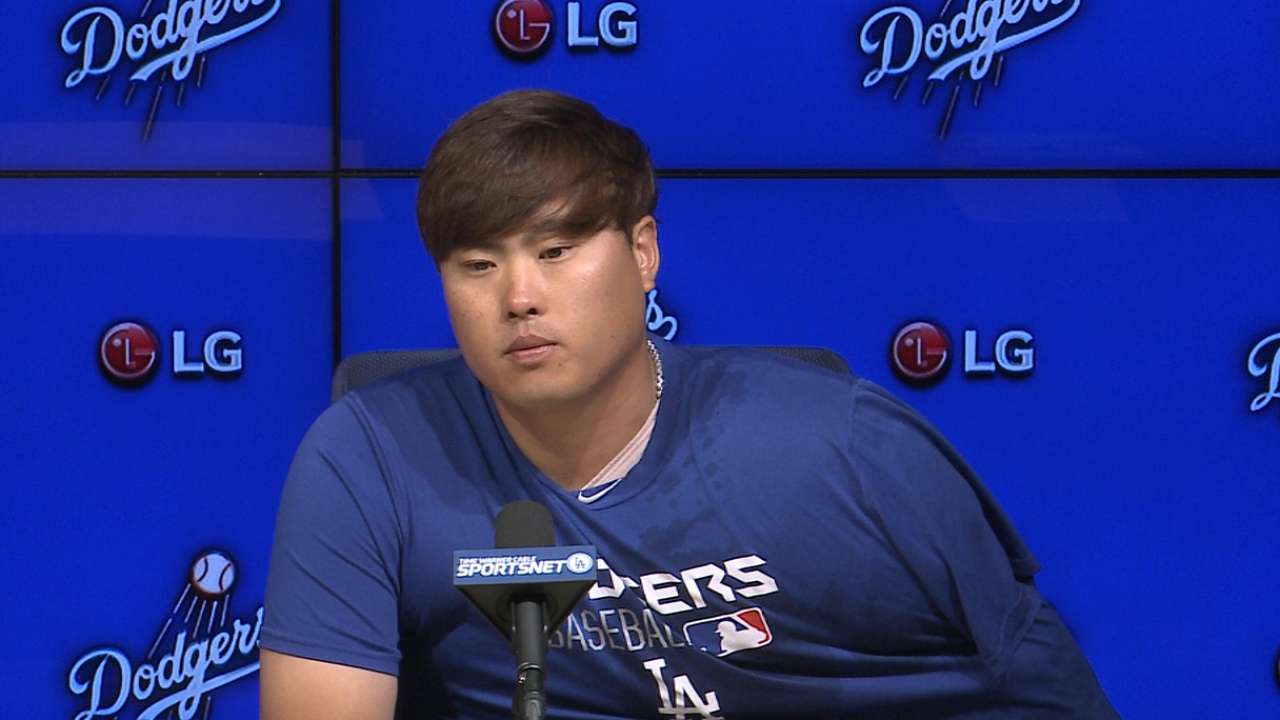 But Melvin Upton Jr. led off the game with a home run. By the fifth inning, with Ryu's fastball velocity dropping from 91.1 mph average in the first inning to 87.4 in the fifth (per Statcast™), the Padres chased him with three runs.
Ryu is part of the starting pitching crisis that led the Dodgers to go into this game with a 14-man pitching staff. That included the pregame callup of swingman Carlos Frias, who ate up the final four scoreless innings while resting a bullpen that pitched nine innings Wednesday.
Frias now needs a few days off before he can pitch again, so he might be the one the Dodgers send out Friday when they recall a position player after limping through this game with a three-man bench.
Roberts conceded that it's no easy feat trying to work in one returning starting pitcher (Ryu) without knowing what you'll get from start to start. And Roberts is trying to do it with two (Ryu and McCarthy).
"This is the first time he's gone through shoulder surgery, obviously it's been a long road to come back, and we're really mindful of it," Roberts said of Ryu. "Until he can sustain start after start and increase the pitch count, it's an unknown for him and for us."
Ken Gurnick has covered the Dodgers since 1989, and for MLB.com since 2001. This story was not subject to the approval of Major League Baseball or its clubs.